How to best use mehendi for grey hair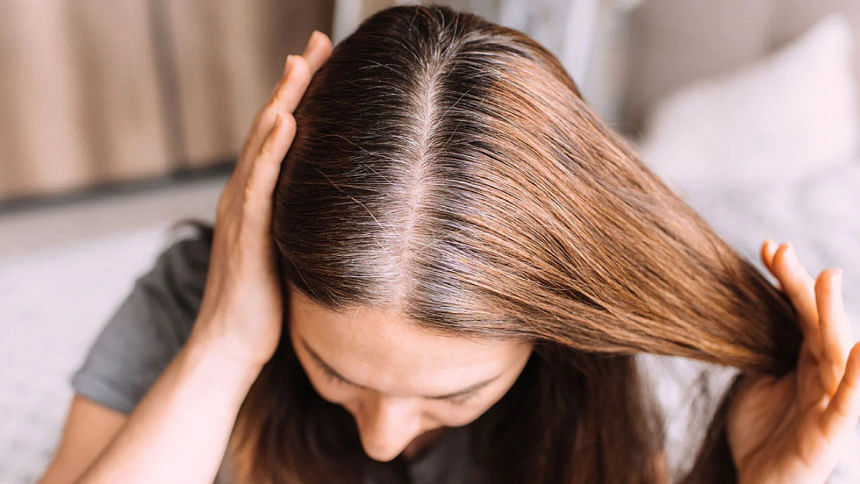 While chemical dyes can render hair dry and lifeless, a plant-based powder made of henna leaves can colour hair naturally, and without risking its sheen or lustre. In fact, the natural hair colourant has been known to additionally thicken hair and improve scalp health.
Henna, or mehendi, has been popular in the Indian subcontinent through the ages for its medicinal and therapeutic benefits, as well as for its usage in body art. Ramesses II, the Pharaoh of the 19th dynasty of ancient Egypt, was one of its earliest users, who used henna to cover his grey hair. Its anti-microbial benefits and instant cooling properties make it very effective for acne-causing bacteria and help to reduce scalp acne. 
Although there is no scientific evidence, henna is believed to promote hair growth and add lustre to locks. A popular alternative to chemical dyes, henna gives off an auburn shine to black or brown hair. The colour ranges from deep orange to maroon, depending on the type of leaf used and the colour of the hair on which it is applied. 
How to best use henna
Gather all the ingredients you need to make a smooth henna paste. These include: 1 to 2 tablespoons of black tea leaves, 2 to 3 tablespoons of henna powder, 2 to 3 cups of water, ½ a teaspoon of lemon juice, an applicator brush, a mixing bowl, and an old t-shirt that you do not mind getting dirty.
Boil the black tea until the solution starts to bubble. Then, allow it to simmer on low heat and reduce water to half. Make sure you have just enough water for your henna. It is best to use natural henna powder, rather than the packeted version that comes with a developer. 
Soak the henna powder in water overnight, and then mix the henna paste, black tea, and lemon juice. You can add amla powder, and other herbal ingredients such as jatamansi, kuth, katha, and coffee to the paste for better nourishment, strengthening, and colour. 
Application
Wear an old t-shirt to avoid staining and section out hair. Use the applicator to cover each section of hair from root to tip and wear a shower cap to keep hair in place. Leave it on for half an hour and wash it off with cold water. Avoid shampooing hair the same day but condition it thoroughly. You can shampoo your hair the next day. The henna application can be repeated once or twice a month. 
Additional warnings and tips
Do not apply henna if you have a scalp condition.
Avoid application if you have a cold, as the cooling effect can aggravate the condition further. 
De-tangle hair before application as henna can cause strong tangles.
Avoid metal bowls as they can interfere with the ingredients in the henna mix. Use a glass bowl instead.
Apply a coat of petroleum jelly to the hairline to prevent staining.
Do not let the henna paste completely dry as it can have a dehydrating effect on the hair.