Guide to the best FIFA Watch Party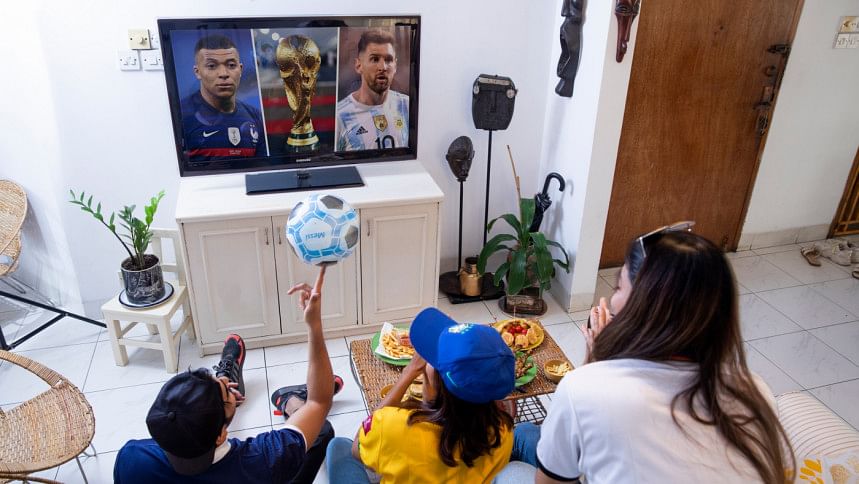 Sure, in theory, you can enjoy watching your favourite teams play all alone in front of the TV and still have fun. But let's be honest, everything is a lot more entertaining and enjoyable when you have your friends and family with you. It can be a lot of fun to plan a watch party to watch a game together but remember that to organise a good watch party, you should follow the next tips like gospel:
Master the Menu
Nothing raises spirits faster than good food, so make sure you have plenty in hand! Planning ahead and organising your options to have both finger foods and some heavy items as well.
Wedges (baked or otherwise), popcorn chicken, garlic bread, jhalmuri, chips and dips, etc. are classic game day munchies for everyone to enjoy but of course, you can amp them up with various recipes available online.
For more filling options, go with food that would not require much effort to eat. That means skip the beloved chicken curries and instead make a one-pot lasagne or pizza that everyone can dig into without much hassle. If food is simply not your forte? Order from your favourite stores ahead of time or simply turn the party into a potluck!
Extra entertainment
Yes, yes, the main objective of a game-day watch party is and should be the game playing on-screen, however, there is a chance that your guests may be bored during breaks, etc. What do you do in this scenario? Keep a stack of card games and board games nearby and you can easily whip them out if your guests start to get angsty. Music is another way to amp up the party. Perk everyone up by playing their favourite songs or even the FIFA 2022 theme songs!
The Star of the Show…
…is of course the game! And how can you best show the game to your party-goers? If you have a large, great-quality TV with HD screenings you are all set! But what about the ones without? Consider renting out a projector and proper speakers because nothing truly elevates a game other than impressive sound quality. It is also important that you check your electronic devices, again and again, to make sure they are working properly and to make sure everyone in your party gets to view the game. Remember that you want the game-watching experience to be as smooth as possible so that no one misses a game-changing moment.