Is Mbappé the Next GOAT?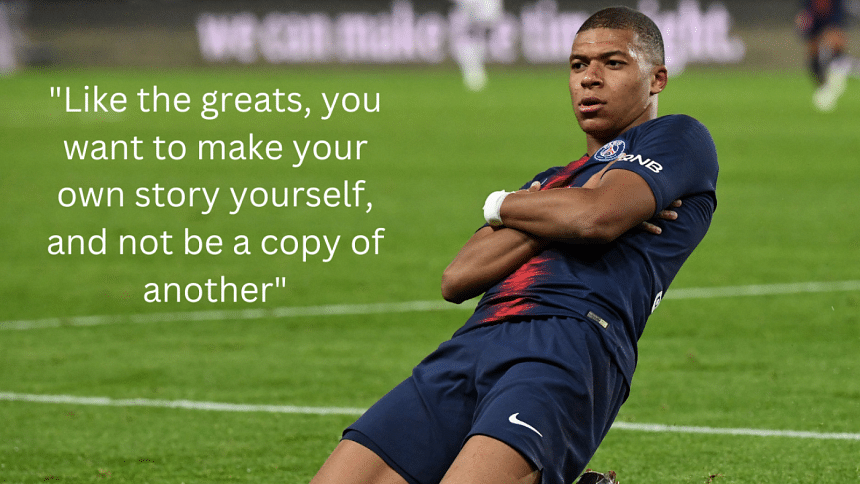 The era of Messi and Ronaldo has almost ended. It is unlikely that we will see either of them in the next World Cup and it is looking more and more likely that they will retire from football sooner than we can bear. That being said, it is time for the next GOAT to step up and claim his position, whoever that may be. As things stand, Kylian Mbappé just might be that GOAT we are looking for.
The GOAT debate
Regardless of their performance on the pitch, which is nothing short of spectacular, both Messi and Ronaldo have had another thing driving them. It is the question — who is the real GOAT? Who is the better player? Who can make and break more records? These questions, the competitiveness between the payers, and the desire to outshine the other have driven both of these players to another level.
Just like we used to debate about Ronaldinho vs Beckham, Rooney vs Ronaldo, Zidane vs Zidane (because he is incomparable) we have fought about Messi and Ronaldo and with both of them departing soon, it is time for the next GOATs.
The next GOAT
As you can tell, GOATs are players who are not just amazing players but they are spectacular off the pitch as well. Everything counts — from your personal style to personal traits, everything earns you a point in this GOAT debate. Mbappé sure ticks all the boxes. Now all he needs is an archrival to push him and create some drama in the media rooms.
It is possible we have already seen the rival of Mbappé in the form of Erling Haaland and if that is indeed the case then the next GOAT debate will revolve around these two with Mbappé already leading the score.
Mbappé as the GOAT
As mentioned earlier, Mbappé already ticks all the boxes of a GOAT. How so?
For starters, Mbappé is already a world champion. Having won the world cup in 2018 at just 19 years of age, Mbappé has already touched the coveted trophy that even Messi and Ronaldo are missing to this day. Not only that, he could turn that trophy count into two this year if things go well for France.
Kylian Mbappé has already won domestic leagues and other trophies (still missing the Champions League) and possesses a set of skills that all footballers want. He is lightning fast, shows vision and ambition, has exquisite footwork, and great finishing. He is matching Pele on multiple records and Pele has openly praised the young Frenchmen for his achievements. "I'm happy to see you breaking another one of my records in this Cup, my friend!" Pele tweeted on December 8, 2022.
Mbappé also has that media attention that you would find around a GOAT. Inspiring and confident at the same time, the media loves him. The big clubs are already fighting over him and he has already been in the press for good as well as controversial comments.
In his personal life, Mbappé is hardworking and does not forget to mention that. From a football fan to a prince about to ascend the throne of the GOAT, Mbappé has come a long way. He is amicable, a fan favourite, and is expected to be around the football pitch for the near future with dominance. The Frenchman is stylish in his personal life and is not afraid to flaunt it. He also has a deal with Nike and has an 'Mbappé Nike Collection' section on their website.
As you can imagine, every generation has a few iconic footballers and it is looking very likely that Mbappé will be starring in the next one. With our two GOATs (Messi and Ronaldo) gone, we will be looking for someone else to fill those legendary shoes. Do you think Kylian Mbappé has what it takes to step in those hoofs?