Faith and fire: 5 inspiring quotes from Neymar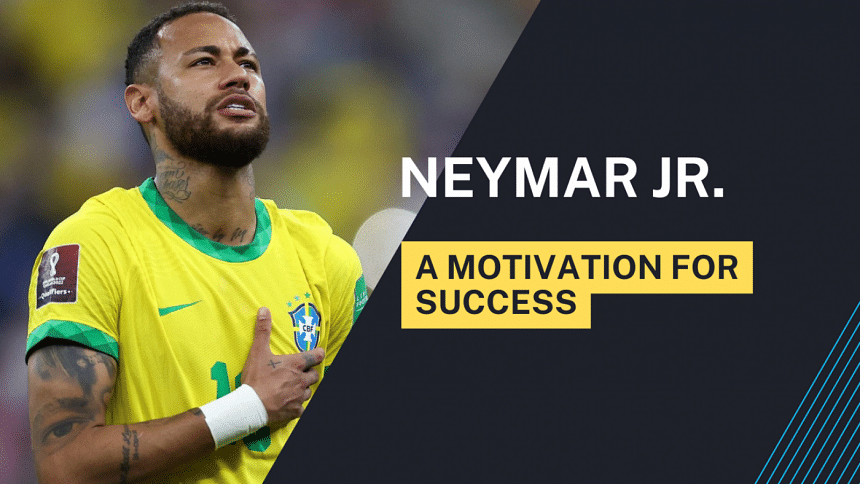 The product of glorious Brazilian football genes, exceptional body control, quick reflexes, and admirable confidence on the football field come together in the form of Neymar Jr, a name that resonates all over the globe, even more so during the season of the 2022 Qatar World Cup. A remarkable goal-scorer and famed playmaker, Neymar da Silva Santos Junior's journey seem awe-inspiring. Yet, this thirty-year-old has faced immense obstacles throughout his voyage to the top. For some dose of motivation, let us explore a few words of wisdom from the golden-haired magician himself on how to conquer your weaknesses.
"There is no pressure when you are making a dream come true."
Oftentimes, we dream big and feel the pressure to fulfil that goal even bigger. These dreams are put on a pedestal of high hopes. Following through can sometimes become so taxing that we decide to give up on them. The thought of not living up to the mark that we have set for ourselves becomes agonising. However, the challenges faced during the course of fulfilling dreams help individuals to grow immensely. Stepping out of our comfort zone may be daunting, but it builds up a life of chances and accomplishments that we would otherwise not gain. So, take a step back from overexerting yourself. Chase your dreams with boundless joy and the least burden.
"This moment, which we are living right now will pass too. We have to enjoy, enjoy all that we can." 
It is so common and easy to simply get lost in the overwhelming journey of life. Eat, sleep, work, and repeat take on a whole new meaning these days. How often do we take the time to stop for a breather and appreciate the smallest of things? Well, even when life seems the dreariest, just remember that it will continue to pass. 
Give yourself your due credit for making it through every single day without comparing battles with others. Allow yourself to immerse in the happy moments of life, which you earned. Clichéd as it might sound, enjoy every single opportunity, for we only get to live this life once!
"I'm a guy who doesn't like to be alone, and the joy that my friends pass me, with them being always by my side, is gigantic."
You can choose to close yourself off from other humans in an effort to avoid emotional attachment and probable heartbreak. But the fact remains that we humans are truly not solitary creatures. We will always need a shoulder to lean on, an ear to vent to, and a hand to pull us up when we are down on our luck. So, keep the friends who truly care for you close, never let minor misunderstandings get in the way, and be accepting of their emotions. Authentic friendships go a long way to make a monotonous life more beautiful. 
"Everyone has a right to rest so as not to injure themselves."
Injuries in football can transform a player's life. Quite symbolically, injuries in our lives can make us hit rock bottom as well. And if you have been down there before, you will need to get up someday soon again. Nevertheless, we have the right to our own destinies and to save our souls from injury. Cut off those toxic relations that are draining you. Leave out the conversations that are sucking the goodness out of your mind. As they say, just like a dough of bread, you will need to allow yourself to rest to rise once again. 
"Everything in my life has happened very early. Personally, and professionally. I'm always learning: I have to."
Sometimes, we may have to grow up quicker than we expect to. Familial responsibilities keep piling and career expectations keep intensifying all around. In the midst of it all, we forget to seek help.
But, stop. Seek support in areas you are not capable of yet. More often than not, we are bound by chains of mockery in case we cannot satisfy a task. And yet, the most established people, namely Neymar Jr, are those who recognise their weaknesses and ask for assistance to learn how to overcome them. Do not be afraid of peer pressure and earning knowledge every passing day.