Desert Fest: A World Cup too cruel, too beautiful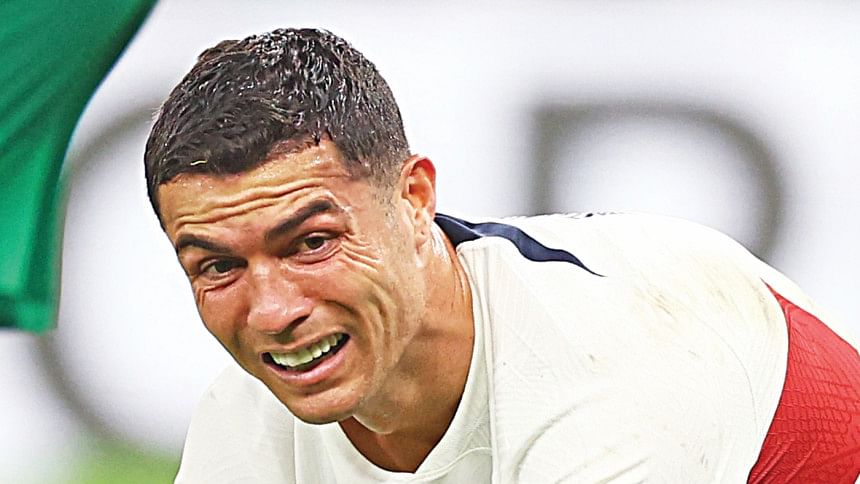 When Cristiano Ronaldo walked down the tunnel in tears at the Al Thumama Stadium on Saturday, it must have felt surreal for millions of his and Portugal fans around the globe.
Seeing someone like Ronaldo, who had made a trademark of proving critics wrong, a habit of defying age and physics, a stubbornness of never giving up, and a continuity of bouncing back from the bottom, so powerless and timid must have served as a reality check to a generation of fans who grew up idolising and imitating him in every step of the way.
But, simultaneously, at the other end of the tunnel was unfolding a surreality of the opposite kind: the Moroccan players, their fans, and the entire world were still coming to terms with the stunning achievement that had materialised, against all odds.
This was the first time that an African nation had entered the World Cup semis. Even though they had already made history by becoming the first Arab nation to play in the quarters, that too at the expense of Spain, dumping out tournament favourites Portugal -- who came on the back of a rampant 6-1 victory against Switzerland in the Round of 16 -- still seemed a dream too good to be true.
But their 1-0 win over Portugal, thanks to a towering header from Youssef En-Nesyri, was a testament to the tactical brilliance masterminded by Walid Regragui, who had begun international coaching just merely five months ago.
From there to having the best defensive outing so far in Qatar -- with the Atlas Lions yet to let an opponent player score as they only conceded an own goal in their 2-1 win over Canada -- the beauty in Morocco's run has been in their ingenuity, fearlessness and, yet, in knowing their limitations and abilities.
While Regragui's tactical gambit of soaking up pressure in a classic low block before unleashing attack through Hakim Ziyech from the flanks, alongside Sofyan Amrabat's darting run from the midfield, had paid off, questions could be raised about the ones made by Portugal coach Fernando Santos, who once again left talisman Ronaldo on the bench, hoping for the same fluidity that was seen against Switzerland.
Such contrasting outcomes of managers' tactics were seen in the quarterfinal between Brazil and Croatia as well as Tite's men failed to hold on to their lead taken in the extra time, a price the Hexa aspirants paid off for committing men forward in the dying minutes.
The untiring and relentless midfield of Croatia, led by their 37-year-old skipper Luka Modric, left it late to break the hearts of the Selecao and send Neymar away in tears. As cruel as it might have seemed for Neymar, whose mesmerising move gave Brazil the lead, the appeal of the never-give-up attitude by the Croatians cannot be denied.
Argentina, Croatia, Morocco, and holders France are the last four standing. Argentina fans hope for it to be a befitting ending, with the great Lionel Messi lifting their third title in his World Cup swansong. The industrious Croatians would want to be rewarded for their efforts by going a step further than they did in Russia four years ago. The supersonic Kylian Mbappe would not want to slow down before making France the only successful defenders after Brazil in 1962 while Morocco and the entire African and Arab community have all the right to dream of going all the way.
Come November 18, it is certain that many will be left in tears and agony while others in elation and ecstasy, giving this beautiful sport more enthralling chronicles.