Celebrate football World Cup with special screenings, food deals, and discount offers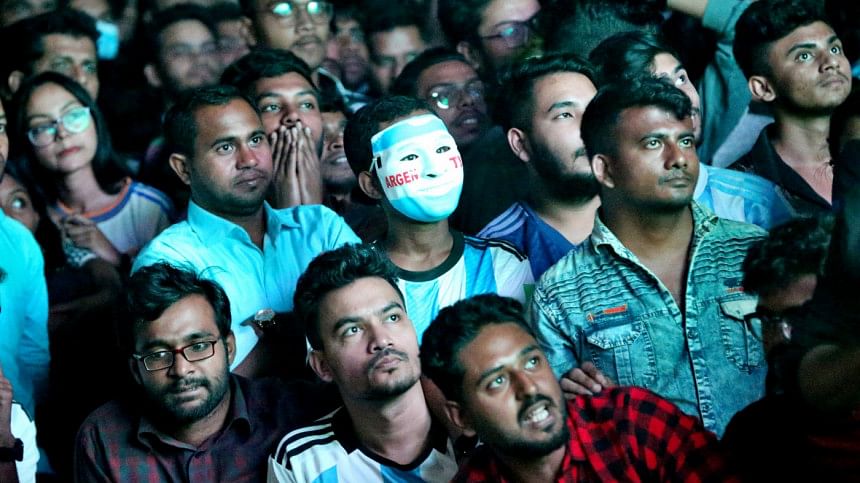 While of course, you can always enjoy the FIFA Football World Cup matches in the comfort of your own home, there is something to be said about coming together as a community and watching them on screens across restaurants, burger joints, lounges, etc. across Dhaka City.
As a rule of thumb, it is safe to assume that almost everywhere with a TV screen will stream matches, however, if you want someplace specific, here are some starting points as well as deals and offers to look out for!
Pizza Inn is a classic choice for many and this year, the deal is even sweeter as they have an 'All You Can Eat' offer for the entire duration of a match. This offer is available for dine-in customers only but if you want to watch the matches at home while still munching on delicious pizzas, Domino's Pizza is always a good option — especially as they have introduced a special 'DBOX' for the football season! Pizza Roma is another great option for take-out lovers as they have exclusive combo offers too!
If pizzas are not your usual favourite, burger joints are probably a better bet for hanging out with your friends and watching the match. Chillox, Burger King, and Takeout are time-honoured burger spots for a great time and you can enjoy your favourite burgers while watching live screenings of the match. If you are on the hunt for a good deal, Grillers is offering two of their burgers at an all-inclusive price of Tk 199 only for both dine-in and take away!  Herfy is another classic when it comes to burgers and this year, they made the experience of watching a football match EVEN more fun with the addition of their Herfy Prediction Cup 2022 where you can win a burger as well as other delicious prizes with your powers of prophecy (at least when it comes to football).
If pizzas and burgers don't do it for you, what about coffee? Gloria Jean's Coffees has always been a favourite place to enjoy a warm cup of coffee while watching matches live on their big screen — truly, nothing can be more comforting on a cold winter evening! Peyala Cafe is a haven for the most delectable desserts and coffees and for the World Cup season they even brought out the all-new Tiki-Taka Platter for all the game-night munchies! They also have the absolute cutest themed doughnuts to represent your favourite teams!
When you are out with a group, it might become difficult to choose which place to call home for the match because let's face it, while you might want curly fries, your friend might want biriyani. The solution to that is always a food court, especially Chef's Table. You and your friend will be able to eat whatever catches your eye all the while enjoying a live screening of the match. Chef's Table is even giving everyone the chance to win a PS5 FIFA 2023 Edition if you adhere to certain terms and conditions!
You will also be able to catch the match would be hotels around Dhaka City. Currently, Renaissance Dhaka is showing live screenings of the matches at GBC and R Bar with offers such as getting 10 percent off your bill and complimentary coffees. The Westin Dhaka is also screening live FIFA matches at Splash and once again, you can win exciting prizes by predicting the match outcomes!
Dhaka University is also another customary place for viewing the matches. While yes, most halls with a TV screen will also have the match on, you can usually find people congregating and watching the match in TSC.
Watching a FIFA match is fun regardless of how and where you watch it but truly, the experience is so much better when you have good food and good company with you.