For the love of haleem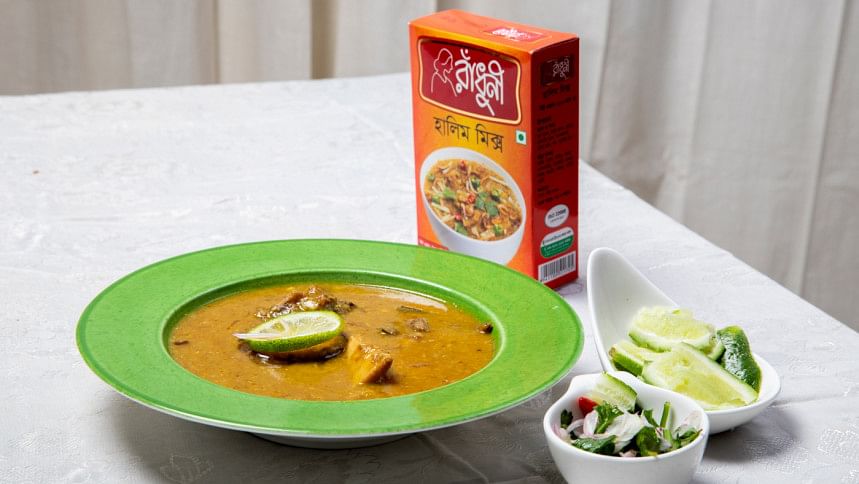 With Ramadan on its way, it's time to dig into a piping-hot bowl of haleem. It is said that once you have tasted a delicious haleem, you will never be able to forget it. Its roots can be found in Arabia, where it is known as harees. The savoury Mughlai mutton-lentil wheat stew is a filling meal in and of itself. The mixture is as wholesome as it comes because it was slow-cooked with love and labour.
Faizal Zaman, an engineer and fan of the dish shares his memories, "My first haleem experience was in Bara Moghbazar almost two decades ago. My father used to pick it up from a restaurant in the centre of the junction of the area. Back then, I only knew that it was a close relative of khichuri, but its pasty texture really stuck to me, and ever since, I have enjoyed it time and again, especially during Ramadan."
Haleem is a dish that takes some time to prepare, as was already stated above. Its preparation is considered an art because it takes hours to slowly prepare over firewood. The spices are cooked with beef, mutton, or poultry. It is then shredded and added to the pounded wheat and barley combination and cooked for hours.
However, with everyone's fast-tracked life and never-ending hustle, can we really capture the flavour of our childhood? What we once savoured and cherished from different streets of Dhaka, standing in line just to have a bowl of succulent haleem. Keeping that in mind, Radhuni is the answer for the older millennials of Bangladesh. Using Radhuni's Haleem Mix at your home is not only tasty but is also easy to prepare and not to mention healthy.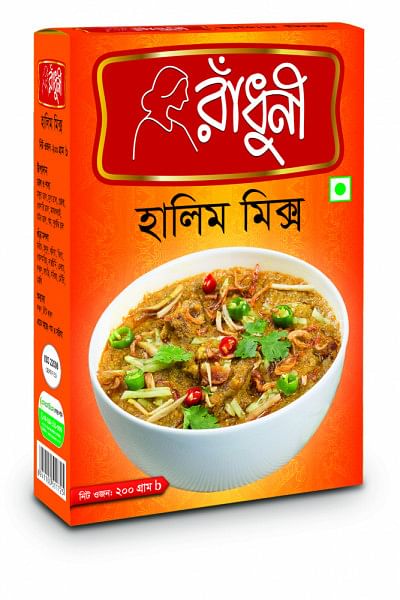 If you have read this far, a question might come to your head, "How do you prepare Haleem with the Radhuni Haleem Mix?" Wait no further; here are the ingredients as well as methods for preparing everyone's favourite mutton haleem.
Ingredients
(Serves 6-8)
300g mutton (with or without bone)
9 tbsp edible oil
1 pack Radhuni Haleem mix
½ cup (250ml) chopped onions
Green chilli, as required
Ginger
Coriander leaves
Cucumber
Lemon
Method
Soak, for 15 minutes, cereals and pulses from Radhuni Haleem Mix in 2 cups (250 ml-sized cups) of warm water. In a pot, heat the oil and fry chopped onions until they turn golden brown. Pick two-thirds of the fried onions up. Add the meat chunks and season with Radhuni Haleem's powdered spices. Cook for 3-4 minutes. Pour water and cook until the meat is properly boiled.
After the mixture reaches a boil, reduce the heat and simmer the dish while stirring it occasionally with a wooden spatula. To create a thickened gravy, cook the ingredients until all the water has evaporated. Taste-wise, add salt if necessary.
Serve hot with sliced ginger, lemon juice, cucumber chips, chopped green chili, coriander leaves, and fried onions.
Food & Styling: RBR