Signature by Khazana: An Indian restaurant like no other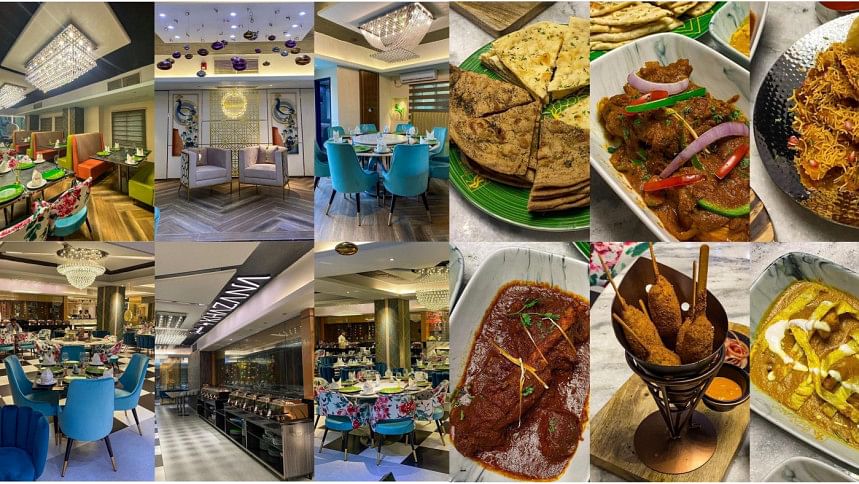 If you are on the lookout for a restaurant where you can experience authentic Indian cuisine, Signature by Khazana, a new restaurant that opened in Gulshan on 12 July is the must-visit place for you. A venture of Khazana Hospitality Ltd, Signature by Khazana aims to bring the best Indian culinary practises to Bangladesh.
Stepping inside the restaurant, you will notice the ambience that is designed to reflect the rich heritage of Indian cuisine. The elegant furniture, décor, and lighting are suited to accommodate more than 200 guests. It also features a private dining room for any special occasion. The courteous and attentive staff are available for your service to ensure an unforgettable dining experience for you.
"We want to present the diversity of Indian food here through our restaurant. As you know Indian Cuisine has so much variety, each state and city have their own versions of the food that we are acquainted with. So, we aim to bring that authentic experience to you by ensuring the highest quality," said Avishek Sinha, CEO of Signature by Khazana.
The biggest strength of Signature by Khazana is its offering of a wide range of dishes hailing from different cultures and regions of India. Curated by master chef, Rajesh Joshi, who has experience working for brands like Taj, ITC Hotels, and more the menu is created with a fusion of flavours that will surely delight your palate and senses.
So, what are some of the signature dishes that you can try? There's the Delhi Papri Chaat that is as crispy as tangy, the succulent minced Chapli Kabab, Punjabi Chilli Chicken if you are craving something spicy. You can also check out Mutton Nalli Barra Kabab, a juicy lamb chop that you can have with Patiala Murgh, a creamy chicken curry. There are also dishes like Mutton Bhuna Masala, Malabar Prawn Curry to tantalise your taste buds that can be enjoyed with a variety of rice, breads, desserts and salads.
As you enjoy the delicious food there, you will be also happy to know that Signature by Khazana allocates a portion of its profit from every sale to Amar Joti special school, one that provides rehabilitation and education for children with special needs. 
When asked about the future plans of the restaurant, Avishek Sinha said, "We plan to host events like food festivals in the near future that will showcase cuisines of different Indian stages. There's a special lunch thali and high tea menu we intend to introduce soon. Hopefully, this is just the start and we hope to have more of our branches in other parts of Dhaka, alongside other cities."
Essentials:
Address: Level 5, RM Centre, 101 Gulshan Avenue, Dhaka 1212.
Reservation: Call +8801678222050
Photo: Signature by Khazana