Recipes to celebrate Pahela Falgun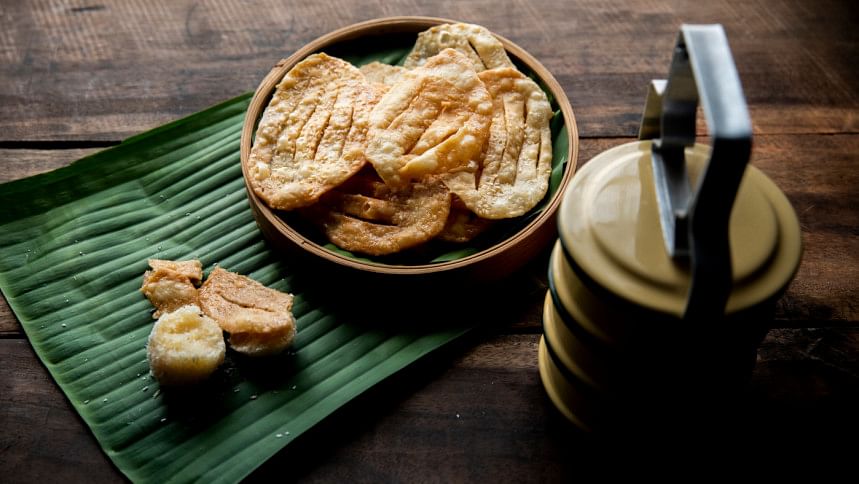 Only the romantic at heart celebrated the arrival of Falgun in yesteryears. This has now become a national celebration. If you are planning to invite friends and family on this joyous occasion, here are some suggestions that will make delightful evening snacks.
COCONUT LADDU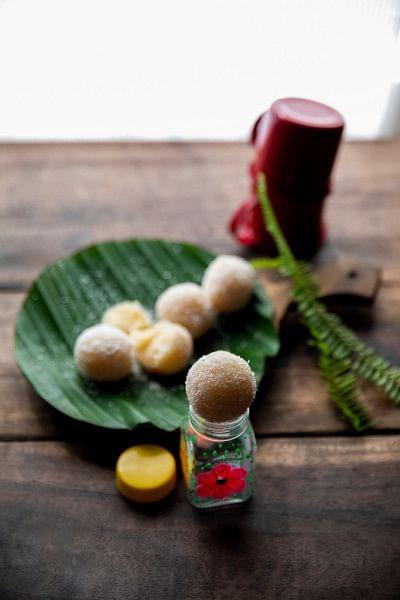 Ingredients
2 cups coconut, grated
2 tbsp ghee
¼ cup desiccated coconut for coating the ball
2 cups sweetened condensed milk
½ tsp cardamom powder
Method
In a saucepan, heat ghee and add coconut stirring continuously for 4-5 minutes. The coconut will soon start to get fragrant. Do not overheat otherwise the desiccated coconut will change colour. Add condensed milk and mix well with the coconut. Cook on low heat for about 20 minutes. The mixture will get a fudge-like consistency. Turn off the heat and let the mixture cool slightly. Form small balls with the coconut mixture. Roll the balls onto the desiccated coconut to form a coat. Optionally, you can garnish with slivers of almonds or pistachio.
MIHIDANA
Ingredients
250g gram flour or besan
200g sugar
½ cup mixed dry fruit
1 tbsp ghee
Oil for deep fry
Water as required
A few drops of yellow food colour
Method
In a bowl, mix gram flour with enough water to form a thin liquid paste. To make a sugar syrup, add 1 cup water, sugar, and ghee. Allow it to boil for about 5-6 minutes. Add food colour. In a deep pan, heat oil and pass the batter through a sieve so that it forms small round balls. Fry them on medium flame until it turns golden brown. Now transfer them to the sugar syrup. Allow it to soak for about 30 minutes and then drain the excess syrup and keep the mihidana aside. Mix chopped dry fruits and serve.
TIL GOJA
Ingredients
2 cups refined flour
2 tbsp sesame seeds
1 cup sugar
A pinch of baking powder
2 tbsp ghee
2 green cardamoms
1 tbsp lemon juice
Salt to taste
Oil for deep fry
Method
Combine sugar, water, and cardamom pods in a heavy-bottom pan. Bring to a boil. Stir frequently. As the syrup thickens, reduce the heat and test the consistency. Once the sugar syrup has reached a two-string consistency, turn off the heat and add lemon juice (this prevents the syrup from crystallising). Keep warm.
In a bowl, mix flour, sesame seeds, salt, and baking powder. Add ghee and work it well into the mixture. Add water little by little and knead until a stiff dough is formed. Divide the dough into equal portions, and using a rolling-pin rollout into ovals. Make several slashes on the ovals with a knife. Heat sufficient ghee or oil in a pan and deep-fry the gojas until light brown and crisp. Remove with a slotted spoon and place on an absorbent paper to remove excess oil or ghee. Dip the fried gojas in sugar syrup. Coat rapidly and remove quickly. Toss until dry and crisp.
BINNI CHALER MALAI KHEER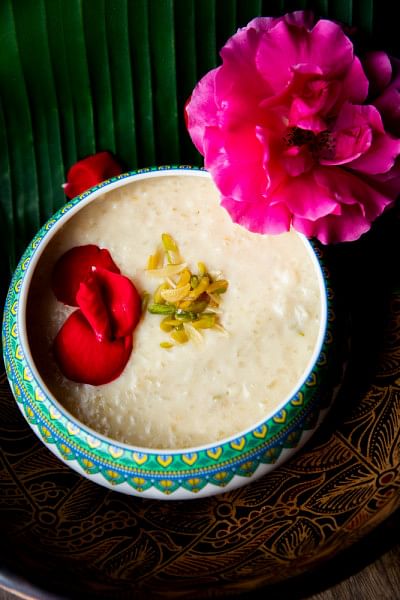 Ingredients
½ cup binni rice
1 tbsp ghee
2 litre full-fat milk
1 cup condensed milk
½ cup grated coconut
Sugar as required
2 tbsp sliced almond and pistachio
Method
Rinse rice and soak in water for 30 minutes and drain. Add ghee to the rice and keep it aside. Take a saucepan and pour milk into it. Turn on the gas to medium-high flame and keep stirring. Once the milk starts reducing, add the ghee-mixed rice and simmer the mixture until it is reduced to almost half. Add coconut and condensed milk to it. Mix well and add sugar if required. Add mixed nuts and mix well. Cook for 2 minutes. Turn off the flame, garnish with nuts, and serve warm or chilled.
MAWA HABSHI HALWA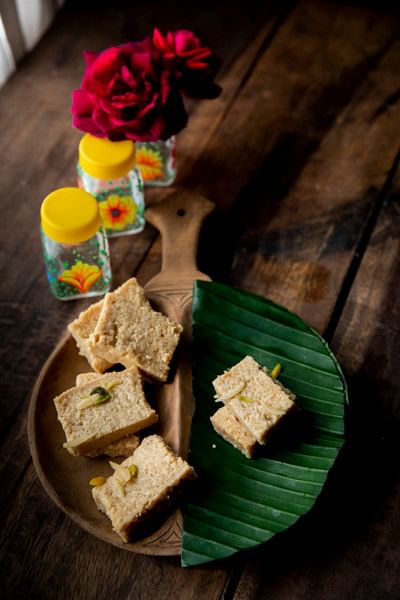 Ingredients
1 cup cottage cheese
1 cup mawa
1 tbsp all-purpose flour
4 tbsp ghee
½ tsp cardamom powder
¼ cup slivered almond
Method
Heat ghee in a pan. Add cottage cheese and stir well. Add mawa and mix properly with cheese. Add sugar and cardamom powder. Stir well until sugar dissolves completely. Add flour and ghee. This will make the mixture glossy. Continue to stir and once the halwa starts to leave the sides of the pan, sprinkle nuts over it. Mix well until combined. To set the halwa, grease a large plate with ghee. Transfer the cooked halwa to it and press evenly. Allow it to cool down and cut it into pieces. Garnish with nuts and serve.
SHAKKARPARA
Ingredients
1 cup whole wheat flour
1 cup refined flour
4 tbsp ghee
Salt to taste
Oil for deep fry
1 cup water
1 cup sugar
Method
Mix whole wheat flour, refined flour, ghee, sugar, and salt with a little water and knead into a tight dough. Keep it covered with a damp cloth for half an hour. Divide the dough into five to six equal balls. Roll out each ball into a flat chapatti of three millimetre thickness. Cut it into diamond-shaped pieces with a pastry cutter or knife. Heat oil in a pan and deep fry over medium heat until brown and crisp. Drain onto an absorbent paper and cool.
To make the sugar syrup —
In a pan, add sugar and water and bring it to a boil. Reduce heat to medium and keep stirring until sugar dissolves. Check for sugar consistency between fingers. As soon as the sugar syrup thickens, turn off the heat and add all the cooked shakarpara in it. Start mixing the syrup and shakarpara together. You will see the syrup sticking to the shakarpara. Now the shakarpara are ready to be served or packed in an airtight container once completely cooled.
Food: Selina Parvin