Complicated recipes made easy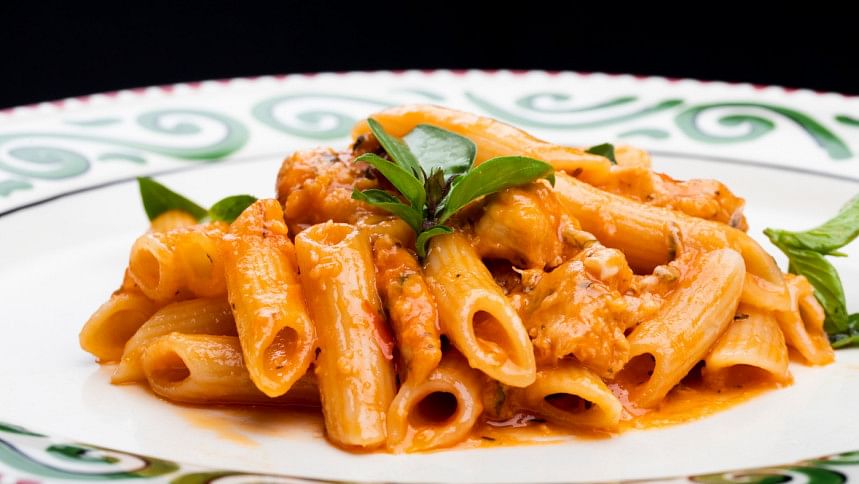 In this day and age, it's very difficult to find time to do just about anything, meaning much less time in the kitchen, save for the weekends. But if the mood demands something scrumptious, lack of time is the last thing that will work as an excuse! These recipes are dedicated for those express situations where time is short but craving is not.
DESHI STYLE CREAMY CHEESY PASTA
Kisan cheese is the best when it comes to cooking pasta sauces in Bangladesh, meaning the ones you want to whisk up in a jiffy. It melts softly and the gooey consistency lends a gratifying flavour to your sauce. 
Ingredients
6 tomatoes
4 cloves garlic (2 of them finely chopped)
2 green chillies
Few sprigs of coriander
150g Kisan cheese
250g pasta
Method
For a quick deshi style margarita sauce made in a jiffy, cut tomatoes in quarters, add a few garlic cloves, coriander stalks, green chilli, for your taste, of course salt and olive oil, and boil it all together in a cup and half hot water. On a separate pot, boil your pasta. Once the tomatoes are squishy, blend them. In a wok, add olive oil and sauté the few chopped garlic till it is lightly brown and releases its flavour, then add the boiled pasta, the tomato sauce, and a few spoons of boiled pasta water. Let it simmer and add chunks of Kisan cheese, basil leaf or coriander for a fresh green flavour. Voila! You have your deshi pasta, though an Italian might shiver, but it is not a bad quick meal.
EGG ROLL HOMESTYLE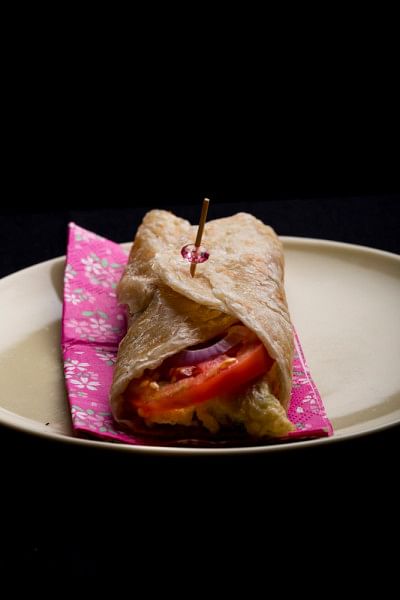 A basic soul food, it is a staple roadside food all over Bangladesh, but the best one can be found in Chankharpool Mor for sure.  However, if made at home, you can add your favourite ingredients at will and jazz it up a notch.
Ingredients
2 large eggs
2 sprigs of spring onions
1 medium tomato
2 tsp capsicum
Salt
All-purpose flour for paratha
Method
Knead all-purpose flour into a fine dough, divide into small balls, and roll out round paratha with it.
The omelette is the main hero in this roll and you make it with full keenness. Beat the eggs until fluffy, add tomatoes, chilli, spring onions, capsicum, and continue to beat. Add salt to taste and sprinkle black pepper. In a small frying pan, add oil and wait till it is hot, pour the egg mix and hear it sizzle. Flip the egg to cook the other side. Simultaneously, in a separate pan, fry the paratha crispy. Lay the omelette onto the paratha and make a roll. Bite into it and let the steam out, there is nothing as fulfilling as a hot egg roll, simple and delightful.
CHAPLI KEBAB AS BURGER PATTY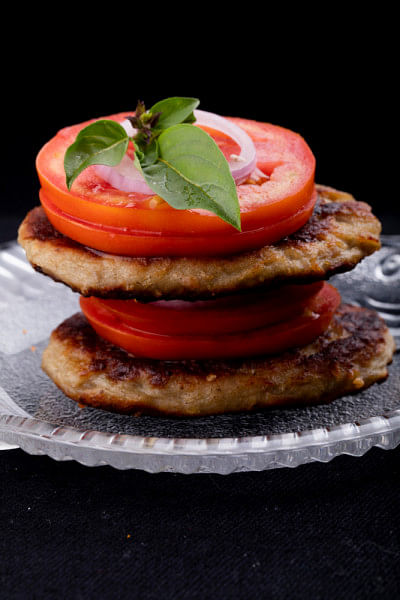 Again, a sacrilegious option but try your homemade chapli kebabs as burger patties. It is nothing short of a tasty bite. Chapli kebab is a minced meat patty mixed with a blend of spices. It is shallow-fried until the exterior is charred and flavourful.
Ingredients
1 large egg, lightly beaten
250g minced beef
1 red onion, finely chopped
1 tomato, finely chopped
¼ cup coriander and mint, finely chopped
2 tsp ginger-garlic paste
1 tsp salt
¾ tsp paprika or chilli powder
2 tomatoes, sliced into rounds
¼ cup vegetable oil for frying, or more as needed
4 burger buns, slightly charred
4 tsp mayonnaise
Method
Combine egg, beef, onions, chopped tomato, coriander, mint, ginger-garlic paste, salt, and chilli powder in a large bowl; mix by hand until well combined. Shape mixture into patties. Heat oil in a deep skillet, shallow fry patties in hot oil in batches until charred; 4 to 6 minutes per side. Slightly toast the burger buns until the grill mark is visible, smother the bun in mayonnaise, place the kebab and tomato and take a deep bite. This patty is as good as any burger one, moreover it lends a deshi taste to the burger.  
MOMO/DUMPLINGS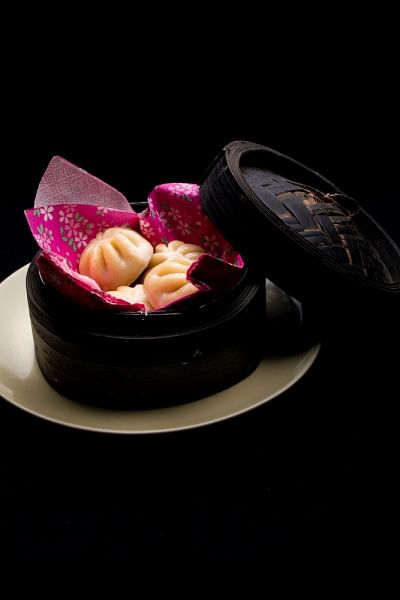 Momo or dumplings are bite-sized yummy delights that are filled with a spoonful of stuffing wrapped in all-purpose flour dough. Usually steamed, they are sometimes fried or steam-fried, Momos are very appetising and fill your stomach if you are looking for a light dinner. Stuffed with chicken or beef mince, it is served with a chilly dipping sauce or light soup.
Ingredients
450g all-purpose flour
1 tbsp refined oil
2 large onions
1 inch ginger
Water, as required
1 tbsp chilli garlic paste
300g boiled chicken mince
5 green chillies
Salt, as required
2 tsp soy sauce
Black pepper, as required
½ cup red bell pepper
Herbs of choice
Method
Wash chicken mince and boil with ginger, garlic, salt and a dash of soy sauce. Chop the vegetables. In a deep mixing bowl, add refined oil, all-purpose flour and salt. Mix well with enough water and knead the mixture into a smooth dough. Take another mixing bowl and add chicken and the chopped vegetables, mix well and combine everything together. Then, add soy sauce to the chicken mix and stir well. Now take the prepared dough and roll out small balls out of it. Using a rolling pin, flatten the balls in a square shape and add the chicken mix. Bring the edges close and secure them to make a Momo. Transfer the prepared Momo to a steamer and steam for 20 minutes or until they turn soft and tender. Serve fresh and hot with your dipping sauce or clear soup.