'The Impossible Collection Of Fashion' by FDCB: An entrancing fashion show promoting slow fashion
Just think of donning a contemporary outfit that blends a modern, chic look with a minimalist design, or the traditional kameez that got a western breezy flare makeover, or how about a spin on the classic long skirt with a patchwork illusion of giving way to more dimension; masterpieces like these tell you a story that connects with your inner fashionista. After all, life would be incredibly boring if you don't get to experiment with different styles and then make it your own!
Keeping this theme of fusion in mind, the Fashion Design Council of Bangladesh (FDCB), a platform of designers who promote slow fashion that is both sustainable and friendly to our environment, presented a charming fashion show, 'The Impossible Collection Of Fashion' at the American Club in Gulshan recently, showcasing 14 Bangladeshi designers, namely Nawshin Khair, Rukhsana Esrar, Imam Hassan, Tanha Sheikh, Rifat Rahman, Sanchita Smrity, Tasfia Ahmed, Kamrul Hasan Riad, Farah Diba, Muna Nahida, Ajijur Raihan, Riffat Reza Raka, Sadia Rupa, and Tenzing Chakma who are creating designs with exciting fields of inspiration for every style, which can be nurtured to brand Bangladeshi culture globally.
"We need to work against the cliché that handmade is archaic, while technologies are seen as a tool of advancement, to further reinstate that the image of Bangladesh being not only a low-cost hub for cheap labour, but a powerful ménage of uncompromising talent who can pioneer the systematic change in how fashion operates," said Maheen Khan, President, FDCB.
Fashion designers need to be under a collective like FDCB so that they can empower the artisans who will weave their magic on the fabrics, giving the dreams of the designers a chance to come alive in perfection, thus reviving our culture which stays rooted in original designs. To implement this is quite difficult as the very essence of this process demand the approach of 'slow fashion,' of overseeing every element and process of how an outfit will be made against the fast fashion approach of churning out designs every day, every hour.
"We always choose eco-friendly colours over synthetic ones, and take great pleasure in collecting goods that are locally manufactured by small scale artisans and crafters. We also use several upcycling and recycling techniques in several projects to promote sustainability in fashion," said Tanha Sheikh, owner of fashion label Taan and one of the participating designers in the event.
The fashion show featured a who's who of prominent contemporary designers, like Tenzing Chakma bringing his collection 'Hel Sobon,' meaning green and dreams in Chakma language, or Tasfia Ahmed's Aqua Bloom, a collection inspired by underwater bodies. It was quite enchanting to see models on the runway in stunning collections like these that gave the illusion of seeing them surrounded in lively colours like that of the ocean waves with pastel blue undertones.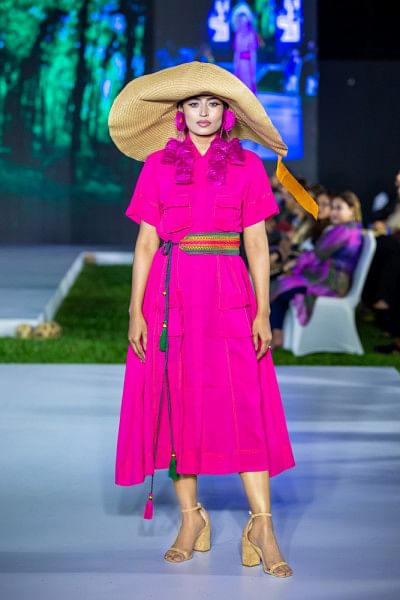 Regarding her Resort Wear collection, Tanha said, "It's inspired by the serenity of arable paddy lands whose vigour and nourishing aura as a testament to nature's interwoven bond with humans. As for the element, I have used andi cotton, organza silk and an aquamarine colour palette with hand stitched patterns depicting the strokes of weaving crops."
FDCB, in association with American Embassy Employees Association (AEEA) organized this event at the American Club in Gulshan with a noble cause, as all proceedings from sold tickets will support silk weavers ageing with disabilities.