Showcasing slow fashion by reviving Bangladeshi heritage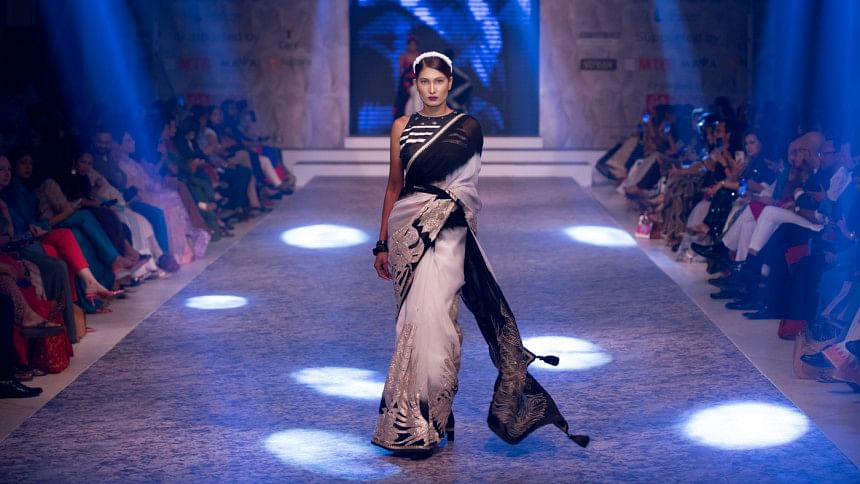 The Fashion Design Council of Bangladesh (FDCB), a not-for-profit organisation promoting sustainable fashion and artisanal craftsmanship to revive Bangladeshi heritage, hosted its highly anticipated FDCB Bangladesh Fashion Week 2023 on 16 and 17 March 2023, at Aloki Convention Centre in Tejgaon, Dhaka.
With the theme of, "Wear clothes that tell a real story of people and planet," 18 FDCB members and 6 visiting designers from India presented their spectacular collections by celebrating age-old artisanal dressmaking that focuses on sustainability and slow fashion.
"At FDCB, we believe that fashion goes beyond just clothing, it tells the story of people and the planet. We strive to showcase local heritage and create a path for future generations to explore and research designs, both local and international, to preserve the DNA of our industry. As responsible designers, the need to find conscious buyers to protect this industry is vital, for leading the way towards a more sustainable future for fashion," said Maheen Khan, President of FDCB.
Fashion aficionados were treated to a two-day gala at the FDCB event, which kicked off with a touching tribute to the late designer, Emdad Haque. Day one got off to a spectacular start, with Apex showcasing their latest footwear collection, while personal care brand, Ujjwala care, and hair care giant, Streax, wowed the audience with their innovative hair solutions.
However, the real showstopper was the parade of designers who took to the stage to showcase their unique collections. From Chandana Dewan's vibrant "Mangal Shobhayatra" inspired collection to Tanha Sheikh's "Riding the Waves of Life," the designs on display were nothing short of awe-inspiring. Rimi Nayak's "Botanics" was a veritable explosion of colour, while Afsana Ferdousi's "Tale of a Blue River" used traditional nakshi kantha stitches to depict the story of a river and its aquatic life.
Day two opened with a heartfelt tribute to the father of the nation, Bangabandhu Sheikh Mujibur Rahman, on his 103rd birth anniversary. Maheen Khan's collection, which blended traditional crafts and handcraftsmanship, was a true work of art; while Sharukh Amin's saris made of delicate Muslin and crepe silk were a sight to behold. Paromita Banerjee's homage to the Bindi, titled SAAJ 2.0, was a dazzling display of colour and culture.
The collections on display were a celebration of nature, culture, and history. Tenzing Chakma's collection drew inspiration from the colours of spring and biodiversity, while Rukhsana Esrar Runi's line-up evoked the purity and elegance of untouched nature. Meanwhile, Charlee Mathlena's collection was a tribute to Mizoram's culture, and Faiza Ahmed's "Deshbhakti" remembered the 50 years of Bangladesh's independence. Coming in at last, Shaibal Saha's "Back to Mother Nature" collection, celebrated the triumph of nature and the importance of natural living.
"FDCB enables us, as fashion designers, to grow as a community and let our vision come alive by empowering as we get the creative freedom to express our thoughts in innovative styles while staying in touch with our cultural roots. FDCB provides exposure to the fashion industry and valuable connections with buyers, editors, influencers, and public figures. This helps designers succeed in the limitless opportunities of the fashion world," said Tanha Sheikh, one of the participating designers and members of FDCB.
This year's event featured a line-up of prominent designers, including Maheen Khan, Shaibal Saha, Chandana Dewan, Kuhu Plamondon, Lipi khandker, Sharukh Amin, Nawshin Khair, Tenzing Chakma, Rifat Rahman, Afsana Ferdousi, Tashfia Ahmed, Faiza Ahmed, Rukhsana Esrar, Tanha Sheikh, Sadia Rupa, Imam Hassan, Kamrul Hasan Riyad, and Madhuri Sanchita from Bangladesh.
Indian designers taking part in the event were Soumitra Mondal, Rimi Nayak, Paromita Banerjee, Gunjan Jain, Ibalarihun Piwroy Mallai, and Charlee Mathlena.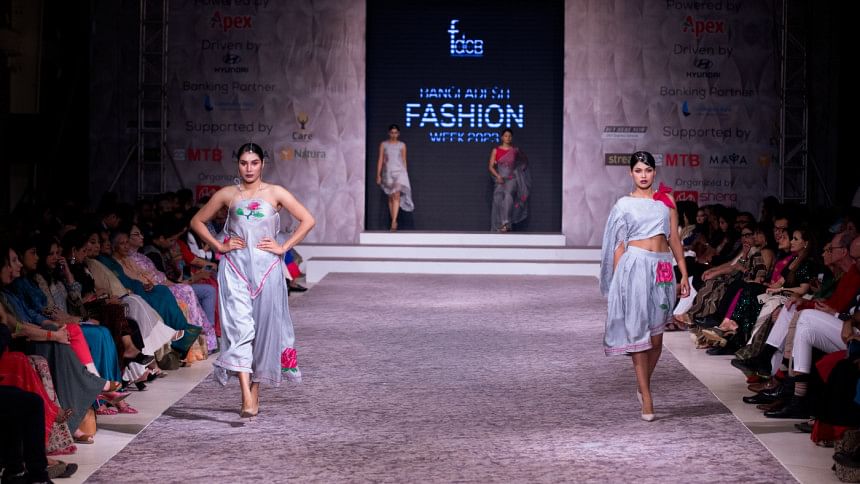 FDCB Bangladesh Fashion Week 2023 was powered and supported by Apex Footwear, Hyundai Motors Limited, Buy Here Now, MTB, Streax, Maya, Ujjwala Care, Natura Care Limited, with Community Bank the banking partner of the event. Shera Digital 360 organised the event and ICE Today was the magazine partner; The Way Dhaka was the hospitality and Aloki was the venue partner of the event.