Romance of a sari: Draped in love, tradition, and nostalgia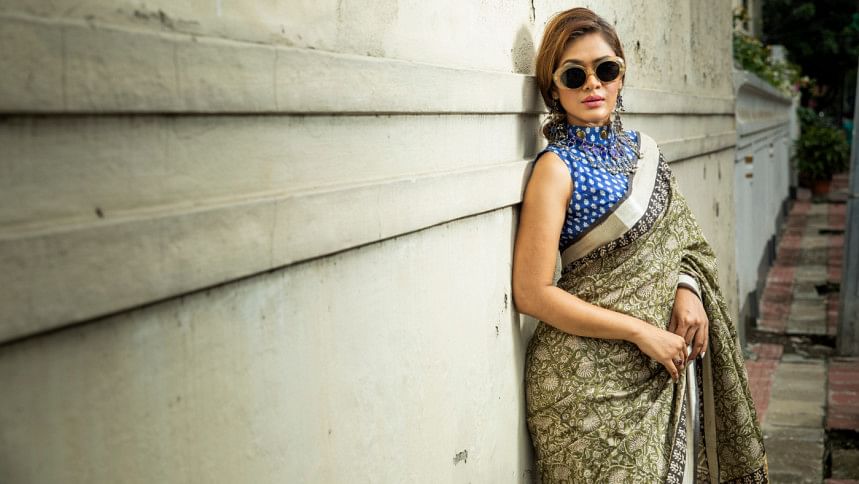 Do you remember the first time you wore a sari? Yes, we all do. For us Bengali women, the fascination of wearing a sari starts from the tiny age of 4 or 5, when our mothers use their ornas to drape us one and our fathers tell us we are the prettiest princesses in the world.
Growing up, we saw our older generation treasure their saris, and with time, learned to love this part of our tradition like no other. For us it is never just about the latest style. No, our saris hold core memories in them; each pleat tells a story.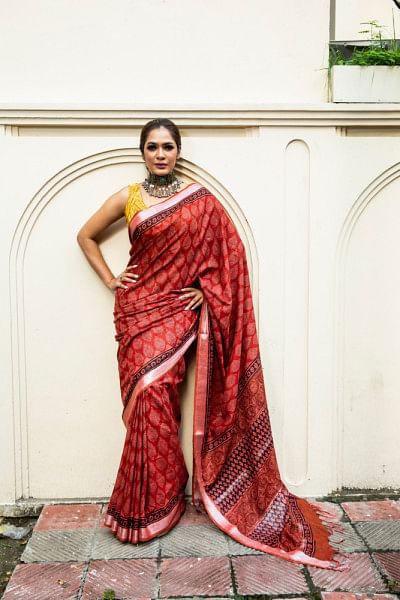 They are aesthetic and artistic; such an undeniable part of our culture that even writers and poets have, to this day, tirelessly spoken of that 'beautiful Bengali girl in a sari.'
Handloom cotton and Jamdani, perhaps the most traditional of saris, have been passed down through generations. We have all worn them in our own unique way, each of our little mistakes, each stain or tear adding to the stories to tell. In a way it shows us how we are so different and alike at the same time.
Where our grandmothers may have draped the long end of these saris over their head, our mothers chose to drop it over their shoulders. Whereas mum chose to look all traditional with a gold chain around her neck and a pair of matching earrings, I opted for a thick statement silver neckpiece with a handful of bangles instead. However, we all pulled our hair back and twisted it into a tight bun on a hot day. And we all placed a teep right in-between our eyebrows, going all-out in our 'Bengali' look.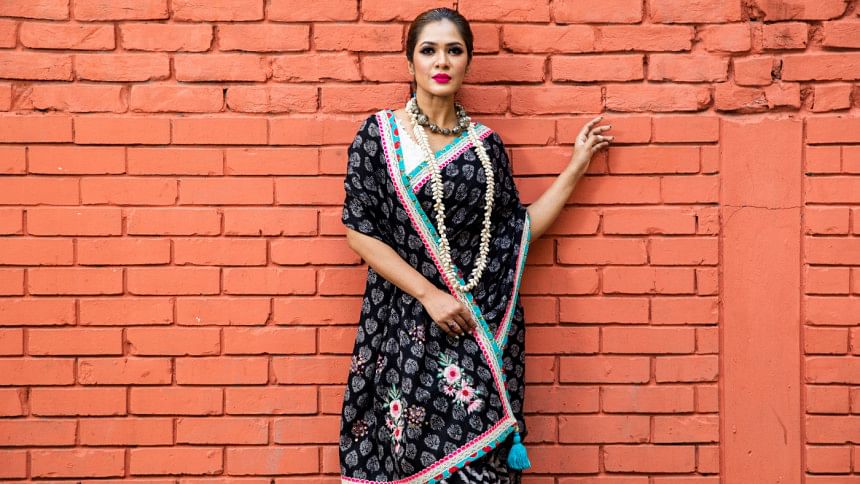 Cotton saris like handloom, tant, and kota, also come with a sense of freedom for many of us. Compared to their modern counterparts, their refreshing simplicity means that we can style when any way we want.
When wearing a sari in solid plain red, green, deep blue, purple, etc. a heavy pair of jhumkas made of silver or copper is all you need for a 'wow' factor in your outfit. With floral patterns woven all over them, we can choose to braid the hair while adding a choker necklace and a small pair of matching earrings. Add a few bangles and your look is complete.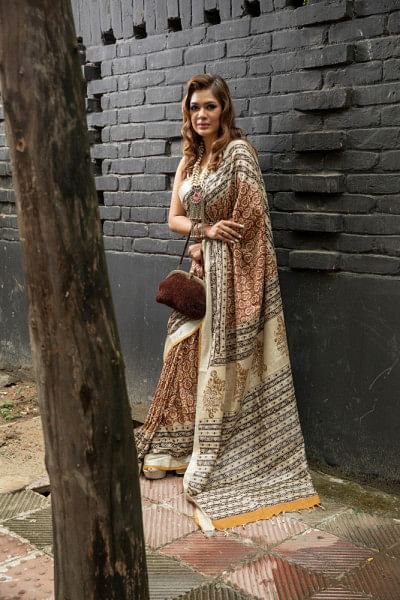 You are also free to forget all about those heels! Chappals and plain juttis go perfectly with these saris as do elevated flip flops and clog sandals. Jute bags or small faux leather purses also make an excellent part of this outfit.
Model: Hritika
Styling: Sonia Yeasmin Isha
Wardrobe: Almira by Shahrukh Amin
Make-up: Hosen