Merlot: Giving comfort clothing a chic twist
The highly competitive women's apparel industry is saturated with designers trying to think outside the box and combine style and substance. Consumers are also spoiled for choices and at this point, it can be somewhat tricky to grasp their attention. Sania Afrin, however, makes it look easy. The engineer turned entrepreneur is the owner of two successful ventures, Merlot and Purple Mallow. The latter focuses on accessories for women, and since 2017 has become a household name. But it's Merlot that has been making major headways lately with its meticulously crafted clothing items that is specifically designed for fashion savvy students and working women.
The idea of Merlot came from Sania Afrin's own experience as a professional. After finishing her engineering degree, she obtained an MBA from the University of Dhaka and started working as a lecturer at a university.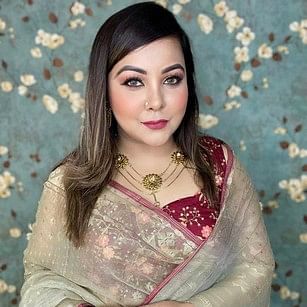 "At the initial stage of my career as a lecturer, I noticed a lack of comfortable clothing options for working women", stated Sania Afrin.
Sania had already started Purple Mallow at that point and given her success with her first venture, she wanted to broaden the horizon and bridge gaps that riddled the clothing industry. Thus, Merlot was born in late 2020.
"Women prefer clothing items that are comfortable and easy to put on for our day-to-day activities and this is the foundation of my designs. I also take Bangladesh's weather into account, which is why we use 100 percent cotton materials for our products," Sania said.
"We also price our items very carefully to ensure highest quality and affordability. And, of course to top it off, we add some style and finesse into the mix to make our outfits chic. We also make sure to include a lot of variety so that customers can mix and match and Merlot can be a staple of their daily wear," she added.
What sets Merlot apart from other brands is the sweet spot Sania Afrin was able to achieve with her clothing items. She always runs a pilot programme whenever she wants to launch a new line to get feedback from existing clients and ensure that all customers get the best possible experience.
"Our business model is very consumer-centric. We don't want to launch new items just for the sake of launching them. Ensuring that customers get most out of my creations is of paramount importance", Sania elaborated.
So far, Merlot has received an overwhelming response from the market and within a very short time, has built quite an impressive base of loyal customers.
Her journey and progress, however, did not come easy. Sania had to overcome plenty of hurdles initially.
"Finding suitable artisans who can execute my ideas was the biggest challenge I had to face. Skill of course plays a big factor but understanding the task is equally important and it can be difficult to convey your ideas to them. The communication trouble extends beyond the artisans. I had to deal with traditional wholesalers who initially made a fuss about working with a woman and questioned my abilities to sustain my business. I had to overcome a lot to bring Merlot to the stage it's currently in," explained Sania.
Sania Afrin is still riddled with various challenges in the form of courier companies and marketing tools. There remains a lot of obstacles to navigate around, but Sania seems to be doing that gracefully and growing her business one satisfied client at a time. She is currently working on introducing a more exclusive line of product, which focuses more on fashion-oriented outfits that cater to all seasons.
Essentials —
Merlot Display Centre: House #536, Road #07, Avenue #06, Mirpur DOHS
Follow them on social media —
www.facebook.com/merlotbd
https://www.instagram.com/merlot.bd
Photo: Asif Rahat
Model: Sabrina Zaman Riba and Tabinda Hossain
Wardrobe: Merlot
Styling: Sabrina Zaman Riba