5 ways to style Hawaiian shirts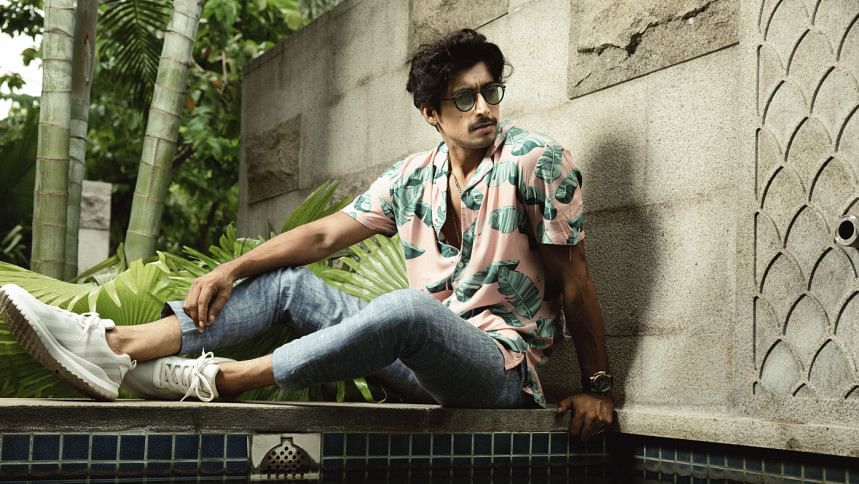 Hawaiian shirts, also known as Aloha shirts, have long been known as the most popular holiday outfit for their breezy fabric and bold patterns and colours that cater to the free-spirited. They are fun and unbound and scream summer. Not just a holiday outfit, Hawaiian shirts can be flaunted as dapper attire at any summer outing. However, just as exotic as they look, these shirts can make you look ridiculous at the same time if worn wrongly.
As your fashion guide, we have listed down the top 5 classy looks you can pull off with a Hawaiian shirt.
The devil-may-care look
The first rule to wearing Hawaiian is to allow it to be the only flashy item of your ensemble. In other words, pair it up with non-patterned neutral colours like black, white, blue, or khaki. A pair of khaki Bermuda shorts are a great choice to wear with a Hawaiian shirt. Especially, if you are on a holiday by the beach; nothing can be better than shorts to show off your tan. For any other day outing, go in trainers or loafers. Because of its versatility, you can throw in literally any colour with a khaki and it will still look amazing.
Black shorts are preferable for a night out, especially if the base colour of your shirt is black. Remember to put on a watch and black Chelsea boots to finish up the look.
The effortlessly cool look
The bright colours of Hawaiian shirts can sometimes feel like a bolt from the blue. But if you look comfortable in them, it will make others feel at ease as well. Therefore, dress comfy with your go-to jeans to soothe the Hawaiian hues. Like comfort food or movies, people tend to have comfortable clothes as well, and I believe jeans is one such item of clothing. Try camp collars to further loosen up and the classic white sneakers.  
The pour-your-colourful-heart-on-the-canvas look
To give your Hawaiian shirts an elegant dressy look, get chinos in the picture. Chinos are mostly found in muted colours and create a canvas for the crazy colours and prints in your Hawaiians, hence allowing them to shine. For a semi-formal yet funky look for your next work dinner, you are most welcome to embrace this combo. Try a buttoned-up collar this time and go with dress shoes for the best results. Make sure the shirt is tucked in and fits you right, that is, not so tight that people can count your abs or not so baggy that your silhouettes are invisible.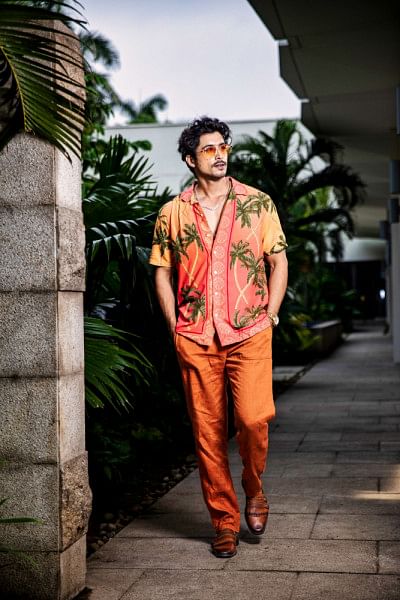 The best man look
In my opinion, Hawaiian shirts look the most gorgeous when worn with a suit. Sleek. Stylish. Sprightly. It is formal but a little bit of fun. Dressing your suit in a Hawaiian shirt is a stunning way to slay the summer wedding look, especially for a destination wedding by the beach. A yellow shirt with dark blue print under a similar dark blue suit will be a show stealer. You can try other colours as well following a similar colour coordinating method and spread your debonair aura.
The aesthetic retro boy look
Hawaiians with undershirt look are what they call aesthetic. When you think of this outfit, you can suddenly hear waves crashing mixed with Dameer's tunes and suddenly feel young and in love. Contrasting the crazy colours of the shirt with a simple white tee will simply make you look artistic. Add a pendant to your accessories and white sneakers.
Despite being your fashion guide, I will have to admit that fashion does not have any rule book. Someone can go all colours and still manage to pull it off. So, unleash your inner Elvis Presley (or Al Pacino if you prefer) and embrace the art of Hawaiian shirts.
Model: Rabbi
Makeup: Sumon Rahat
Styling: Sonia Yeasmin Isha
Wardrobe: Lyonora
Location: InterContinental Dhaka