DU Wins 2nd Professor Shah Alam Constitutional Law Moot Court Competition, BRACU emerges as the runner-up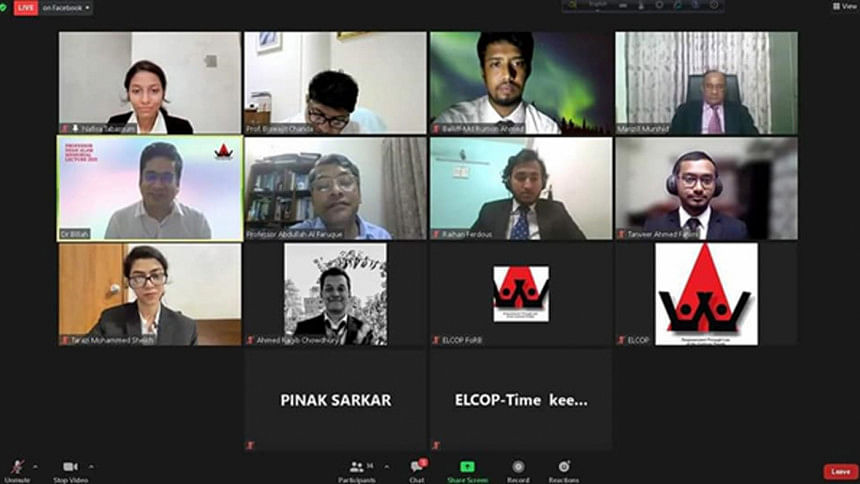 The 2nd Professor Shah Alam Constitutional Law Virtual Moot Court Competition organised by Empowerment through Law of the Common People (ELCOP) was held from 24-27 June. A total of 26 teams representing different universities of Bangladesh have participated in this virtual moot court competition.
The event started on 24th June with vote of thanks by Barrister Tapas Kanti Baul and SM Masum Billah, respectively the Executive Director and the Director of ELCOP. The opening ceremony was graced by the presence of the President of ELCOP, Professor Dr. Mizanur Rahman. Earlier in the opening ceremony Dr. Jaclyn L. Neo delivered an illuminating lecture on "Freedom of Religion in the Age of Social Media". A moot master class was also taken by previous distinguished participants.
After two days of neck and neck battles among teams in the preliminary, quarter-final, semi-final rounds, BRAC University and University of Dhaka reached the final round of the competition. The final rounds were adjudicated by Advocate Manzil Murshid, Justice Md Nizamul Huq, Professor Thio Li- Ann, Professor Dr. Abdullah Al Farooq and Professor Dr. Bishwajit Chanda. The team consisting of Raihan Ferdous, Tanveer Ahmed Fahim and Ahmed Ragib Chowdhury representing University of Dhaka has emerged as the champion while the team of BRAC University represented by Tarazi Mohammad Sheikh, Nafisa Tabassum and Pinak Sarkar became the runner-up. Team University of Dhaka has also bagged the best memorial award for both sides (petitioner and respondent). Tarazi Mohammad Sheikh bagged the best mooter award for her outstanding performance throughout the tournament while Raihan Ferdous achieved the Rebellious Lawyer award as the best speaker of the final round. The EXIM Bank Agricultural University of Bangladesh was awarded with the Spirit of the Moot award.
The closing ceremony was graced by the presence of Dr. Shahdeen Malik as the chief guest along with Professor Dr. Mizanur Rahman and Professor ABM Abu Noman. The Honourable guests shared their insights on various topics and commemorated Professor Shah Alam with utmost respect. Barrister Tapas Kanti Baul, the Executive Director of ELCOP ended the ceremony with his vote of thanks. Few video recordings of the competition can be found in the official page of ELCOP at https://www.facebook.com/elcop71
Event report by Sal Sabil Chowdhury, student of law at the University of Dhaka.