A glimpse of experience from the 18th Human Rights Summer School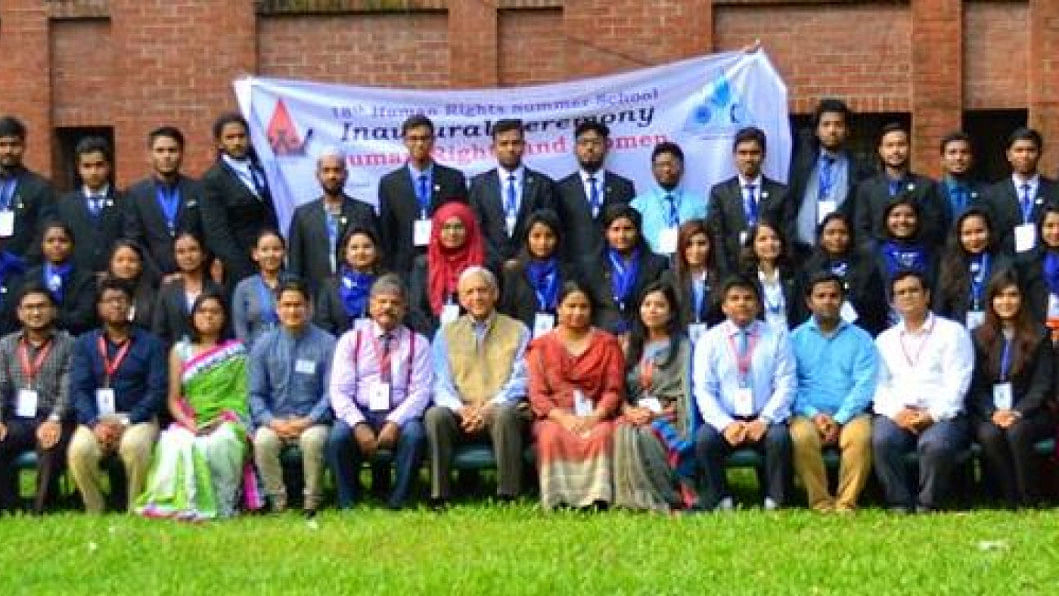 The 18th Human Rights Summer School (HRSS), organised by Empowerment through Law of the Common People (ELCOP), took place at Proshika HRDC, Koitta, Manikganj from 27 September - 6 October 2017. The HRSS this year focussed on the issue of 'Human Rights and Women' with a view to enlighten the spirit of legal minds in a sublime way going beyond the common trend of bookish education and equipping the law students with the skills of community advocacy.
Profound jurists, human and women right activists, judges, advocates, media personality and academics from Bangladesh, India, and Nepal shared their knowledge and experiences through interactive sessions, debates, arguments, comments, etc. The platform was open to all to exchange ideas, share hypothesis, analyse information or challenge any issue for collectively understanding the essence of human rights in the lives of women.
Human rights and women rights issues were discussed from a critical viewpoint, issues of restorative justice and reparative justice, constitutional approach to human rights, intersectional discrimination, feminism, cultural diversity of indigenous peoples and the proper way to address the situation was also brought on the forum by the experts of the respective fields. Contemporary issue of cyberspace in personal life was also introduced to 42 law students from home and abroad.
International Affairs Adviser to the Prime Minister of Bangladesh Professor Dr. Gauhar Rizvi, renowned law academic Professor Dr. Mizanur Rahman, eminent public intellectual Professor Dr. Salimullah Khan,  human rights activist Sultana Kamal and others gave lectures on the culture and practice of human rights from philosophical, sociological and legal perspectives. The extraordinary drama performance of ICSF (International Crime Strategy Forum) on the plight of Beerangonas (War Heroines) of 1971 took the participants artistically into the history lane of our liberation war.
The pioneering method of simulation was the key mechanism to understand the practical condition and prepared the participants for future research programme of ELCOP named CLR (Community Law Reform). Moreover, some initial tasks were given to reach the community people to gather the first-hand experience of CLR. Mooting was another practical approach to introduce the participants in a real-life court situation where parties involved in a fictitious dispute presented their arguments in a persuasive manner.
HRSS aimed at widening the domain of the minds of the participants in order to bring about an increased sense of awareness among them.
THE WRITER IS PARTICIPANT OF THE 18TH HUMAN RIGHTS SUMMER SCHOOL (HRSS).