Khaleda blasted over 'Qaeda, Taliban link'
Khaleda blasted over 'Qaeda, Taliban link'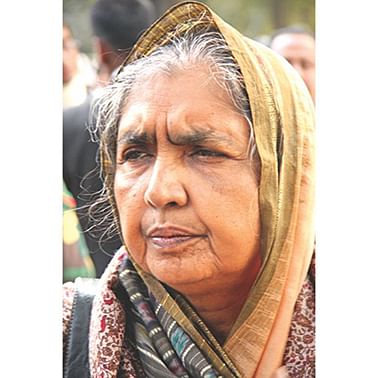 Four ruling alliance lawmakers including two senior ministers today  in parliament lambasted BNP chief Khaleda Zia and Jamaat-Shibir for their "involvement" with al-Qaeda and Taliban and "promoting" militancy afresh in the country.
Agriculture Minister Matia Chowdhury came up with a statement under section 300 of parliament's rules of procedure in which she also blasted BNP acting secretary general Fakhrul Islam Alamgir for his "sympathy" towards a JMB militant --Rakib Hasan Russel-- who was killed in police "shootout" on Monday after his recapture by police.
Prime Minister Sheikh Hasina was present in the parliament.
Matia said: "I want to reveal the truth that BNP and Jamaat's closeness with militant and terrorist groups including al-Qaeda and Taliban is nothing new. They don't have minimum shame for cooperating militant outfits."
The agriculture minister also slammed some diplomats stationed in Dhaka for "their communication with different militant outfits including Hefajat-e Islam".
"Some foreign diplomats speak against militant and terrorist groups. But they also nourish and patronise those militant outfits. When those militants come to power, they keep good relations with the groups," Matia said without mentioning names of any foreign embassy in Dhaka. 
In her statement, Matia blasted Fakhrul for his recent comment that al-Qaeda chief Ayman al Zawahiri visited Bangladesh during AL's past government.
Referring to a report published in Time Magazine on October 20, 2002, Matia said during the BNP-Jamaat four-party alliance government's rule, the present al-Qaeda chief visited Bangladesh three times and the then government gave warm hospitality to him.
Pointing to a recent report of US-based research group that placed Islami Chhatra Shibir, the student front of Jamaat, the key ally in the BNP-led 19-party alliance, in the third position among the world's top armed groups, Matia said Jamaat and Shibir are directly involved with Taliban and al-Qaeda.
After Matia, AL senior lawmaker Sheikh Fazlul Karim Selim started his speech on a point of order followed by Opposition Chief Whip ABM Tajul Islam, a Jatiya Party MP, AL lawmaker Nozibul Bashar Maizbhandari, Workers Party MP Fazle Hossain Badsha and Commerce Minister Tofail Ahmed.
All of them accused Khaleda Zia, Jamaat and Shibir for patronising militancy for which JMB has come in action afresh in the country.
Some of them also accused BNP of its involvement in Sunday's snatching of three convicted JMB men from a prison van in Mymensingh.
Tofail in his speech said his government will take actions if there was any lacking in security measures in transporting the convicted JMB men from Kashimpur Jail to Mymensingh.