Judge Bernard Nicholl of Dinajpur
Judge Bernard Nicholl of Dinajpur
History is perhaps my forte. A more recent interest of mine involves selective readings and research on genealogy or family histories. Lately, I have also been engaged in the documentation efforts of old European/Christian cemeteries with historic, funerary monuments - tombs, graves, mausoleums and epitaphs of the British colonial era in Bangladesh. It brought me in touch with Peter Cockerill.
Peter Cockerill lives in London, England. We were introduced by a mutual friend a few years back. Peter has a very interesting background. He belongs to a family of "old India hands". His maternal grandfather, Bernard Vincent Nicholl, of the Indian Civil Service ( ICS), Bengal cadre, died and was buried in Dinajpur in 1915, while serving there as the District & Sessions Judge. Peter requested me if I could assist in locating his grandfather's grave at the Dinajpur cemetery. Unfortunately, regardless of the burial details and concerted efforts, the grave could not be located. It simply does not exist anymore. If we had been successful in locating it, Peter would have come all the way to visit Dinajpur and pay his respects to his grandfather at his graveside. And, I would have gladly played host to him. It can well be imagined how eagerly Peter must have awaited the positive "breaking news" from here as the search was going on at the Dinajpur cemetery. But it was not to be. It saddened both of us. It is the regrettable state of things here in Bangladesh.
Peter's maternal grandfather Bernard Nicholl has a most interesting pedigree. He was patrilineally descended, a sixth generation removed grandson of King Charles 11 (1630-1685 ), monarch of the three kingdoms of England, Scotland and Ireland, by his mistress Barbara Villiers, Duchess of Cleveland. Bernard's paternal family tree also show a Lord, the Earls of Lichfield, a Knight, a Viscount and an Admiral as lineal ancestors.
Bernard Vincent Nicholl (1867-1915), ICS, son of Iltyd Thomas Mansel Nicholl (1828-1885) and Cecelia Mary Josephine Jerningham (1842-1879) was born on 3 September, 1867, in Painton Villa, Cambridge Place, Clifton, Bristol, England. He was Baptized on Thursday, 5 September, 1867 at the Protestant Cathedral, Clifton, by the Very Reverend Monseigneur Bonomi.
In 1881, Bernard studied at Beaumont College in Old Windsor, Berkshire, England. He joined the Indian Civil Service (ICS), Bengal cadre, in 1887 at the age of twenty. The same year he was required to attend Trinity College in Cambridge. He arrived in Bombay, British India, on 9 November, 1889, on board the steamship "Oceana", aged twenty two. Interestingly, his first ICS posting was in Sylhet, then a part of Assam, as an Assistant Commissioner 3rd Grade on 20 November, 1889. In that capacity he also served in Dibrugarh, Sibsagar and North Lakimpur until 1892, all in Assam. He was promoted to the post of a Sub-divisional Officer (SDO) on 15 April, 1892 and served in Goalpara and Golaghat in 1893, and in Dibrugarh and Tezpur in 1894, all four postings also in Assam. At the age of twenty six on 9 July, 1894, he was promoted to Deputy Commissioner and served in various places from 1894-98, including Calcutta.
In June, 1895, Bernard Nicholl went on furlough to Wimbledon, London, and married Winifred Clara Ellis (1875-1956) daughter of Captain Henry Williamson Welbore Ellis (1838-1885), and Agnes Keen Snell (1844-1834). Winifred also belonged to a family of "old India hands". Both her father and paternal grandfather served in Bengal, British India. She was born on 12 May, 1875, in Kidderpore, Calcutta, where her father was a Captain's Clerk in the Royal Indian Navy (from 1856 ) and subsequently, became the Deputy Shipping Master (1885) there. It is interesting to note that Winifred's eldest brother, Henry Leopold Welbore Ellis (1870-1957), was born at Jessore, now in Bangladesh.
Bernard and Winifred were married on 3 September, 1895, when Bernard a twenty eight year old, ICS officer, had come home to Britain on leave from India. The marriage was solemnised at the Church of The English Martyrs, Wandsworth, London. Just before her wedding, Winifred then twenty one, was formally presented at the Nicholl family house at Merthyr Tydfil, Bridgend, Glamorgan, in Wales.
The newly wed Bernard and Winifred sailed on board the "S S Malta" for Diamond Harbour, Calcutta, India on 25th October 1895. Bernard has left a detailed account of his thirty two day sea voyage from England to India by a P&O steamer, "S S Malta", and the onward journey by a local steamer, "Aka", up the Brahmaputra river to Assam. Bernard was then the Deputy Commissioner at Dibrugarh in Assam.
The following are extracts from the Itinerary of the 32 day voyage in 1895 on board the P&O steamship "S S Malta" from England to India as per Bernard's diary. This has been included to show how literate and educated Europeans of both sexes in those days maintained diaries or journals on a regular basis.
 "…turned in very soon & slept pretty well till we reached Goalanda.
4th 6 am at Goalanda – Caught sight of Winifred outside as I was dressing & soon after joined her – found that the ponies had not come with us as I had ordered so wired to Cooks to enquire. Made our way to steamer which was the "Aka" & found several others are travelling by her but managed to rescue a cabin. Had Chota Hazri & got under weigh about 8. Passengers consist of an American missionary & his wife bound for Sibsagar my two stable companions of last night young Lea on his way to Tezpur whence he goes to Dhubri. Expecting to get to Tezpur, a man from Kellener's on his way to cater for Tezpur races and an old river skipper with a very musical snore to which he treats us the greater part of the day. After Chota Hazri had bath and changed. Began reading "Red as a Rose is She" by Rhoda Broughton. Winifred still going on with Vicar of Wakefield. Slept in afternoon. Had tea in cabin & stayed on deck till dinner time. Bed fairly early."
In 1899, Bernard's services were transferred to the Judiciary. He was made a District & Sessions Judge and served in Cachar in Assam and then in Mymensing, Dhaka, Rangpur, Bakerganj (Barisal) in East Bengal from 1899-1910.
Bernard served in Dhaka from 1902 to 1905 as the District & Sessions Judge. Although no written account survives of his or his family's life in Dhaka, there are some interesting old photographs from that era. From the visuals it appears that as the Judge both Bernard and Winifred led active social lives in Dhaka. They maintained a large house in Ramna. For recreation there was the Club, games, the races at Ramna, dances, social visits and the usual gossips for memsahibs, lunch,Tea and dinner, picnics, shikar, river cruises, parties, Polo and horse riding. There is a rare picture of Bernard and Winifred attending the Dhaka Nawab's "Fancy Dress Ball" at Ahsan Manzil in 1902. There is also another rare photograph of Bernard and others taken at the Ramna races with Nawab Sir Khawja Salimullah of Dhaka in 1902. In those days, there was a sizable British and other European population living in Dhaka.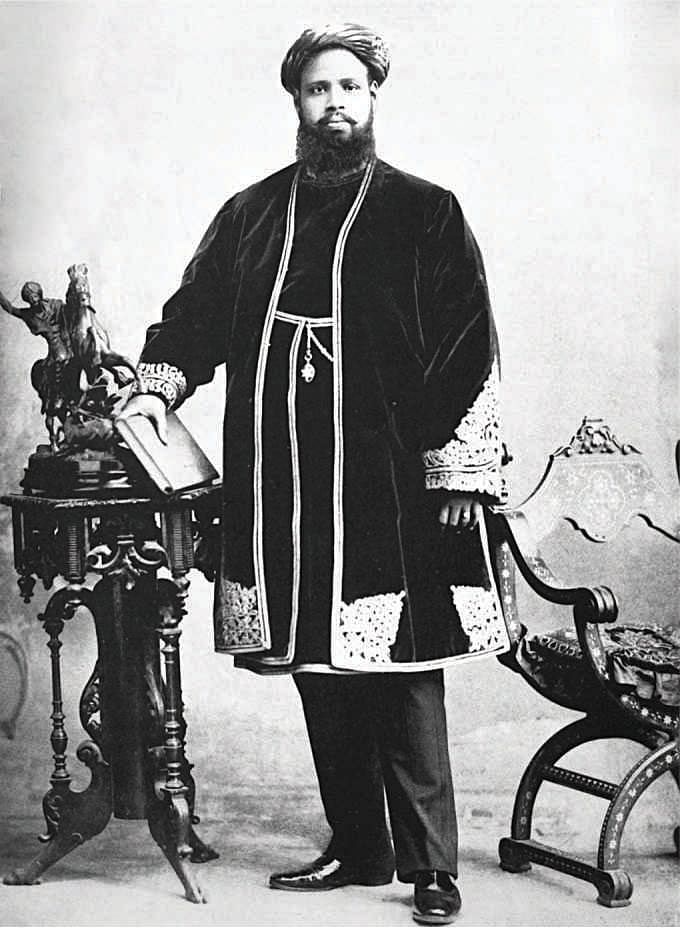 Bernard's last posting, an ill-fated one, as the District & Sessions Judge was in Dinajpur, a dusty little town tucked away in a backwater of East Bengal and given to extremes of temperature - of blistering hot summers and near frigid winters, where he was transferred from Barisal on 6 December, 1911 at the age of forty four. On April 1912, his services were permanently transferred to Bengal from Assam. Hardly anything is known about the Nicholl's family life spent in Dinajpur. After having served and lived in Mymensing, Rangpur, Barisal and especially at Dhaka, it can be presumed with certainty that the transfer to Dinjapur must have come as a shock and disappointment for Bernard and his family. Dinajpur was a remote outpost. There was only a handful of Europeans there – Raj officials and missionaries. There was no European club to go to. The Nicholl's social life must have been drastically curtailed. The only worthwhile entertainment, from time to time for the few British officials, their families and other Europeans must have been provided by the then illustrious Maharaja Bahadur of Dinajpur, Sir Girija Nath Roy. He held vast landed estates with garden houses, temples, beautiful lakes and hunting lodges, ideal for getaways and for holding of picnics, shikar, angling, riding and boating events. In the outskirts of Dinajpur town, the Mahararaja also had a well laid out palace on a vast area with gardens, playground and a well stocked menagerie where the Nicholl children must have spent time with the fauna.
Sadly, it was here in Dinajpur that Bernard contracted a fatal case of pneumonia and died on Monday, 12 April, 1915. He was buried on the same day by Rev. O Pedrotti RC Chaplain of Saidpur, at the Government Cemetery in Dinajpur. The rites were administered in accordance with those of the Roman Catholic Church. The cemetery is located near the original railway station in Dinajpur. An extract from the Englishman Newspaper of Calcutta of 22.4.1915 records that: "Late Mr Nicholl. Public Meeting of Sympathy. AP India. Dinajpur April 21. A largely attended public meeting presided over by the Maharaja of Dinajpur was held in the local National School yesterday. The resolution was adopted expressing condolence with Mrs Nicholl and her young children at the sudden and premature death of Mr B V Nicholl, Sessions Judge of Dinajpur which melancholy event took place on the 12th instant." Bernard left at his untimely death his wife, Winifred pregnant with their seventh child, and six other children. It must have been a most heart breaking scene in Dinajpur.
Bernard and Winifred had seven children, a son and six daughters. They were: Agnes M T Nicholl (1898-?), Robert Arthur Francis Nicholl (1899-1941), Cecilia Nicholl (1901-1975), Clare Imelda Mary Anne Nicholl (1907-?), Joan Mary Carmela Nicholl (1912-2012), Barbara Mary Nicholl (1913-1979) and Dorthy Mary Nicholl (1915-1981). Joan and Barbara were both born in Dinajpur, while the youngest child Dorthy was born in 1915 in England four months after Bernard's death in Dinajpur.
A sad postscript to the story: Bernard Nicholl had a brother named Ambrose, who died in Argentina in January, 1915. Another brother called Iltyd, had died earlier in South Africa in October, 1914. Thus, within a span of six months all three Nicholl brothers, including Bernard had passed away. Ironically, the Nicholl brothers had agreed to meet in their home country with their families for a reunion in early 1915. Instead three widows along with eleven children met for the first time in Britain in 1915, without their husbands and fathers.
The writer is the founder of Bangladesh Forum for Heritage Studies.