Pollution by 'plastic' campaign
Disposal of nondegradable PVC banners becoming an environmental concern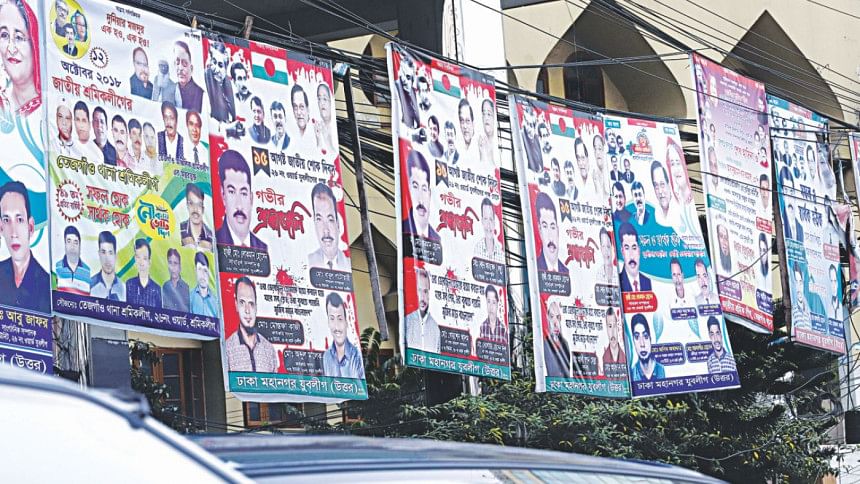 Plastic banners are everywhere -- on lampposts, walls, flyover pillars and footbridges. Politicians use them for their publicity.
But now as these have to be removed by tomorrow in line with an Election Commission directive, a new concern has arisen: how will the banners, made of mainly polyvinyl chloride (PVC), be disposed of ensuring minimum harm to the environment and people's health.
The durable PVC banners had been in use on a small scale over the last decade but they have gained popularity ahead of this election, said HM Rasel, owner of a printing shop in the capital's Purana Paltan.
They are sunlight and water resistant and in cases oil and chemicals resistant too, which makes them desirable to advertisers. But these very characteristics threaten the environment. 
There are good reasons to be worried about PVC disposal. Items made of PVC remain unchanged for decades and when any breakdown occurs, its composition stays the same. PVC is not degradable.
The most alarming fact is, if the material is burnt at low temperatures, below 1,000 degree Celsius, it generates highly toxic chemical compounds called dioxins, said Mominur Rahman, associate professor of environmental pollution management at Bangladesh University of Engineering and Technology (Buet). 
To explain how poisonous dioxins are, he said one molecule of dioxin in 1 billion air molecules can be carcinogenic, meaning it can cause cancer.
According to a paper by a PhD author from Columbia University, toxicological studies have not been able to establish a "threshold" dose below which dioxins have no biological impact.
Human development, reproduction, and immune systems are highly sensitive to dioxins, said the author, Joe Thornton, who was part of a "campaign to eliminate PVC products from medical devices due to their central role in dioxin formation in medical waste incinerators."
An assessment is necessary to know the magnitude of PVC banner use, its environmental impact, and the severity, AH Md Maqsood Sinha, executive director of Waste Concern, told The Daily Star on Sunday.
Visiting nearly a dozen digital printing shops in Paltan last week, it was learnt that PVC banners have become so popular that machines, imported from China, were now available even in districts.
"We used to get orders from outside Dhaka [ahead of election]. Now clients get them in their local areas," said shop owner HM Rasel.
Still, his business is good because the demand increased manifold. Over the last month, his shop printed nearly 1,000 PVC banners at Tk 14 per square feet. Rasel has a target of printing 1 lakh PVC banners in the run-up to the election scheduled for December 30.
"Now, we are printing coloured banners. Once electoral symbols are allotted, the banners will be black and white," he added.
Environmental concern over the rampant use of polythene or plastic materials is not new here. Environmentalists have time and again called upon the authorities to rein in the manufacture, sale, and use of such products.
On November 6, a group of organisations working against pollution, including Bangladesh Environmental Lawyers Association and Poribesh Bachao Andolon, wrote to seven ministries, demanding an end to manufacture, marketing, and use of plastic materials through a strict implementation of Bangladesh Environment Conservation Act, 1995.
The industries ministry, commerce ministry, and the Ministry of Environment, Forest and Climate Change are among those written to.
The government, if convinced that an "article is injurious to the environment", as suggested in the 1995 act, can impose absolute ban on production, use, import, and stock of the article.
MINIMISING DAMAGE
To better manage the disposal of those plastic banners, Maqsood, of Waste Concern, a social business enterprise for waste recycling, said the Department of Environment, city corporations and the EC should identify all stakeholders and sit with them to formulate guidelines on how to reduce environmental damage.
"Some of them may be recycled," he said adding that the country does not have the technology to recycle multi-layered laminated banners. 
To keep those from being littered, the authority should collect them, reduce them into smaller pieces before dumping them into a landfill, Maqsood added.
Echoing him, Air Commodore Zahid Hossain, chief waste management officer of Dhaka South City Corporation, said plastic waste would be kept separately in the landfill to recycle those in a year or two.
"The city corporation will begin the recycling process."
Surprised when asked about how the authorities plan to dispose of PVC banners, Senior Secretary of Local Government Division Zafar Ahmed Khan said, "You've pointed out an important issue. We'll look into it."
The Election Commission itself can take steps against the use of PVC banners, as was seen in neighbouring India. Prior to Assembly election in its five states in 2016, the election commission of India asked political parties not to use plastic banners for promotion during electioneering.
Farhad Ahmmed Khan, joint secretary of Bangladesh Election Commission, said they have no legal mandate to forbid politicians from using PVC banners in campaigns.
"It is the duty of the Department of Environment [DoE]," he said.
Director General of DoE Sultan Ahmed said, "Political parties need to be conscious about its [PVC banner] adverse impacts."
"We'll hold a meeting with our officials in this regard to lay out our action plan," he said.