Clash in front of BNP's Naya Paltan office premeditated: CTTC chief
Militant attack unlikely during polls, he says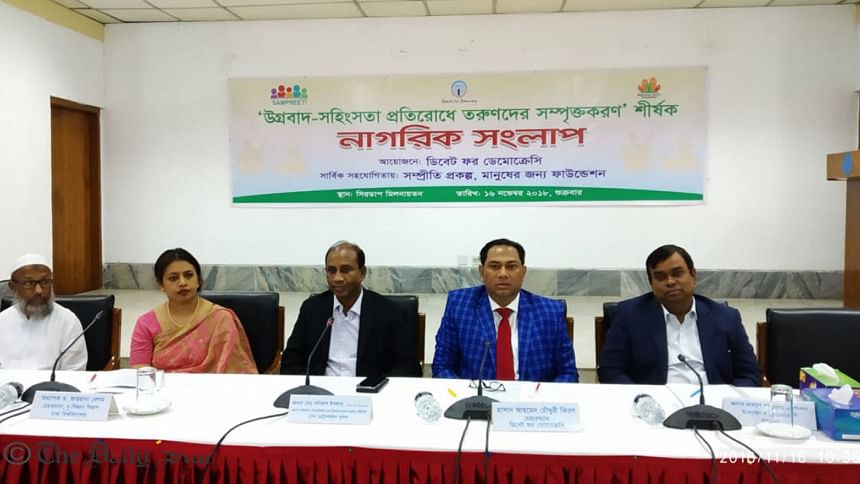 The clash between BNP men and law enforcers in front of the party's central office at Dhaka's Naya Paltan on November 14 was premeditated on BNP's part, Counter Terrorism and Transnational Crime (CTTC) unit Chief Monirul Islam said today.
There is no possibility of attack from militants targeting the upcoming national election, he also said.
The CTTC chief came up with the remarks at a citizens' dialogue programme at CIRDAP auditorium in Dhaka, arranged by Debate for Democracy in association with Manusher Jonno Foundation under Sampreeti Project.
Regarding the Naya Paltan clash, Monirul said that police only tried to disperse the BNP men as they were violating electoral code of conduct by creating a huge crowd while filing the party's nomination papers.
If police tried to assault them, then they could have done it in a few minutes instead of being so slow, he said.
"From the media footages we can clearly see how they were prepared for vandalism as they emerged with big bamboo sticks as soon as the clash started. Those sticks did not come out of nowhere. They came there prepared for instigating violence," he also said.
Action would be taken according to penal code against those who took part in vandalism and can be identified from video footages, Monirul added.
He also hoped that the political parties would act more sensibly in the future and would follow the electoral code of conduct.
Regarding possibility of militant attack during the election, the CTTC chief said, "Militants are against democracy and election, but as we have already taken various measures we are hopeful they would not be able to create any chaos during election."
"In spite of that, we cannot live in self-satisfaction and everyone must remain aware of militants," he said.