Nayapaltan Clash: 488 sued in three cases
Abbas, Rizvi among accused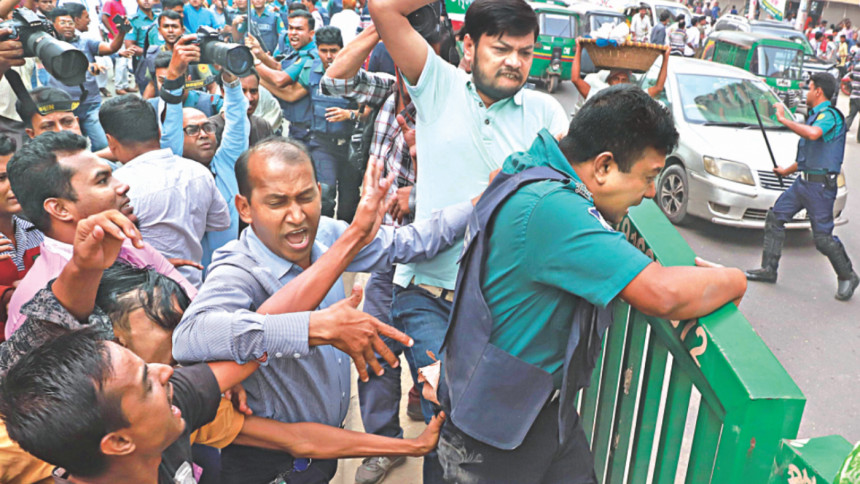 Senior BNP leaders Mirza Abbas and Ruhul Kabir Rizvi are among the 488 people accused of attempting to foil the upcoming parliamentary polls in three cases.
The cases were filed for alleged attacks on police and causing violence in Nayapaltan on Wednesday.
Many others, not named in the cases, were also accused.
The cases filed by police with Paltan Police Station mentioned that "the attack" was  aimed at creating instability, unrest and anarchy.
The clash in front of the BNP's central office left at least 20 BNP activists and as many policemen injured. It marred a peaceful atmosphere that prevailed in the country ahead of the polls.
Police arrested 65 of the accused, including BNP Chairperson's Adviser Kafiluddin, and produced them before the Chief Metropolitan Magistrate's Court in Dhaka yesterday with a 10-day remand prayer.
The court placed 38 of them on a five-day remand each and allowed police to interrogate 27 others at the jail gate for three days.
Meanwhile, detectives last night arrested Nipun Roy, BNP executive committee member, in Kakrail area. Like many other BNP leaders, she has been accused in all the three cases.
Nipun was picked up with singer Baby Naznin who was released later, said Mahbub Alam, joint commissioner of Detective Branch of police.
According to the statements of the cases, the accused had assembled illegally with dangerous weapons.  They hurled brick chips and grievously injured policemen by attacking them with sticks with a motive to kill the law enforcers.
BNP leaders Afroza Abbas, Maj (retd) Akhtaruzzaman, Kafiluddin and Nabiullah Nabi were accused in all three cases.
The cases were filed under the Explosives Substances Act, Special Powers Act, and on charges of attacking police with an intention to kill them and obstructing them from discharging their duties.
According to one of the cases, the two police cars vandalised and torched were worth around Tk 95 lakh. Another car and an APC of police were also attacked, it added.
Meanwhile, Asaduzzaman Mia, commissioner of Dhaka Metropolitan Police yesterday told reporters that police identified 30 others involved in the violence from video footage.
"We have come to know from sources that all the accused and identified ones are leaders and activists of BNP and its front organisations," he said, adding, "The attack on police was preplanned."
On Tuesday, the Election Commission asked law enforcers to take steps against the nomination seekers staging showdowns during collection or submission of nomination forms.
Mishu Biswas, assistant commissioner of DMP (Motijheel zone), said the young man, who set fire to the police vehicles was Shahjalal Khandaker, a convening committee member of Paltan Jatiyatabadi Chhatra Dal. Another young man who was seen damaging a police vehicle was Shohag Bhuiyan, a JCD activist.