No Shakib-Fizz showdown
Kolkata defeat Hyderabad by 17 runs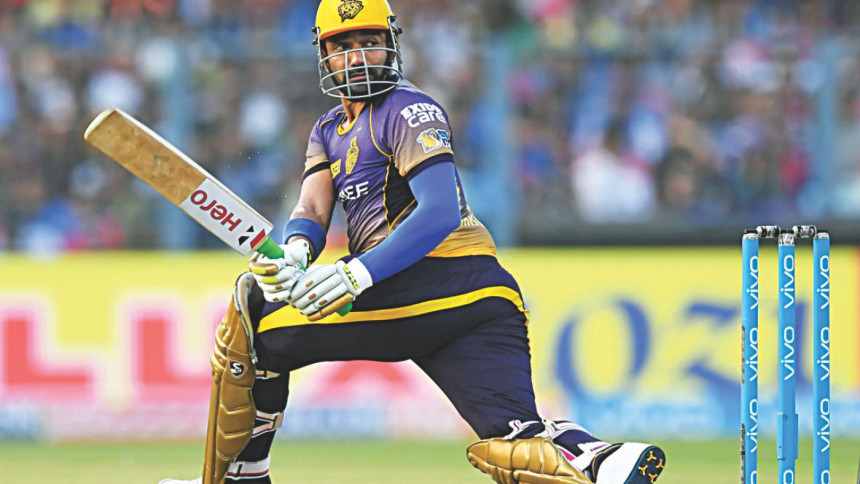 The build-up to the match between Kolkata Knight Riders and Sunrisers Hyderabad yesterday -- which Kolkata won by 17 runs -- was dominated by discussions in Bangladesh of the Tigers' finest, Mustafizur Rahman and Shakib Al Hasan, facing off against one another in a memorable encounter.
However, that excitement turned into disappointment as fans of the duo were jolted by the news that both players were left out of their respective teams.
Shakib Al Hasan has not played in a single one of Kolkata's matches so far, although it was expected that the all-rounder would come into the side for today's match, especially with Chris Woakes' performances being well below-par. Meanwhile, Mustafizur was replaced by Australian pacer Moises Henriques, who gave away 26 runs in two overs yesterday.
Mustafizur, who joined his team late, played in Hyderabad's last match -- a four-wicket defeat against the Mumbai Indians -- where he conceded 34 runs in 2 4 overs
for no wickets.
In the match itself, Kolkata rode on Robin Uthappa's half-century and spinners' contribution to secure the win over the defending champions and climb to top spot in the table.
Defending 173, the spin trio of Kuldeep Yadav, Sunil Narine and Yusuf Pathan gave vital breakthroughs to dent the chase of the Sunrisers and hand the team its second successive win at home.
For the Sunrisers, who began their campaign with back- to-back victories at home, this was their second defeat on the trot.
David Warner and Shikhar Dhawan gave Sunrisers a flying start with 45 from six overs but Pathan turned it around by removing the Indian.
Brought in place of Piyush Chawla, chinaman Kuldeep then made his presence felt. He along with Narine accounted for 22 dot balls in the middle overs to put the brakes in their chase.