Trump decision to end India's preferential trade status 'done deal': US official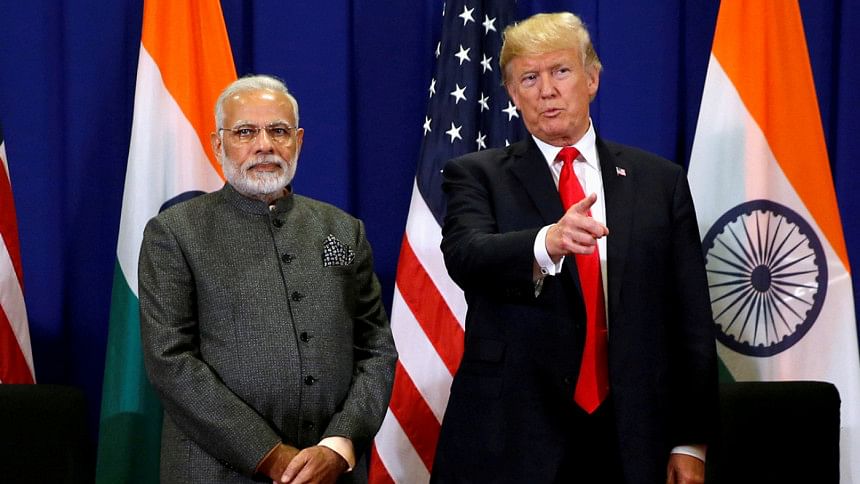 A US decision to evict India from a key trade pact is a "done deal," an official said Thursday, despite Washington's desire for close relations with re-elected Prime Minister Narendra Modi.
Arguing that New Delhi had failed to assure America that it would provide equitable and reasonable access to its markets in numerous sectors, US President Donald Trump had in March informed the US Congress about his intent to terminate the designation of India and Turkey as a beneficiary developing country under the Generalised System of Preferences (GSP) programme.
At the direction of the President, US Trade Representative Robert Lighthizer announced that US intends to terminate India and Turkey's designations as Beneficiary Developing Countries under the Generalized System of Preferences (GSP) program.
In a letter to the Speaker of the US House of Representatives, Nancy Pelosi, Trump said he was determined that New Delhi had "not assured" the United States that it would "provide equitable and reasonable access" to the markets of India.
"I will continue to assess whether the Government of India is providing equitable and reasonable access to its markets, in accordance with the GSP eligibility criteria," Trump said in his letter, a copy of which was released to the press.
Reacting on Trump's decision to withdraw India's name from GSP program list, Commerce Secretary Anup Wadhawan said that the move will not have any significant impact on India's 5.6 billion dollar exports to the US.
Trump's letter to Pelosi could be seen as a major setback in India-US bilateral relationship, in particular in the arena of trade and economy.
The US Trade Representative (USTR) said India's termination from GSP followed its failure to provide the US with assurances that it would provide equitable and reasonable access to its markets in numerous sectors.
Meanwhile, the Ministry of External Affairs (MEA) sources had said the government will continue to talk to the US during the 60-day period. They said that efforts were being made to find a reasonable package and said the problem was not systemic.
India was the largest beneficiary of the programme in 2017 with $5.7 billion in imports to the US given duty-free status, according to a Congressional Research Service report in January.
A senior US official voiced hope for warm relations with PM Modi but said that the March decision would move forward.
"I think that suspension was a done deal. Now the task is how do we look ahead, how do we work under the second Modi administration to identify a path forward," the official said on condition of anonymity.
"We believe there is enormous potential to grow our trade relationship and to help stimulate the jobs that Prime Minister Modi has committed to bringing to an overwhelmingly young Indian population," she said.
The official said that India "remains one of the least open major economies in the world," adding: "The Trump administration is committed to ensuring free, fair and reciprocal trade."
Under the United States GSP programme, certain products can enter the US duty-free if the beneficiary developing countries meet the eligibility criteria established by Congress.
The GSP criteria include, among others, respecting arbitral awards in favour of US citizens or corporations, combatting child labour, respecting internationally recognised worker rights, providing adequate and effective intellectual property protection and providing the US with equitable and reasonable market access.
Countries can also be graduated from the GSP programme, depending on factors related to economic development.
The Trump Administration had launched an eligibility review of India's compliance with the GSP market access criterion in April 2018.
Meanwhile, US President Donald Trump and Prime Minister Narendra Modi are scheduled to meet at the G-20 Summit in Japan in June. The G-20 Summit meeting is slated for June 28 and 29.