Teaching kids to sow and reap
Using games and points, a unique program spurs environmental awareness and problem-solving among school kids in India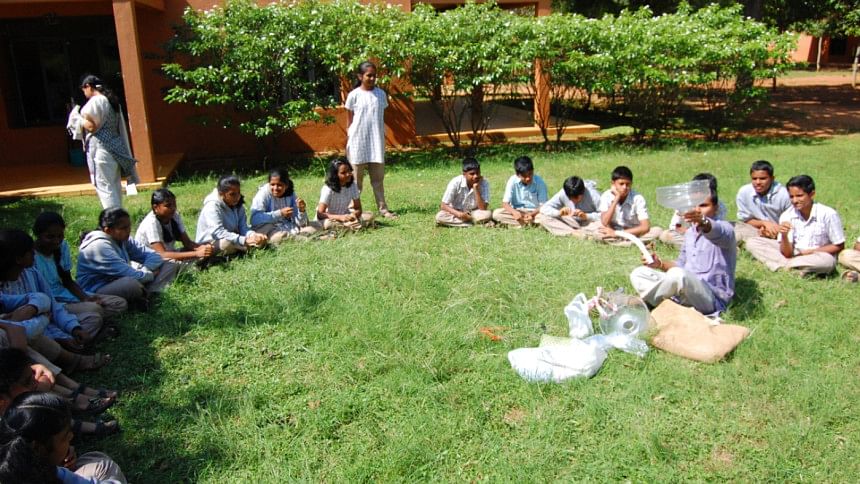 At Reap Benefit's charming office in an old bungalow in Bangalore is a quote by Mozart, written with chalk at the entrance: "Be silent if you choose but when it is necessary, speak—and speak in such a way that people will remember it."
It is an apt model for the environmental work that this quiet Bangalore-based social enterprise has done since 2012, motivating school children aged 12-17 to initiate innovative, actionable solutions to India's water, sanitation and environmental problems. 
Reap Benefit approaches (rich) private schools and (poor) government schools and works with their students year after year to build what they call "an ecosystem of ownership" toward problems.
Solutions aren't cookie-cutter. Students at the Murphy Town government school started a biogas plant, while a brainstorming session with another group of kids led to a low cost grey water harvesting device that saves the Muthur government school 60 litres a day. Water used by students to wash their hands and plates after lunch is filtered and drained in a specially fitted-out barrel, then recycled for purposes such as gardening."Human centred design" is key to this type of solution, according to Kuldeep Dantewadia, 27, Reap Benefit's co-founder.
Reap Benefit helps students investigate local problems in the local context and come up with answers. "Each child has a unique way of experiencing the environment," said Gautam Prakash, 30, the other co-founder and hands-on project coordinator who works with students to develop and implement solutions.
Dantewadia calls himself the behaviour change ninja. "There are four types of students," he said of the gamification approach he uses to enthuse his wards. "Some play to win, some seek social standing, some do it for fun, and some for the larger good. Through incentives and points, we try to get them all to do it for the larger good."Many participating students go on to instigate change at home and in their communities, such as a 9thgrade student at DPS Bangalore East School who convinced his parents to install LED light bulbs, or an 11th grade girl from Sri Kumaran school who organised a clean-up in her neighbourhood after the Diwali festival.
With government schools, it is about managing students' enthusiasm and expectations while navigating authorizations from principals and school boards. The challenges are different in private schools, where children tend to have a lot of book knowledge but less experience with practical applications. For example, they might have theories about solid waste management without knowing on what days the garbage is collected from their apartment building.
Garbage was actually the starting point for the Reap Benefit project. In 2009, armed with a business degree and a heart full of idealism, Dantewadia spent eight months collecting garbage from around his neighbourhood. "Garbage is visual in nature," he said. "It is in your face and therefore people believe that it can be easily solved. But it is actually a behavioural problem rather than a physical or technical issue." Prakash, meanwhile, was working for the Ashoka Foundation. The two became friends when Dantewadia was inducted as an Ashoka Fellow.
In 2011, they created Reap Benefit. Today, nine employees work full time. The enterprise receives financing from foundations, private schools and the sale of proprietary products such as an organic enzyme that converts waste into compost. Since 2012, Reap Benefit claims to have impacted 11,500 students in 240 schools with more than 500 initiatives, saving33 tonnes of waste, 19 million liters of water and 1,450 kilo units of electricity.
The organisation gathers both qualitative and quantitative data. For example, it discovered that one reason teenage girls weren't using school toilets was because there were no hooks for them to hang their dupattas (long scarves worn over the chest). It also tracked water use across Bangalore to findout where there was the most waste. In many instances, students collectingthe data come up with solutions.
Typically, Prakash begins by showing the kids a pencil.  "How much water do you think gets wasted if it drips out of a hole about the size of this pencil?" he asks.
In general, nobody replies. Nobody has a clue. 
"1,440 liters," Prakash answers. "How can we change this?" And the brainstorming begins.
"The 'aha' moment is powerful," Prakash explained, sitting in Reap Benefit's office."And it leads to applied empathy," added Dantewadia.  "Students go and talk to the janitors in their school, perhaps for the first time in their lives, to find out where the water leaks are."
One 14-year-old girl started a change.org petition. Two other girls wanted to track water waste, and Reap Benefit helped them create an algorithm that won them awards at science competitions. One high school boy championed the waterless urinal made from discarded PET bottles that Reap Benefit invented with students, campaigning to have them installed in all the government schools in his town.
Hoping to scale up and reach one million young people across the country, Reap Benefit is preparing to launch a free mobile app. It will help users to identify local problems, tackle them with DIY tools, and communicate data and solutions with others.
Reap Benefit works in the belief that India's most pressing problems require human capital—people wanting to tackle everyday issues and capable of coming up with solutions. As Dantewadia likes to say, "We want to make solving big problems child's play."
For more information
Website:http://www.reapbenefit.org/
Video: http://www.sparknews.com/en/video/reaping-benefits-sustainable-environme...