Afghan women writing for their rights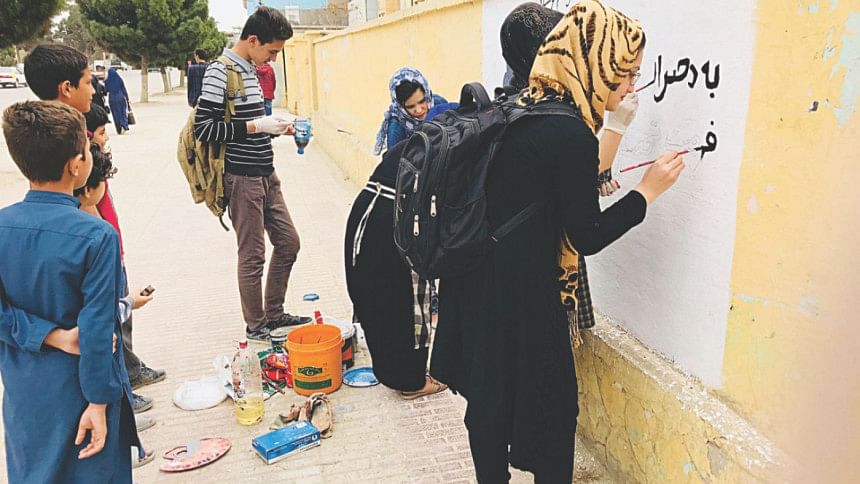 Rabia Balkhi was one of the first female Persian poets. She was killed by her brother, a king, hundreds of years ago for falling in love with a slave and daring to write poetry in a male-dominated culture. Much like her, women of modern-day Afghanistan still face violence because of their writing (namely journalists), or are murdered because of love affairs.
In late 2016, the Afghanistan Independent Human Rights Commission (AIHRC) investigated 5,575 cases of violent crimes against women, noting that most cases go unreported due to traditional practices, stigmatisation and fear of the consequences for the victims. A UNAMA 2009 report states that women participating in public life face threats, harassment and attacks. In extreme cases, some have been killed for holding jobs that are seen to disrespect traditional practices or are considered "un-Islamic."
Now, about 11 centuries after Balkhi's murder, her nation's daughters have launched a non-profit organisation to stand up for their rights through writing. It's called Free Women Writers.
One of the collective's members is Roya Saberzadeh, a painter and writer who lives in Mazar-e-Sharif. Unlike many of her countrywomen, she's unafraid of laughter, but her smile suddenly disappears when speaking about the status of women in Afghanistan. "The situation is bad," she says. "Violence increases every year." Yet she remains optimistic, because awareness is spreading among them. "The more women are aware of their rights, the less violence they will face," she believes, adding that there's still much work to be done.
Founded in 2013 by Afghan activists Noorjahan Akbar and Batul Moradi alongside a collective of writers, students and activists, the non-profit hopes to improve women's lives by simply telling their stories, in their own words. Their first book, Daughters of Rabia, an anthology of Afghan women's writings inspired by Balkhi's story, was published the same year.
Akbar, who was featured in Forbes 100 Most Powerful Women of the World for her advocacy work, says she wanted to use this book to raise awareness of gender equality among Afghan women—who rarely have access to feminist literature—but also among men who wish to join their fight. "In the streets of Kabul, many vendor children were selling extremist books written and published in Pakistan for 30 afghanis (USD 0.42). Most of these books were about women and they spread misogyny under religious pretenses. We wanted to provide an alternative," she says. Using Akbar's personal savings, the organisation managed to print 1,500 copies. 
"All the copies were distributed within a month. People from six provinces came to Kabul and took the books back to their provinces and schools," she recalls. In order to make the contents of the book accessible to everyone, they then decided to publish its content on social media and on a website. "We drew a lot of attention and many other women began to send their writings," Akbar says. They have now published poems, memoirs and articles written by more than 140 women and some of their male counterparts, hundreds of which have been translated into English thanks to the work of 15 volunteers based in Kabul, Mazar-e-Sharif and Washington DC.
Over the last couple of decades, international NGOs and institutions have tried to foster women's rights in the country with initiatives often funded by the Afghan government, but the results of these efforts generally remain imperceptible. For Afghan women to find empowerment, Akbar believes the change should come from them. "It was very important for me to work independently and not to receive any financial assistance from governments or foreign embassies because I have always wanted us, the women of Afghanistan, to value our own priorities," she says, adding that unless Afghan women start seeing themselves as independent humans with human rights, a shift in mentality and gender equality will be unlikely.
In September 2017, the collective published its second book, a short guide for women facing gender-based violence that provides practical tips for seeking legal aid, forming networks of support and protecting their mental health. Titled You Are Not Alone, it is available in Persian, Pashtu and English. Profits from its sales allow the non-profit to finance higher education scholarships for young women in Afghanistan, and also to carry on creating awareness-raising literature about basic women's rights.
www.freewomenwriters.org