Taking care of your back in the workplaces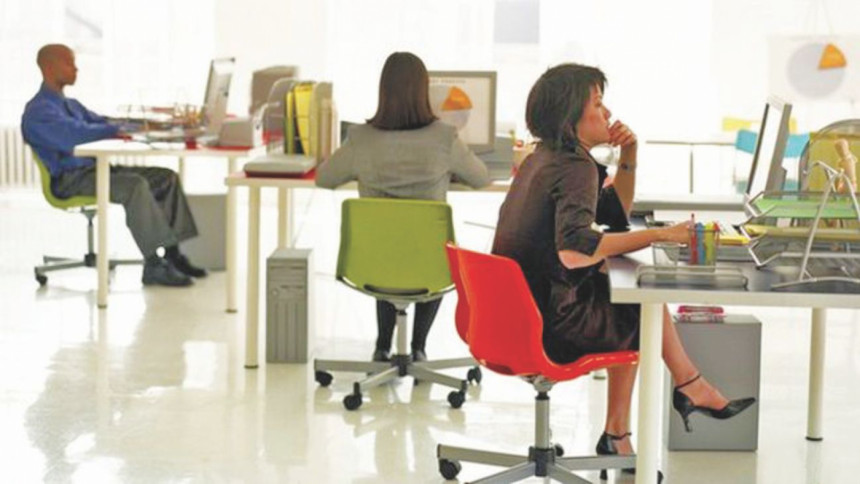 Md Junaid Ahamed (not a real name), 35 years old gentle man works in a private bank for 5 years. For the last 6 months, he has been suffering from severe back pain causing disruption in normal activities at office and home. During the office time, he feels difficulty in sitting for long time, cannot give full concentration on work because of pain in the back that results in extra pressure and depression. There are many officials like Junaid who suffer in many ways; sometimes they need to change their job or the nature of work they are doing.
So, the point is why do the employees suffer from back or spine related problem which may be in early of their career? However, several research have described that the back pain or Low Back Pain (LBP) is a common musculoskeletal complaint in all parts of the world. The most frequently reported risk factor for LBP is heavy physical workload such as lifting, awkward posture; lifestyle is also considered a risk factor of LBP.
LBP is the first common cause of activity limitation, second common cause of doctor's visit and the third common cause of surgical intervention in the USA.
Preventing and managing your back from injuries:
* First and very important one is educating employees about the risk of back problem during office work.
* Use comfortable posture or position while sitting long time even doing any activities.
* While lifting object from ground, you should not use your back to bend forward rather use your knee support.
* Sitting has become the most common posture in the workplace; approximately three-quarters of all workers in industrialised countries have jobs that require sitting for long periods.
* One common finding is that intrathecal pressure is increased in the seated posture and aggravates discogenic LBP.
* During sitting, high pressure is found at the ischial tuberosities which is associated with high load to the spine.
* Proper sitting alignment reduced muscular activity, maintained proper lordosis, increased intervertebral disc heights, which could potentially reduce LBP.
Research indicated that for a computer workspace there are four things to look at regarding the chair to prevent LBP.
1. Backrest
* Lumbar support
* If no lumbar support, use a rolled up towel or a removable back support
2. Seat
* Feet flat on ground or use footrest for stable support
* Knee slightly higher than the seat
3. Armrest
* Supports forearm and elbow
* Keeps arms close to the trunk
4. Base
* Strong, five-legged base
Education and counselling regarding pain management, physical activity and exercise can reduce the number of days off at work in this population with elevated fear-avoidance beliefs and acute pain.
Clinical bottom line
Occupation related LBP can be prevented and managed appropriately if multidisciplinary approach is utilised. By addressing the treatment targeting workplace functional concerns, activity avoidance and adherence to an appropriate intervention are keys to improving an individual's return-to-work.
The writer is a Physiotherapist working at CRP Mirpur, Dhaka. Email: faruqch6@yahoo.com