What can you do for men's hair loss?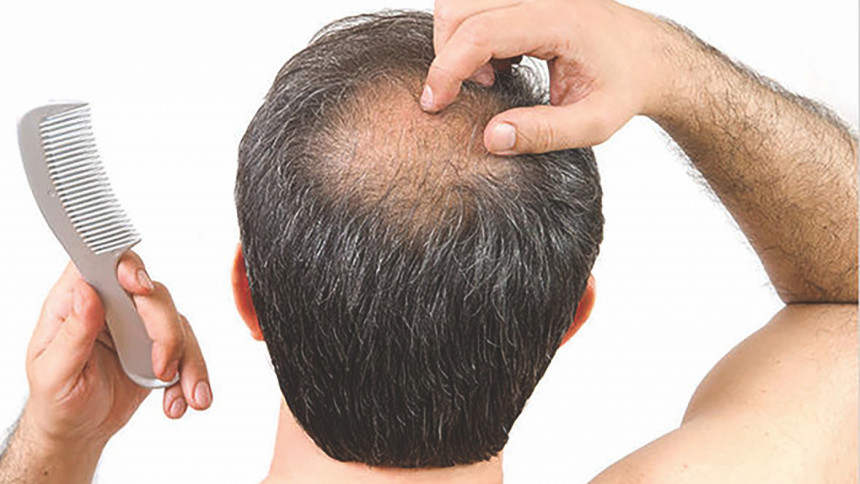 Enormous hair-fall is a common problem of both men and women, but men are the most vulnerable to being bald. According to The Journal of Clinical Endocrinology and Metabolism (JCEM), a masculine hormone called testosterone acts as the main culprit for this. Though testosterone itself is not the reason for being bald, the conversion of testosterone to dihydrotestosterone is the fact.
Hair life cycle
The hair growth or its life cycle has three stages. Anagen - active growth phase lasts 2-8 years. 90-95% hair follicles stay at anagen phase. Catagen - transition phase lasts 4-6 weeks. Telogen - resting phase, hair falls out in this stage. Each strand of hair has its stage of development. The hair growth rate is about 1.25 cm/month or about 15cm/year. Normally, more than 100 hairs may fall out every day, which is not ominous.
Effect of Dihydrotestosterone
Dihydrotestosterone (DHT) harms hair growth. The hair follicle turns to shrink for binding DHT to cell's receptor site. It prevents the hair follicle from getting necessary nutrients for rapid development. As a result, at first, the hair life cycle is altered and cause regular shedding with thinner hair strands production. Finally, hair growth stops. Surprisingly, according to research, DHT is the main liable substance for about 80% of hair loss in men and may cause complete baldness.
Medication
According to the British Journal of Dermatology, minoxidil stimulates hair growth. Another research, published on JCEM, claimed that minoxidil with finasteride provide better blood flow to the hair follicle and lag the DHT formation respectively. But a pregnant woman or women want to conceive should avoid finasteride for the betterment of baby. Do you know how to control hair fall?
In case of excessive hair fall or hair thickness of women can be recovered if one can provide proper blood flow and nutrients towards the hair follicle cell. A study shows the formulation of minoxidil with 5% azelaic acid and retinol provides promising result in the case of women's hair fall. In Bangladesh, minoxidil is available as 2% and 5% as spray or lotion manufactured by several pharmaceuticals.
Nutrients for better hair growth
Some vitamins and nutrients deficiency may cause excessive hair fall as well, such as vitamin A, B, C, D, E, protein, omega-3 or 6, iron, zinc etc. It is possible to get these nutrients from supplements but getting nutrients from natural sources is preferable. Eggs are a great source of protein, biotin and zinc. Berries contain vitamin C and antioxidants. Spinach is rich in folate, iron, vitamins A and C. Fatty fishes contain omega-3 and omega-6 fatty acids as well as antioxidants. Nuts are rich in vitamin B, E, zinc and essential fatty acids.
Taking care of your hair by having a healthy diet and proper care will almost certainly give you a better looking and healthier hair for a prolonged period.
The writer is a student of Pharmacy at Bangabandhu Sheikh Mujibur Rahman Science and Technology University.

E-mail: tawhidislam2021@yahoo.com