Supply of ranitidine suspended for cancer-causing ingredients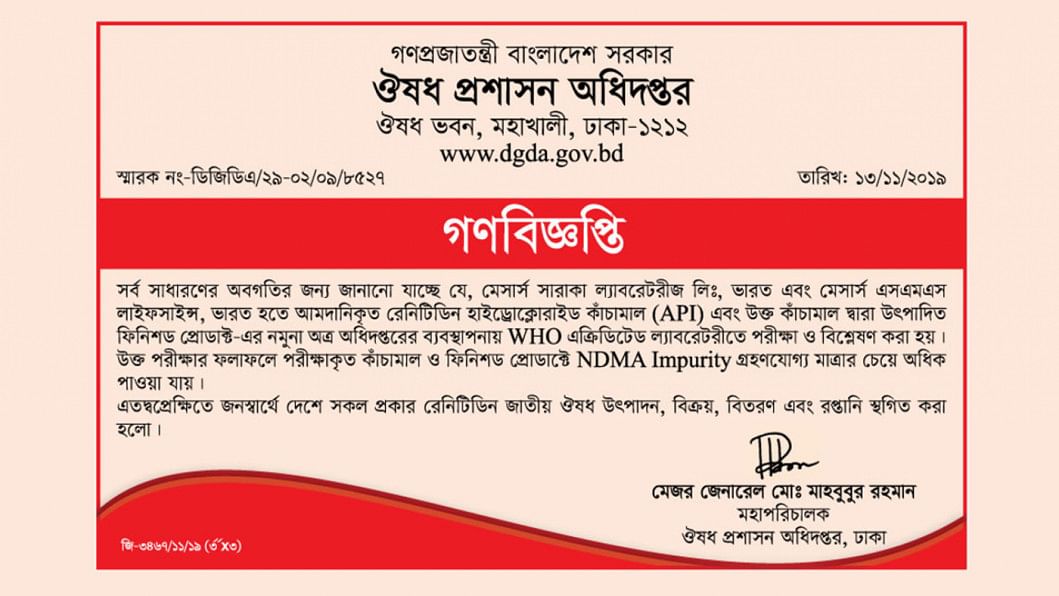 The Directorate General of Drug Administration (DGDA) has suspended production, distribution, sale and export of heartburn drug ranitidine following detection of cancer-causing ingredients in its raw materials.

The decision came over a month after (Sept 29) DGDA had imposed a temporary ban on the import of its ingredients, production and sale amid a global concern over the presence of a probable carcinogen in the product.

Later, DGDA sent the sample of raw ingredients, widely supplied by Indian companies Saraka Laboratories Ltd and SMS Life Science, to the World Health Organization (WHO) accredited laboratories for running tests.

The test result shows existence of cancer-causing ingredient N-nitrosodimethylamine (NDMA) in the ingredients, according to a mass announcement published on Wednesday.

Based on the test result, DGDA issued the order of suspension on production, distribution, sale, and export of heartburn drug ranitidine.

"Suspension means no production, distribution and sale of ranitidine would be allowed from now on. Certification from standard labs would be required for further import of such raw ingredients," Sabrina Alam, superintendent of drug at DGDA, told The Daily Star.

Ranitidine, produced by almost every pharmaceutical company in the country, has annual sales of Tk 250 crore, officials said.

It is popular for reducing the production of stomach acid in patients with conditions such as heartburn and stomach ulcers.

Experts say patients can consult a doctor who would prescribe alternatives to ranitidine.

On 13 September, both the US Food and Drug Administration and the European Medicines Agency published their decisions to review the presence of N-nitrosodimethylamine (NDMA) in medicines containing the drug ranitidine, BBC reports.

NDMA is classified as a probable human carcinogen (a substance that could cause cancer) on the basis of animal studies.

On September 19, the European Directorate for the Quality of Medicines (EDQM) suspended the certificate of suitability for Saraka Laboratories Ltd.

Canada and France have also announced recalls of ranitidine products at that time.