Healthcare, education still elude 300 indigenous families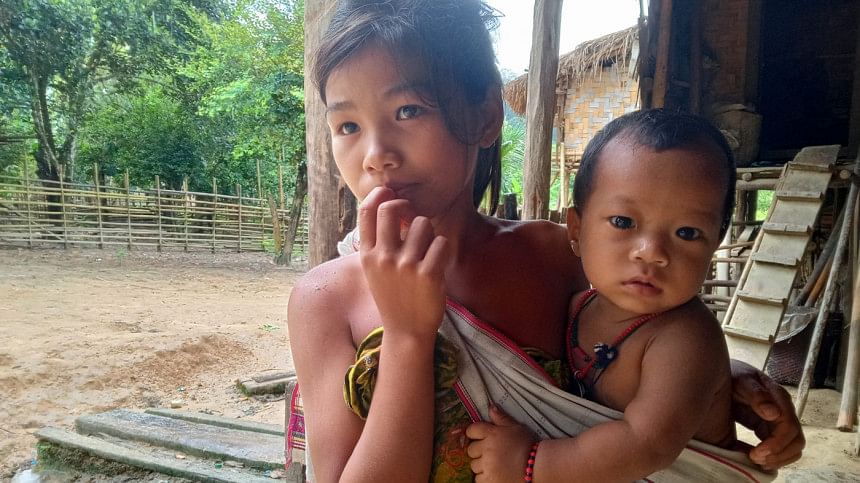 Bandarban's Thanchi upazila is well known for its exquisite natural beauty. Nature lovers go there to visit different tourist spots, specially fountains like Ngafakhung (Nafakum), Bongdo Kyaklung (King Stone), Remakri waterfall, Ameyakhung, Safakhung and Langluk in Remakri union.
But the residents of wards 6, 9 under the same union are still deprived of basic rights. They have no access to healthcare and education.
This reporter has recently visited 18 villages under the two unions near the ​​Sangu river and talked to the residents to know about their ordeal.
More than 2,000 people from at least 300 families of Mro, Tripura and Marma communities have been living in these villages near the Bangladesh-Myanmar border for the last 30 to 35 years. Among them are about 250 children and adolescents.
The villages include Menhat Mro Para, Bulu Para, Tangkhwai Mro Para, Kowaing Khyong Para, Yong Dong Para, Yang bong Para, Mra khyang Para, Chandra Mohan Tripura Para, Loikkri Para, Ruiwai mro Para, Kongkong Tripura Para, Yong Klang Mro Para, Mangbase Marma (Malumgya) Para, Suryamani Tripura Para and Lai Pung Para Yangbong Para.
The residents are deprived of any kind of healthcare and education facilities as health workers never visit the villages even when the government runs any national immunization campaign.
Also, they remain illiterate as no government educational institution has been opened here so far.
Mui Tong Mro, 75, head of Laikri Para, told The Daily Star that about 30 years ago, more than 100 members of 20-22 families settled in Laikri Para. At present, about 250 people of 37 families of Mro community live in this village. No health worker has visited them in 30 years, he claimed.
Also, no public school has been established at the village in the last 29 years. Humanitarian Foundation, a non-government organisation, opened a school for the students up to class-4 in Laikri Para in January this year.This is the only school in the 18 villages.
A woman in Kowaing Khyong Para gave birth to a baby only five days back without any supervision or help by any doctor and nurse. She did not have access to any prenatal care either.
Two other locals -- Chandra Mohan Tripura and Kaing Yai Mro -- said no residents of the villages have ever been brought under the coverage of any national vaccinations programme and no pregnant woman ever received any healthcare or medical advice.
Manchong Mro, member of ward-6 in Remakri UP, told The Daily Star that as the area is very remote, transport cost is very high. The only way to reach the villages is using the waterway via the Sangu river. That's why health workers are not interested in visiting the villages, he said.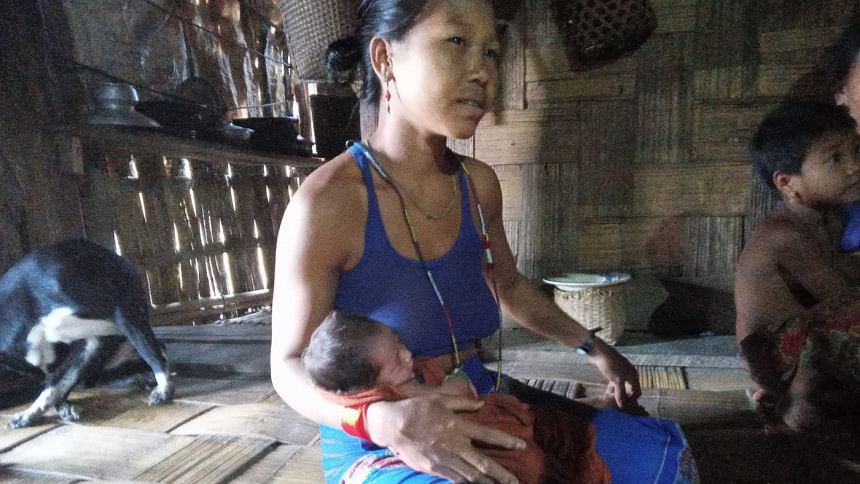 However, Bandarban district Health and Family Planning Department has won the national award for the three consecutive years from 2020 for providing cent percent services to seven upazilas of the district, including Thanchi, sources at the department said.
Some local public representatives said that they will write to the authorities concerned so that health workers visit the villages regularly in future to ensure health facilities of the locals.
According to the census of 2022, the population of Remakri union is 8,600, but according to the information of the union parishad, the figure is about 13,000.
Bandarban Civil Surgeon Mahabubur Rahman said that all people have the right to have access to healthcare.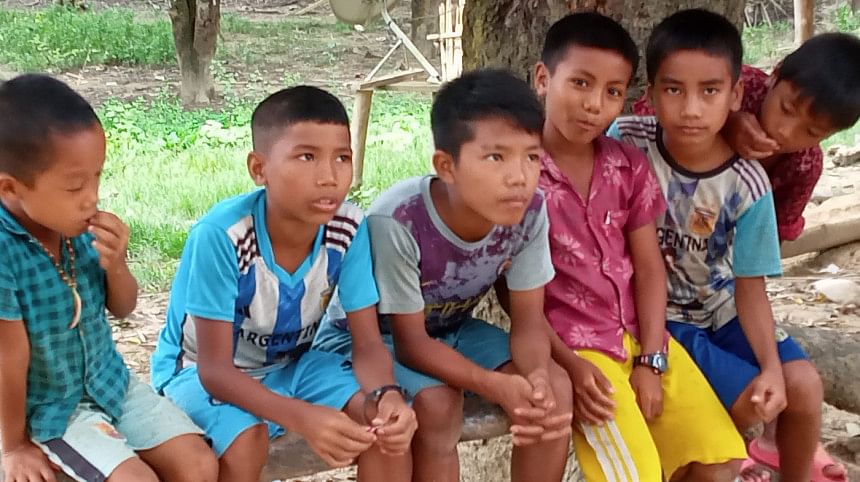 "As I am come here recently, I don't know much about those areas. As far as I know, those areas are quite remote," he said.
To ensure health services for all, arrangements will be made to provide services under a special programme so that health workers visit the villages at least once in three months, the civil surgeon said.
District Primary Education Officer Md Abdul Mannan said according to the government policy, children in those villages will be brought under primary education if anyone donates a property for setting up a school and files an application as per the rules.