India's Apollo partners with Bangladesh's Imperial for super-speciality hospital in Ctg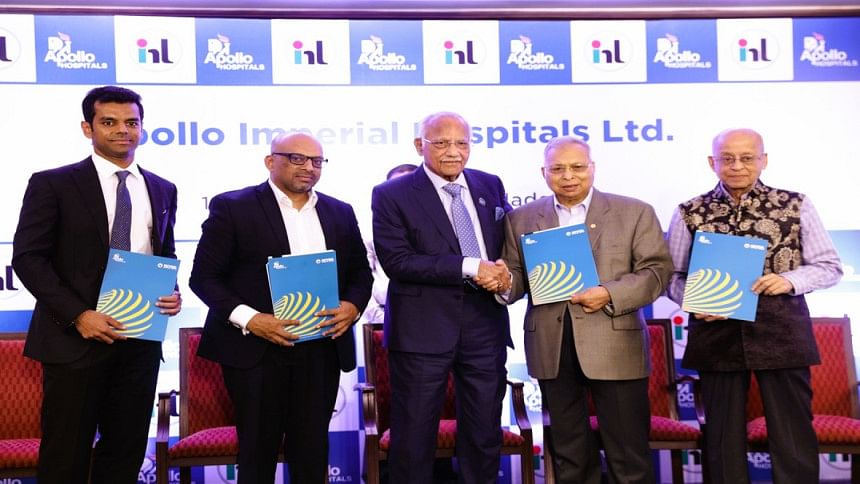 In its first major foray in Bangladesh, India's Apollo Hospitals group has announced that it has signed a brand licensing operations and management agreement with Chattogam-based Imperial Hospital Ltd for a super-speciality hospital in the port city.
The state-of-the-art 375-bed hospital, built with World Bank support, will be rebranded as "Apollo Imperial Hospital", according to a statement issued yesterday (June 20, 2022) by Apollo Hospitals.
The specialty hospital will have experienced medical staff, clinicians and administrative staff. Apollo will manage the day-to-day operations and clinical service delivery, utilising the clinical and managerial capabilities of Imperial Hospital, reports our New Delhi correspondent.
Announcing the partnership, Dr Prathap C Reddy, founder and chairman, Apollo Hospitals India, said from Chennai, "We plan to strengthen the hospital's presence in Bangladesh and create a strong medical unit to attend patients by building trust. Standing by the patients and creating a healthy ecosystem will be the first responsibility of Apollo-Imperial Hospital in Bangladesh."
Prof Rabiul Husain, chairman of Imperial Hospital, said, "We are proud to partner with Apollo Hospitals, a global leader in healthcare and a unique integrated healthcare enterprise. Our association will enhance healthcare ecosystem and improve quality of life of patients in Bangladesh. We look forward to having a unified approach in jointly offering superior tertiary care services in the region."
Thousands of Bangladeshi patients travel to India, particularly Chennai, for medical treatment every year, the statement said.
The Apollo group said it will also conduct regular medical and quality audits to ensure patient safety and the best medical outcomes for all patients visiting the hospital.
The statement further said Apollo is focusing on international expansion mainly through asset-light operate and management arrangements.