Eid without rice: Kurigram flood victims yet to get VGF rations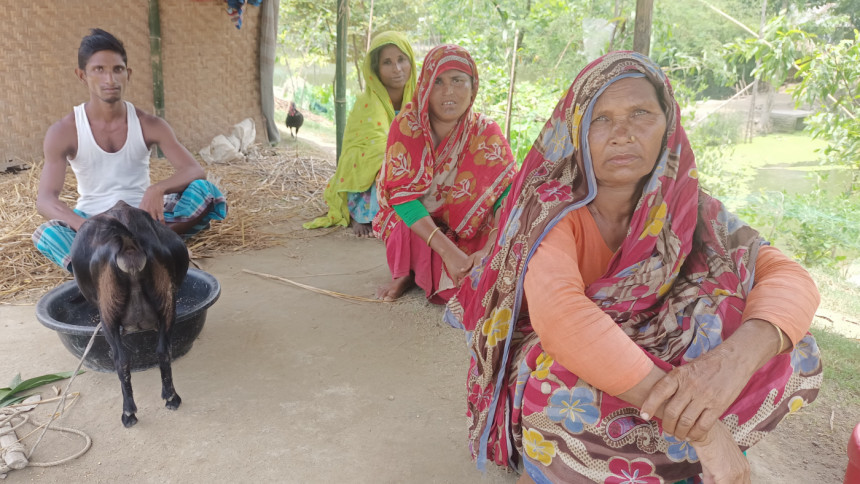 Most of the flood victims in Ulipur upazila of Kurigram are yet to receive their share of the flood rations even though 863 metric tonnes of of Vulnerable Group Feeding (VGF) rice was allotted for 86,315 poor families on the occasion of Eid-ul-Azha.
The local representatives alleged that the allotted rice was not delivered in time due to irregularities and corruption of the food warehouse officials, our Lalmonirhat correspondent reports.
A large number of flood victim of Ulipur do not know when they would get the VGF rice, if at all.
Rokeya Bewa, 56, a flood victim from Hatia union in the upazila, said that she waited for the VGF rice on the Eid day. But since she did not get it, she had to borrow half a kg rice from another to cook a meal.
Moksed Ali, 62, another flood victim from Begumganj union, said he had to spend the Eid day in poverty as he did not get the VGF rice allotted before Eid.
Hatia Union Parishad Chairman Shayekhul Islam alleged, "We got the VGF rice supply on Saturday afternoon, the day before Eid. Due to this, a few of the VGF card holders were able to get the rice but we could not distribute rice among most of the beneficiaries."
"I will distribute rice among all the VGF beneficiaries on Tuesday and Wednesday," he added.
Distribution of the VGF rice would be completed within Wednesday (July 13, 2022), according to chairman of Dhamshreni Union Parishad Rafiqul Islam and Begumganj Union Parishad chairman Bablu Mia.
Ulipur Upazila Project Implementation Officer (PIO) Siraj Uddoula said the VGF rice was allotted five days before Eid. It was not possible to distribute the rice in some unions in time following some problems in the food warehouse, he said adding, "The union chairmen have been informed to complete the distribution of VGF rice by Wednesday."
The alleged Ulipur food warehouse officer Shahinur Rahman was contacted but declined to comment.
However, Kurigram district food controller Abu Bakkar said the allegations against the food warehouse officer are being investigated.