Rising dengue cases call for urgent action
Health officials ring alarm over hospital situation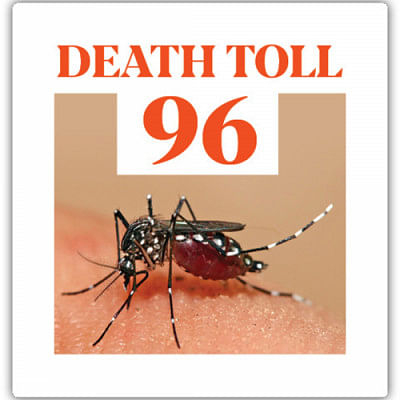 With the number of dengue cases soaring every day across the country, hospitals especially those in the capital are struggling to deal with the patients, health officials say while experts suggest immediate steps to control Aedes mosquitoes.
According to the data of Directorate General of Health Services (DGHS), at least 857 new dengue patients were hospitalised across the country in 24 hours till yesterday morning, which is this year's daily highest.
Two patients also died yesterday, taking this year's dengue death toll to 96, the third annual highest since the first outbreak of dengue in the country in 2000.
"We are struggling with dengue patients every day due to the surge in cases since last week," said HM Nazmul Ahsan, associate professor at Shaheed Suhrawardy Medical College Hospital.
"Now we have to send back some patients from the hospital due to scarcity of seats."
The dedicated ward for dengue patients in this major public hospital has already been filled up and the authorities have arranged some extra beds but that's still not enough against the demand, he added.
According to Secretary of Health Services Division Anwar Hossain Hawlader, the number of dengue patients is surpassing the capacity of all public hospitals in Dhaka, and the situation may go out of control if it is not checked immediately.
"The dengue cases are breaking all records, stretching the hospitals to their limit. There is no bed left vacant for dengue patients in the city's public hospitals," Anwar said while briefing reporters at the health directorate.
"But we cannot refuse services to anyone. We have to manage somehow," he said, adding that the Ministry of Health and Family Welfare Affairs does not want any crisis like in 2019.
A total of 1,01,354 dengue cases, the annual highest, were recorded that year when the death toll was 179.
The secretary said all hospitals have to introduce separate units for dengue patients and ensure the supply of necessary fluids. They have also asked the city corporations to conduct drives in the dengue hotspots.
Ashraful Alam, assistant director of the country's top public healthcare facility Dhaka Medical College Hospital, said the number of dengue patients is rising every day though the "situation is still not at danger level".
Mohammad Ali Habib, deputy director of Sir Salimullah Medical College Hospital, said though the number of dengue patients is increasing, they did not open any separate dengue wards as "it is still manageable".
In Bangladesh Shishu Hospital and Institute, the number of patients was only 40 about 15 days back, but it was 85 as of yesterday afternoon, said Abdul Hakim, its public relations officer.
"We are increasing the number of beds every day and have made two separate wards dedicated to dengue patients," he said.
Entomologist Prof Kabirul Bashar of Jahangirnagar University said every year in October, dengue cases start going down. But this time, the rising trend continues.
It is not possible to control dengue without managing the hotspots. This year, the authorities took inadequate measures to find and manage these sites, he also said.
"Hotspot management means identifying risky houses and areas by collecting addresses of dengue patients," he explained.
Brig Gen Md Zobaidur Rahman, Dhaka North City Corporation's chief health officer, recently said apart from regular and special drives, they have purchased 30 boats to clean water bodies and use insecticides properly.
Md Abu Nasher, public relations officer of Dhaka South City Corporation, said they are taking different special measures, besides the routine works, including drives around houses of dengue patients.
REASONS FOR RISE IN DEATH TOLL
Multiple exposures to dengue, late admission in hospitals and late diagnosis of the deadly virus are the main reasons for increasing dengue deaths, said experts.
Tahmina Shirin, director of Institute of Epidemiology, Disease Control and Research (IEDCR), said three variants of dengue virus -- DENV-1, DENV-3 and DENV-4 -- are active in Bangladesh this year.  Of them, DENV-3 is infecting people the most.
Tahmina emphasised the need for awareness campaigns involving councillors or locally influential persons to control Aedes mosquitoes in an area.
She also suggested taking sufficient fluids in any form like oral saline, fruit juice, sorbet and coconut water when anyone has a fever, which is a major symptom of dengue.
"A patient will take fluids during fever and also continue it even after the fever goes away as there will be the chance of deterioration after fever ends," she said.
The patients need to be hospitalised when they will feel vomiting, pain in the belly, breathing problems or will bleed from any parts of the body, she advised.
Nazmul Ahsan of Suhrawardy hospital said the patients who are coming to the facility have mostly faced multiple exposures. It means they were infected by another variant of the dengue virus earlier.
If a person who was previously infected with one of the variants contracts dengue because of a different variant, the risk of mortality can also go up. But early detection of the infection and immediate hospitalisation can significantly lower the risk.
Late admission is another reason for the rising number of deaths this year, Nazmul said.
"Many dengue patients, mostly facing multiple exposures, delay getting admitted to hospitals as they are not diagnosed dengue initially through NS1 kit. By the time they are hospitalised, the illness reached a severe stage."
Many hospitals or clinics, especially private ones, do not follow guidelines on fluid management, he said, adding that this is another reason for increasing deaths.