Wisdom finally dawns on all
Brac University takes steps to resolve crisis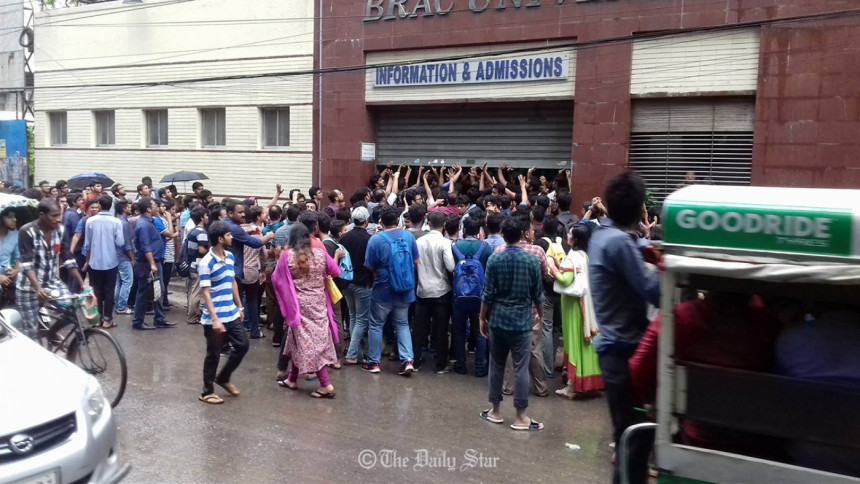 The week-long standoff at Brac University seems to have ended as university authorities met most of the students' demands.
The university authorities yesterday sent Registrar Muhammad Sahool Afzal to a long leave until the end of his contract, amid continuous protests by the students for his removal over an allegation of torture on a law department teacher.
Besides, Assistant Registrar Md Mahi Uddin and senior officer at the office of co-curricular activities Jabed Rasel--who allegedly accompanied the registrar during the "assault" on lecturer Farhaan Uddin Ahmed-- resigned from their posts, says a press release.
The university authorities also cancelled their earlier decision of Farhaan' termination. The incident led to the "assault" on July 30 and the subsequent protests.
The release also said the probe committee formed following the incident is continuing their investigation.
It added that the committee has also started investigating the allegation of assault on female students by security guards during the protest on Tuesday.
The decisions came two days after university proctor Samia Huq convinced six students to end their hunger strike unto death eight hours after they began, assuring them of taking the necessary steps.
"We are taking the university's decisions positively. We are now demanding exemplary actions against the registrar through a               proper probe by the investigation committee," said Kamrun Nahar Dana, a student involved in the protests.
She, however, urged the university authorities to reschedule the exams planned to start today as the students could not attend to their studies during the movement.
Another student, preferring anonymity, said "We joined the movement for justice. As we got it, we will now engage in our studies." 
The impasse at the privately run university started on Sunday after news of assault on the teacher and his termination spread through campus, forcing authorities to suspend classes and some exams.
As part of their movement, the protestors also announced boycotting their exams starting today.
Farhaan, who joined the university as a lecturer on July last year on a contract for a year, filed a complaint with Banani Police Station, accusing the three officials, including the registrar, of assaulting him.
Talking to The Daily Star yesterday, he said, "The university authorities issued a letter extending my contract till August 31 instead of regularising my job."
Expressing grievance at the decision, he wrote an application to the authorities.
The teacher alleged that he was asked to appear before the office on Sunday and was given a termination letter instead.
"As I refused, the registrar pulled on my ID card with such force that my panjabi's pocket was torn. I was pushed down so violently that I still have bruises all over my arms and even on my chest," Farhaan said.