Vitamin A rice now a reality
Field trial shows high promise, people may get it by 2018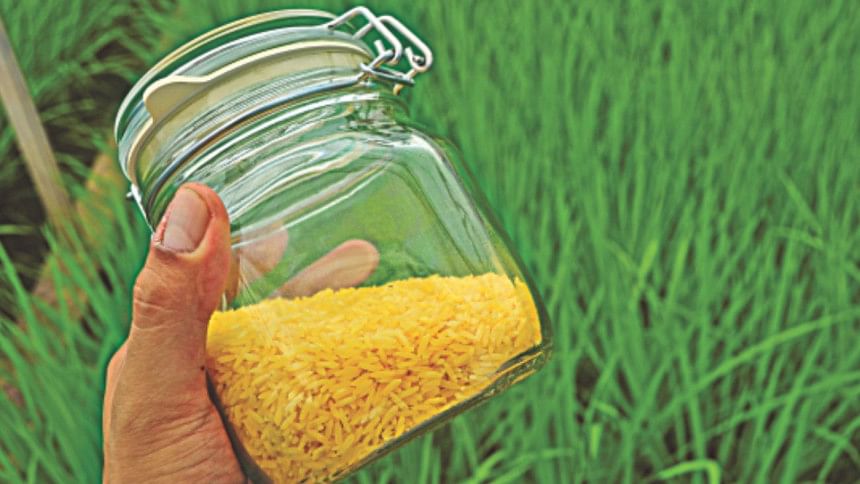 The first field trial of the Golden Rice in Bangladesh has yielded promising results, triggering prospect of the vitamin A-rich grain's release as early as 2018.
Two months after harvesting the Bangladeshi version of Golden Rice line, GR2E BRRI dhan29, scientists at Bangladesh Rice Research Institute (BRRI) found that rice grains retained 10 μg/g (micrograms/gram) beta carotene which is good enough to address vitamin-A deficiency (VAD).
Beta carotene, also known as pro-vitamin A, is a substance that the human body can convert to vitamin A.
With this development, a long wait is nearly over for rice breeders who have been trying since 1999 for a varietal development and release of Golden Rice, long being touted by the scientist fraternity as a key remedy to acute VAD problem.
According to the World Health Organization's global VAD database, one in every five pre-school children in Bangladesh is vitamin A-deficient. Among the pregnant women, 23.7 percent suffer from VAD.
BRRI scientists analysed the post-harvest data collected from the first field test conducted on GR2E BRRI dhan29 during the last Boro season (November 2015 - May 2016) and drew the conclusion just recently that the results are positive.
"Two months after harvest, we've found an average of over 10 μg/g beta carotene in GR2E BRRI dhan29. The amount is good enough to meet 50 percent of vitamin-A needs of people consuming rice in their daily diet," Dr Partha S Biswas, project leader of Golden Rice Project at BRRI, told The Daily Star.
The vitamin A-rich rice, named Golden Rice for its golden colour, was first developed by splicing three foreign genes -- two from daffodil and one from a bacterium -- into japonica rice, a variety adapted to temperate climates. It is capable of producing beta carotene. But for a better beta carotene expression in rice, the daffodil genes were replaced by maize genes later in 2005.
The BRRI carried out the field trial on the campus of Bangladesh Agricultural Research Institute (BARI) in Gazipur to keep Golden Rice segregated from other rice varieties grown in BRRI fields.
Provided the BRRI gets the necessary regulatory approval, the organisation would go for multi-location field trials of GR2E BRRI dhan29 in Boro seasons in next two years to set off the process of its commercial release, said Partha.
None of the major diseases like blast, sheath blight, bacterial blight and tungro was observed in the transgenic GR2E BRRI dhan29 and the yield was as good as that of the BRRI dhan29 (check variety) with good expression of beta carotene, according to a paper titled "Recent Advances in Breeding Golden Rice in Bangladesh".
The paper coauthored by Dr Partha, and the IRRI's Golden Rice Project Coordinator Dr Violeta Villegas, and Regulatory Affairs head Dr Donald J Mackenzie, was presented at the 4th Annual South Asia Biosafety Conference in Hyderabad, India in late September.
The Philippines is the only other country that is carrying out a multi-location field trial now on their homegrown Golden Rice line while the process of Golden Rice research remained at laboratory and greenhouse stages in Indonesia, India and Vietnam.
Although Bangladeshi rice scientists have been at the forefront of Golden Rice research since the development of this transgenic rice by Swiss and German scientists in 1999, the process gathered momentum only when then IRRI (International Rice Research Institute) plant biotechnologist, Dr Swapan K Datta, infused the genes responsible for beta carotene into BRRI dhan29 in 2002-03.
The genetic engineering technology to derive vitamin A in rice was first applied by Prof Ingo Potrykus of Swiss Federal Institute of Technology in Zurich, and Prof Peter Beyer of the University of Freiburg, Germany back in 1999. All renowned journals and news magazines, including the Nature, the Science and the Time, covered the breakthrough in 2000.
The first generation Golden Rice (known as GR1) was developed through infusing genes from daffodil, but later the second generation variety (known as GR2) was developed by taking a maize from corn as it gave much better output of pro-vitamin A.
Some six lines of GR2 (scientifically called "events") were developed and the IRRI chose to work on one called GR2R, which it developed and subsequently infused in Filipino and Bangladeshi rice varieties.
After years of lab and greenhouse tests on GR2R, the Philippines and Bangladesh eventually stopped upon an IRRI advice that Event GR2E would work better.
Golden Rice co-inventor Prof Peter Beyer told this newspaper that there were some problems with the Event GR2R. He said the new Event should work well.
Swapan K Datta, ex-IRRI scientist who infused beta carotene-producing genes into Bangladesh's best performing rice variety, BRRI dhan29, said he was looking forward to see Golden Rice goes to farmers' fields.
The BRRI dhan29, developed by BRRI in 1994, is the most productive dry season rice variety of Bangladesh that has gone beyond national boundaries to be grown in many other countries including India, China, Vietnam, Nepal, Bhutan and Myanmar.
Rice does not contain beta carotene. Therefore, dependence on rice as the predominant food source necessarily leads to vitamin-A deficiency, most severely affecting small children and pregnant women.
Consumption of only 150 gram of Golden Rice a day is expected to supply half of the recommended daily intake (RDA) of vitamin A for an adult. People in Bangladesh depend on rice for 70 percent of their daily calorie intakes.
The IRRI says VAD is the main cause of preventable blindness in children and globally, some 6.7 million children die every year and another 3,50,000 go blind because they are vitamin-A deficient.
In April 2011, Seattle-based Bill and Melinda Gates Foundation sanctioned a grant of over $10 million to IRRI to fund, develop and evaluate Golden Rice varieties for Bangladesh and the Philippines.
Officials concerned at IRRI and Gates Foundation said as the Golden Rice inventors and subsequent technology developer Syngenta allowed a royalty-free access to the patents, the new rice would be of the same price as other rice varieties once released for commercial farming in Bangladesh, and farmers would be able to share and replant the seeds as they wish.