US urges Bangladesh for effective, quick probe
Biswal meets foreign minister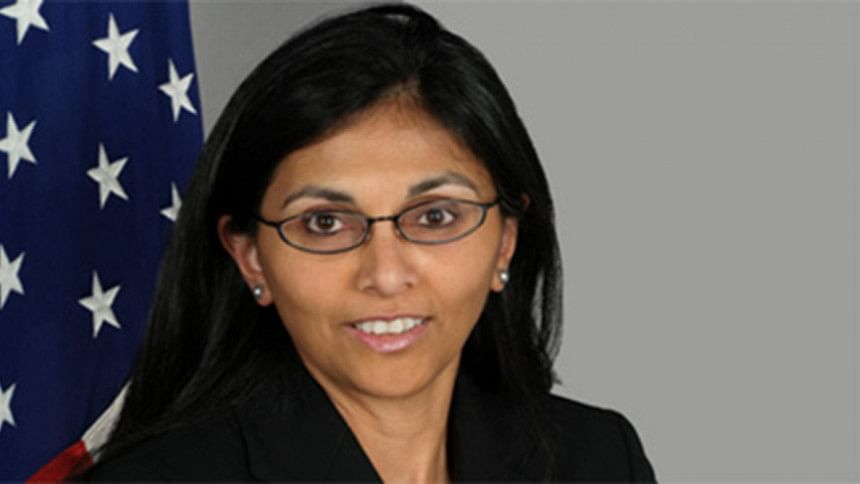 The United States yesterday pressed the Bangladesh government to bring the perpetrators of the brutal murders of secular bloggers and activists to justice through effective and prompt investigations.
At an extensive and lengthy meeting with foreign ministry officials, an American delegation led by US Assistant Secretary of State for South and Central Asian Affairs Nisha Desai Biswal called for speedy trial of the April 25 killing of USAID staff Xulhaz Mannan and his friend Mahbub Tonoy upon a quick investigation.
The Bangladesh side reiterated the government's zero tolerance to extremism and terrorism and assured the US delegates of ensuring justice through an immediate and proper investigation.
The delegation said the US would stand beside Bangladesh and work together on countering terrorism and violent extremism before they take root here, according to diplomatic sources. 
It expressed concern over what it said was systematic assaults in the country in recent months on minorities, secular bloggers, intellectuals and foreigners, sources who were present at the meeting said.
The US delegates also said they were upset at the slow pace of investigations and trial of the recent series of murders.
Biswal yesterday also met the American Embassy community and held discussions with local human rights and civil society organisations. She is scheduled to meet Prime Minister Sheikh Hasina this morning and Home Minister Asaduzzaman Khan Kamal at noon.
US Secretary of State John Kerry, who talked to Hasina over the phone on April 28 following the killing of the two LGBT rights activists, sent Biswal to hold discussions with the Bangladesh government to strengthen security cooperation.
Foreign Minister AH Mahmood Ali, State Minister for Foreign Affairs Shahriar Alam, Foreign Secretary Shahidul Haque and several other senior officials attended yesterday's lengthy meeting.
Biswal was assisted by US Ambassador in Dhaka Marcia Bernicat, Deputy Chief of Mission David Meal and Political and Economic Counsellor Andrea Brouillette-Rodriguez.
Defending Hasina's zero-tolerance approach to terrorism, the ministry officials said fundamentalist groups and some people were trying to encourage militancy in Bangladesh.
The government is fighting them to maintain a secular society, they added.
The foreign ministry officials, however, claimed that the security situation in Bangladesh was under control and said the home minister at today's meeting would inform the US delegates about the progress of the investigation into the latest murders of the LGBT activists and also of the probes into other recent killings.
Leaders of civil society organisations, including Badiul Alam Majumder of Shujon, Lamiya Morshed of Yunus Centre, former ambassador Humayun Kabir of Bangladesh Enterprise Institute, and Founder and President at MOVE Foundation Saiful Haque were present at a luncheon meeting with Biswal and other US embassy officials yesterday.
At the US ambassador's residence, they shared their thoughts and concerns over the security situation and extremism in Bangladesh as well as across the globe.
"Xulhaz Mannan embodied courage and selflessness and his legacy will live on in the causes he championed," Biswal tweeted after her meeting with civil society representatives.
A reliable source who attended the meeting told The Daily Star participants unanimously agreed that militancy and violent extremism are on the rise in the country.
They also expressed worries over the deteriorating law and order situation here.
Staff of the US Embassy at the meeting with Biswal were emotional and seemed to be very shaken by the murder of Xulhaz, sources said.
In another tweet, Biswal said she joined Gayle Smith, USAID administrator, and Jonathan Stivers, USAID assistant administrator for Asia, to share memories of Xulhaz with the US Embassy and USAID in Dhaka.