UN keen to take more Bangladeshi peacekeepers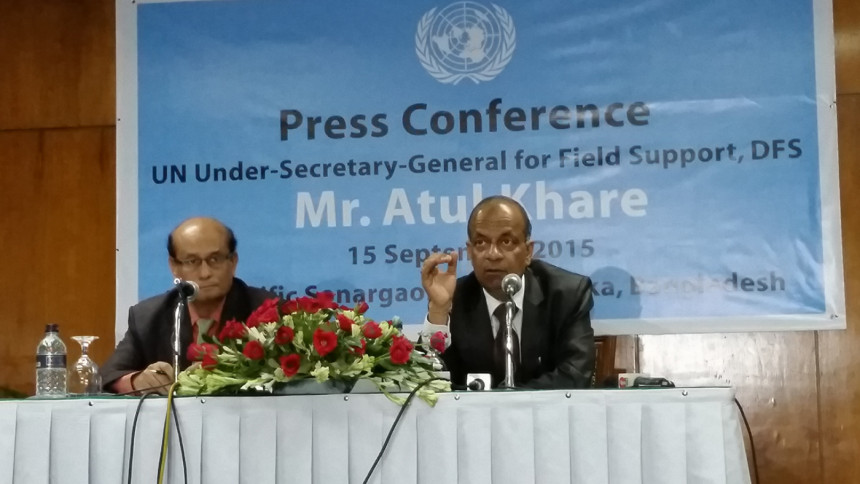 Lauding Bangladeshi peacekeepers' professionalism and contribution to UN missions, UN Under-Secretary General for Field Support Atul Khare yesterday said the UN was ready to appoint more Bangladeshis to commanding positions soon.
"We are going to have an important announcement soon… we are going to make one more important announcement in Mali for commanding the Eastern Sector,"  he said at a press conference, wrapping up his three-day Bangladesh visit.
As the top troops-sending country, Bangladesh has been demanding key roles in UN peacekeeping operations.
In response to a query, the UN official said, "We are very cognisant" of this demand.
Atul Khare said three brigadier generals from Bangladesh currently hold senior-level positions such as sector commander and deputy force commander.
"Even then more can be done to get Bangladeshi people in top positions."
The UN official said he had discussed the issue with top Bangladesh leaders and high-ups of the army during his meetings with them in the last three days.
"Many of our missions are French-speaking. We need people who are very fluent in speaking and writing French, apart from English."
"The leaders of Bangladesh told me that they are going to work on this particularly in the language lab of BIPSOT [Bangladesh Institute of Peace Support Operation Training]."
The under-secretary general said Bangladeshi peacekeepers were deployed in "extremely" challenging missions, and the credit went to Bangladesh Army.
"I came here within six months of my appointment to thank Bangladesh leadership and its people because its troops perform exceedingly well despite being posted in difficult, hard-to-reach and insecure places … I am very happy with their performance," he said.
With the deployment of 9,432 Bangladeshi troops and police (till August 31, 2015) in 10 UN missions, Bangladesh tops the list of peacekeepers-sending countries.
He also appreciated the role of Bangladeshi female peacekeepers, and said some of them were working under elite forces such as Formed Police Unit (FPU).
Some 300 Bangladeshi female police in two battalions have been deployed in Congo and Haiti under the FPU.
The UN official greatly praised the role of Prime Minister Sheikh Hasina, and said he already started working on the ideas put forward by the PM.
Quoting the PM, he said Bangladesh became a "brand name" in UN peacekeeping.
"She [the PM] has made a number of suggestions in the last peacekeeping summit. The suggestions and ideas are extremely useful for the future of UN peacekeeping missions."
Atul Khare said he decided to start implementing the proposals after taking charge.
Responding to a question from The Daily Star correspondent, the UN official said they would discuss how Bangladeshi businesspeople could take part in the UN procurement process for peacekeeping missions.
A conference on doing business with the UN would be arranged next year to discuss all these issues and see how Bangladeshi businesspeople can be registered with the UN and participate in tenders.
The UN official said they had arranged such conference in Dhaka three years ago.
The annual procurement volume of the UN is about $3 billion, and about 90 percent of the purchase is done for the Department of Field Support, he said.
"Bangladesh's RMG sector can be looked at… We can also look at many areas, including Bangladesh's quality medicines."
"I want them to go for high-end products and services …"
Atul Khare said UN peacekeeping missions faced challenges that included maintaining the highest standard of conduct and discipline.
"I am very happy that in the last two years there is not a single case that I had to report to Bangladesh."
Bangladeshi peacekeepers were very good at conduct and discipline, while there were problems with members of a few countries in some UN missions.
There were 43 cases of complaint against UN peacekeepers in 2014.
"That is a challenge we all need to work together and address… Bangladesh has promised to work to that end as a UN member with preventive approach," he added.
Earlier, Atul Khare made a courtesy call on Inspector General of Police AKM Shahidul Hoque at the police headquarters.
The IGP requested the UN official to increase the number of Bangladesh police personnel in UN peacekeeping missions, according to a media release from the police headquarters.  
In response, the under-secretary general said the request was logical, and that he would convey it to the Department of Peacekeeping Operations.