Together, against all terrorism
Delhi renews its 'strong support' for Dhaka to fight the menace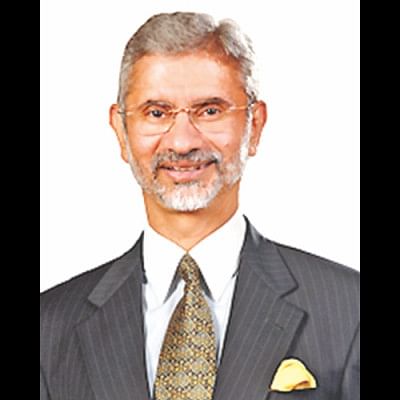 Amid the spate of attacks and killings in Bangladesh, Dhaka and New Delhi yesterday announced that they would work together "bilaterally" to counter terrorism and violent extremism.
"I told the foreign secretary that I am here to convey the government of India's strong support to the government of Bangladesh as it battles terrorism and extremism," said Indian Foreign Secretary Subrahmanyam Jaishankar, who reached Dhaka on Wednesday.
He said this after a bilateral meeting with his Bangladesh counterpart Shahidul Haque at the state guesthouse Padma yesterday before returning to India in the afternoon.
"This is an issue which is of direct concern to us as neighbours," Jaishankar said, adding, "We are in touch and we work closely bilaterally and closely together on those matters."
Briefing reporters after the 90-minute meeting, the Bangladesh foreign secretary said Bangladesh and India are working bilaterally to eliminate extremism and terrorism. "We are also working regionally and internationally … "
He said during the meeting they exchanged notes and said, "Our and their [Bangladesh and India] analysis have a lot of similarities."
Asked about Bangladesh, India and the US working together to counter violent extremism and terrorism, Foreign Secretary Shahidul said, "We are working bilaterally [Bangladesh and India] in this regard. We have discussed about further strengthening the existing mechanism to contain terrorism more effectively."
Jaishankar while briefing reporters said his purpose for the visit was to review the bilateral ties. It is little less than a year since Indian Prime Minister Narendra Modi visited Bangladesh when a number of important agreements and understandings were reached, he said.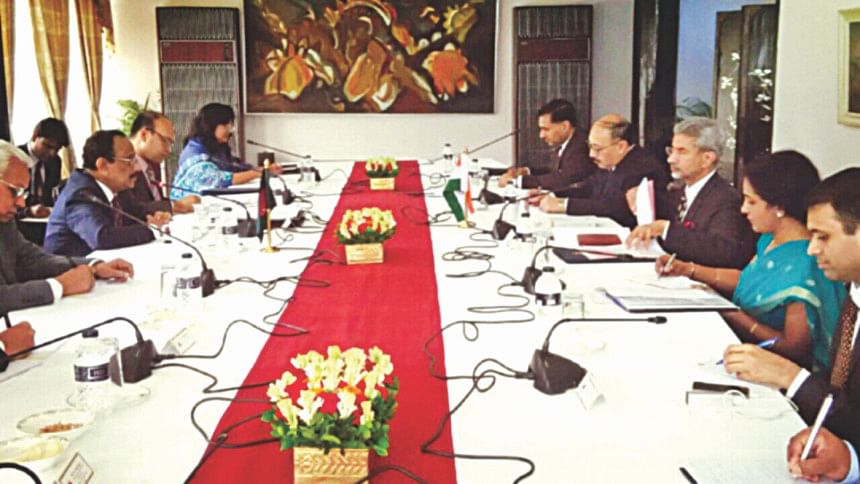 "So we sat down to look at the progress in all those issues. I must tell you we had a very good report to present … we have really moved forward in a number of areas," he said.
The Indian foreign secretary said they reviewed the possibility of more power and LNG supply to Bangladesh from India.
"We looked at some of the power projects which are coming up, including by the Indian private sector in Bangladesh."
He said they had a very positive feedback on coastal shipping.
Jaishankar said they also looked into the reports on Line of Credit, which India offered for a number of projects, and eight of them have been done so "we are in a position to move forward".
Foreign Secretary Shahidul said big strides have been made in various fields, especially the joint working groups on new areas like blue (maritime) economy. "The progress made in the last few months was beyond expectation and was smooth," he added.
He said they discussed the issues related to the borders of the two countries. The chiefs of the border guards have been sitting for talks and the discussions were progressing satisfactorily.
On a question about Modi's letter to Hasina, he said the Indian prime minister invited the Bangladesh prime minister to attend a summit of Bimstec member countries on the sideline of the BRICS Summit to be held in Goa in mid October. 
He said the prime minister has decided in principle to attend.
Responding to a question on the Teesta water sharing issue, the foreign secretary said problems regarding water, drought and the environment have been discussed.
Earlier in the morning, the Indian foreign secretary had a breakfast meeting with a group of eminent citizens at Hotel Sonargaon. The attendees expressed confidence that both Bangladesh and India could resolve their pending issues maintaining good relations.
Prof Anisuzzaman, rights activist Sultana Kamal, former lawmaker Prof Abdul Mannan, Dhaka University Vice-Chancellor Prof AAMS Arefin Siddique, former foreign secretary Shamsher Mobin Chowdhury, CEO of Massranga TV Syed Fahim Munaim, Editor of Dhaka Tribune Zafar Sobhan, Editor of Sangbad Altamas Kabir, Qazi Kholiquzzaman Ahmad of PKSF, lawyer Tania Amir, Prof AK Azad Chowdhury, former Army chief Lt Gen M Harun-ar-Rashid, AK Faiyazul Haq Raju attended the meeting among others.
The meeting lasted nearly two hours.
Emerging from the meeting, Prof Anisuzzaman told waiting journalists that they discussed about the bilateral relations and how it could be improved.
Asked whether the issue of Bangladesh, India and the US working together came up for discussion, the noted educationists said the Indian foreign secretary told them that he had learnt about it from the newspaper in Dhaka.
"I don't think there is any such base of it."
On the issue, Sultana Kamal said, "There was no such concrete comment from him."
Former AL lawmaker Prof Abdul Mannan quoted the Indian foreign secretary as saying, "America said this, we did not say so."