Three-wheelers to join ride-hailing bandwagon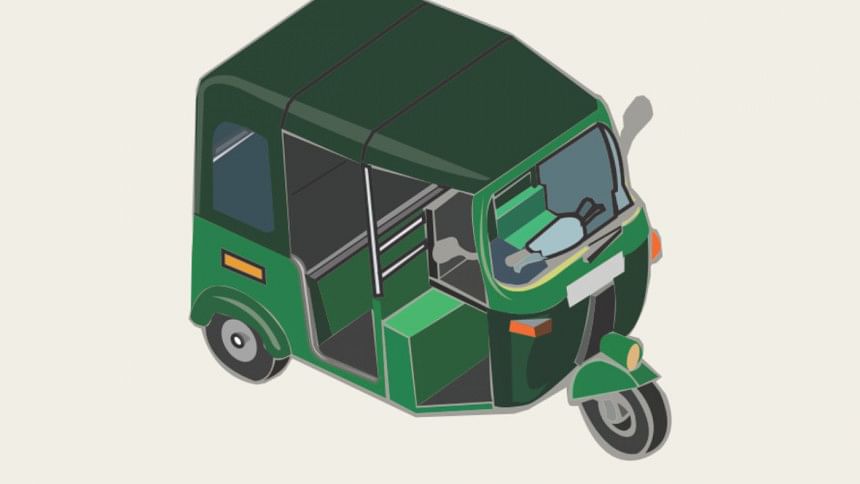 They had called a strike demanding a ban on fast-growing ride-hailing services in order to ensure their long-held dominance on the streets and keep competitors at bay. But CNG-run auto-rickshaw drivers are now coming to terms with the changing reality and accepting the technological transformation.
They have started joining a new mobile app platform called "Hellow".
The mode of transport, which has drawn a lot of flak over the years because of high fares and poor customer service, will start using the app from March.
A local software company, Top II, started the test run yesterday. As many as 500 CNG-run auto-rickshaws have so far been registered with the service expected to be launched in a month and a half, said Rakibul Hasan, director marketing of the firm.
The safety of the commuters and government-approved fares would be maintained, he added.
According to the government-set rate, fare for the first two kilometres is Tk 40 while it is Tk 12 for each of the next kilometres. The waiting charge is Tk 2 for every minute.
Commuters have to spend close to double for availing a ride-share service like Uber or Pathao cars. For motorbikes, the fares are more or less similar.
"Actually, we are trying to modernise the auto-rickshaw service as its demand is still high despite the ride-hailing services," said Rakibul.
CNG-run auto-rickshaw drivers are often criticised for charging way more than the government-set fares and behaving badly with passengers.
"We have addressed these issues and arranged training session for many drivers over the last four months. We want to make it clear that the platform will not have any indecent drivers," Rakibul told The Daily Star.
Leaders of the Auto-rickshaw Workers' Oikya Parishad said the drivers also have understood the challenges and they are now willing to cooperate.
"Sometimes, people get scared even at the mention of the words 'CNG driver'. We want this situation to change," said Shakhawat Hossain Dulal, general secretary of the platform.
"It will take time but at least we are giving it a try," he said.
Talking to this correspondent, Fathema Khatun, who uses Uber to go to work, said she hopes that the CNG fare would go down significantly if the vehicles are run using any app.
Drivers will share 15 percent of their revenue of each trip with Top II, Rakibul said.
Dulal, however, said they have not yet finalised anything about the issue.
The inception of Pathao and Uber, when launched in 2016, was a much-desired relief for commuters against the "hard to get" auto-rickshaws. This resulted in a drastic drop in CNG auto-rickshaw demand.
Late in November last year, CNG drivers even demonstrated across the capital and the port city demanding withdrawal of the Pathao, Uber and other ride-sharing service.
"CNG-run auto-rickshaws started losing customers since ride- sharing services began," said Rokeya Prachi, communication director of 'Hellow' authorities.
Prachi, who is also a national film award winning actress, said, "Riders were also not comfortable with the auto-rickshaws for many reasons. We have worked on those issues following a survey."
She also said auto-rickshaw drivers will get adequate passengers if their vehicles can be brought under this app-based service and hoped that this will end squabbling over fares.
The app will now come under the "Ride-sharing Service Guidelines 2017" approved by the government yesterday.
Prachi said they also have plans to launch car and motorcycle services through their app, which will be in Bangla.
At a recent press conference, Top II said their service will be available round the clock and the drivers will be bound to go anywhere in the city.
"Within a short time we will introduce a customer care service," said Rakibul.
Currently, there are only 13,000 government registered CNG-run auto-rickshaws in the city. The total number of the vehicles is over 25,000.