The same old promise again
Transport owners, workers vow to make up for broken pledge of not running buses on daily contracts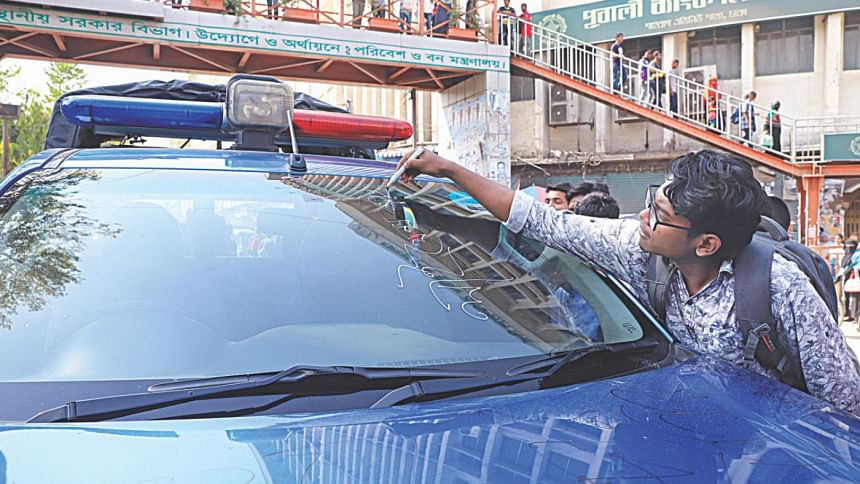 In the face of student protests for road safety, transport owners and workers yesterday came up with the same old promises of not operating buses on daily contracts, and scrutinising licences before appointing drivers.
"We swear by God that we will not run our vehicles on contract basis. We will properly examine drivers' licences and their experience before their appointment," more than a thousand transport owners and workers chorused at a programme yesterday.
With hands raised, they took the oath, administered by Dhaka Road Transport Owners Association (DRTOA) General Secretary Khondaker Enayet Ullah, at Mohanagar Natya Mancha in the capital's Gulistan.
Many bus owners rent out their vehicles to drivers on daily contracts. In this system, drivers pay a specific amount to the owner and to maximise profits, they drive recklessly to make as many trips as possible in a day, say road safety campaigners.
This contractual operation creates an unhealthy competition among buses for passengers, which often results in accidents.
One such race is blamed for the tragic death of two college students in the city's Shewra on July 29, last year.  
The incident touched off an unprecedented student movement for safe roads. Later on August 8, DRTOA pledged to abolish the system of daily contracts with drivers and their helpers to prevent races among buses.
Around 2,100 transport owners supported the DRTOA executive committee's decision raising their hands in the air at a meeting on September 17 last year at the same venue.
But things have not changed much. The contract system continues and lives keep perishing on roads.
On Tuesday, Abrar Ahmed Chowdhury, a student of Bangladesh University of Professionals (BUP), was run over and killed by a bus racing with another near Bashundhara Residential Area.
The incident, which happened while the 20-year-old was reportedly using a zebra crossing, led to fresh student protests in the capital for the last two days.
Even at yesterday's programme, several transport owners and workers admitted that many buses run on contracts, making the roads "a dangerous place".
Dhaka Sarak Paribahan Malik Sramik Oikya Parishad, a platform of Dhaka-based transport owner and workers, organised the meeting to reconstitute their committee, but issues relating to road fatalities dominated it.
At the beginning of the meeting, Enayet Ullah threw a number of questions: "Will such accidents continue to occur? Will indiscipline continue to rule the road? Will student protests go on? Can't we do anything in this regard?" 
Shahidullah Shahin, a transport workers' leader, said many owners still rent out their buses to drivers on daily contracts, leading to an unhealthy competition among the vehicles for passengers.
Those owners give their vehicles to drivers' assistants and their contractors, instead of skilled drivers, he said, adding, "Please don't do it to satisfy your greed… I request all owners to stop doing it right now."   
Karam Ali, general secretary of Bangladesh Road Transport Workers' Union, said zebra crossings were supposed to be safe for pedestrians.
"How could the accident [which left Abrar dead] take place on a zebra crossing? The responsible person should face actions," he said.
Karam said on several occasions, they had asked owners and workers not to run the daily contract system, but only five to 10 percent of them paid heed.
Enayet Ullah said, "I don't go to TV talk shows anymore. Why? It's because I have nothing to say. We are the guilty ones.
"Why the bus did not stop at the zebra crossing? Will you be able to show any excuse?" 
He said they would take some strict decisions. "Oikya Parishad will be on the streets to bring discipline there …We will not spare anyone."
Enayet said if any company rents out their buses on contract basis, they would recommend that Bangladesh Road Transport Authority (BRTA) cancels its registration. "After that, the association will acquire all the buses of that company," he said.
However, such decisions are not new as well.
On August 8 last year, when announcing his association's decision to abolish the daily contract system, Enayet had said, "Vehicles of no company can operate under contract system from tomorrow [Thursday]. If anyone does so, legal action, including [recommendation for] cancellation of registration of the company, would be taken."
The association did not make any such recommendation until yesterday, one of its leaders told The Daily Star last night.
He said after the August 8 announcement, they had formed five teams to conduct drives against vehicles operating on contract basis and take actions, including stopping their operation until they would change the system.
According to the transport leader, almost half of the buses on the city streets run under the daily contract system.
"Actually owners are forced to follow the system, because fare collection is a tough job," he added.
BUSES INVOLVED IN MOST ACCIDENTS
According to the Buet's Accident Research Institute (ARI), a total of 699 people were killed in 666 accidents in Dhaka city between March 2016 and December 2018.
Buses were involved in 354 of the accidents (53.15 percent), according to the ARI, which prepared the report on the basis of newspaper reports.
ARI Assistant Professor Kazi Md Saifun Newaz said although the number of buses in the city was comparatively smaller than that of other vehicles, buses were linked to the highest number of road accidents.
Unhealthy competition for passengers among buses, reckless driving and indiscipline in the sector are the main reasons for the crashes, he told this newspaper.
Currently, there are some 366 routes in Dhaka and adjacent areas while the numbers of approved buses and minibuses are 6,167 and 2,805 respectively, said a BRTA official.
FATE OF NINE-POINT DEMAND OF ROAD SAFETY MOVEMENT, AUGUST 2018
1.
The reckless driver involved with the airport road accident must be given capital punishment; the capital punishment has to be included in the law. 
Trial of the accused driver is going on. Parliament passed Road Transport Act 2018 in September last year keeping provision of five-year imprisonment and Tk 5 lakh fine or both as maximum penalty for causing death to a person by reckless driving; The government is yet to make the law effective. 
2.
Shipping Minister (at that time) Shajahan Khan should apologise unconditionally. 
He apologised.
3.
Setting up of a foot-over bridge near MES on airport road or ensuring an alternative safe way.
Foot-over bridge not constructed, but a designated person helps pedestrians cross the busy road.
4.
Establishing speed breakers in every accident-prone area. 
No Progress.
5.
Government should take responsibility of the injured and deceased students in the road accidents. 
Families of two victims got compensation.
6.
If students give signal to get on the bus, they should stop and take them in. 
No progress.
7.
Bus fare for students across
 the country must be
 halved. 
No Progress.
8.
Vehicles without fitness and drivers without licence should not be allowed on road. 
Little progress despite continuous drives. 
9.
No extra passengers should be allowed in buses. 
No progress.