Thank you Mr. Mayor
A different scene on Gabtoli road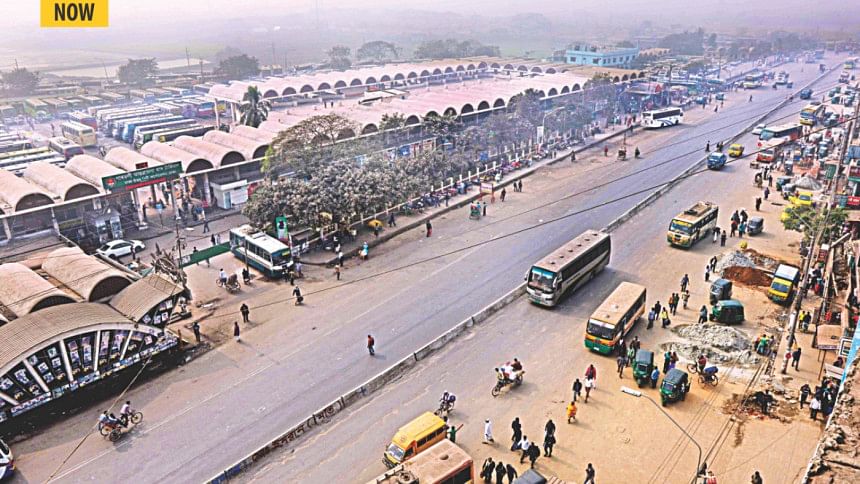 In a major step towards easing the city's crippling traffic congestion, Dhaka North City Corporation (DNCC) has freed the Shyamoli-Aminbazar road in the capital from illegal parking.
With the DNCC initiative, the road, which remained crammed with buses and trucks parked haphazardly, has now got a refreshingly new look, much to the relief of city commuters.
There are hundreds of bus counters at Shyamoli, Kalyanpur and Gabtoli Bus Terminal from where buses set off for different districts across the country. And the road, more often than not, remained clogged with these buses, as the bus owners occupied two-thirds of the road by parking their vehicles there.
"Just a couple of days ago, it took me 30 to 45 minutes to go to Shyamoli from Gabtoli. That's why I used to leave home early. But now it takes just a few minutes," said Amir Hossain, an NGO worker.
On December 29, DNCC Mayor Annisul Huq officially declared the road from Shyamoli to Aminbazar free from illegal parking. Since then, the situation has improved drastically.
Visiting the area on Sunday, this correspondent found the road almost clear. No bus, truck, or pick-ups were seen parked on the road. There were some warning signs on the road: "stopping here is completely prohibited".
Long distance buses were seen inside the terminal.
However, some Manikganj-bound buses were seen stopping for a while near the underpass to take passengers.
A few city buses were also seen hurriedly dropping off and picking passengers in front of Gabtoli Bus Terminal. However, on the other side of the road, many city buses were seen waiting for passengers in a haphazard manner and competing with each other to take passengers.
Although transport leaders complied with the mayor's initiative, they on December 29 demanded separate terminals for buses and trucks.
Talking to The Daily Star, Mayor Annisul Huq said the process would take several years to implement, as the matter is still at the policymaking level.
The DNCC mayor has so far freed several areas in the capital from illegal parking. The areas are: Gabtoli-Aminbazar, Uttara-Abdullahpur, Pallabi bus stand, Tejgaon Industrial Area and Tejgaon Truck Stand, Mohammadpur, Mohakhali Bus Stand and Karwan Bazar.
However, the eviction drives were not very smooth. Annisul faced obstruction from transport workers while conducting drives. A clash between transport workers and police erupted while the mayor himself was leading a drive to free the busy road in front of Tejgaon Truck Terminal from illegal parking on November 30.
The obstructions, however, could not deter the DNCC mayor from achieving his goal of creating a better liveable Dhaka. He had successfully cleared the road from illegal parking.
To bring the metropolitan bus service under discipline and to ease commuter's suffering, Annisul said he plans to bring down the number of city bus companies to five.
In reply to a question, he said they were planning to bring 3,000 new city buses, including 1,000 air-conditioned buses, soon. "These buses would operate on five routes in the city," he said.