Teachers call off strike
Classes at public universities to resume today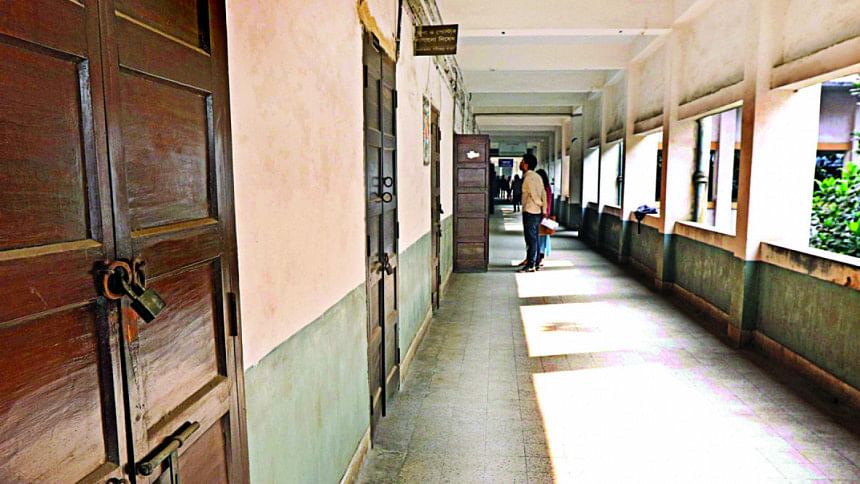 Public university teachers will return to classes today as they have decided to suspend their work stoppage observed for seven days over "pay disparity" in the new pay scale. 
The decision was taken at a meeting of the Federation of Bangladesh University Teachers Association yesterday, a day after Prime Minister Sheikh Hasina assured them of looking into their demands and a quick solution.
"On the basis of the assurance and keeping full faith in her, we are announcing the suspension of our movement," said Prof Maksud Kamal, general secretary of the association, a platform of public university teachers, which spearheaded the movement.
He, however, categorically said they were not ending their movement and that the suspension was rather part of the movement.
The association members decided to meet again on February 3 to review the progress in fulfilling their demands.   
"We hope our demands will be met by that time. If not, we will set our next course of action at the meeting," Prof Maksud said.
Teachers will not accept any delay in resolving the matter due to bureaucratic tangles or if their demands are met partially, he added.  
"What we have put forward is a package. We believe we have been able to make the prime minister understand that our demands are legitimate."
The proposal placed by the association suggests that 25 percent professors should be given grade 1 status while 5 percent should be recognised as distinguished professors whose salaries and status would be equivalent to senior secretaries.
Public university teachers have been protesting the eighth pay scale since May last year, pressing for a four-point charter of demands, including the formation of a commission to initiate an independent pay scale for them.
Other demands include upgrading of teachers' status in the order of precedence and equalisation of the provisions of cars, foreign and government scholarships, and other allowances between teachers and bureaucrats.
Things turned worse after the government issued a gazette on the pay scale on December 15.
Frustrated with the pay scale for not having time scale and selection grade, teachers of all 37 public universities began an indefinite strike on January 11. 
Following a meeting with the education minister, they submitted their package proposal to the ministry on Sunday.
The ministry has already begun working on the proposal, a source at the ministry said.