A tale of 2 militants
Tawsif went to Malaysia with Nibras; Rabbi was missing since April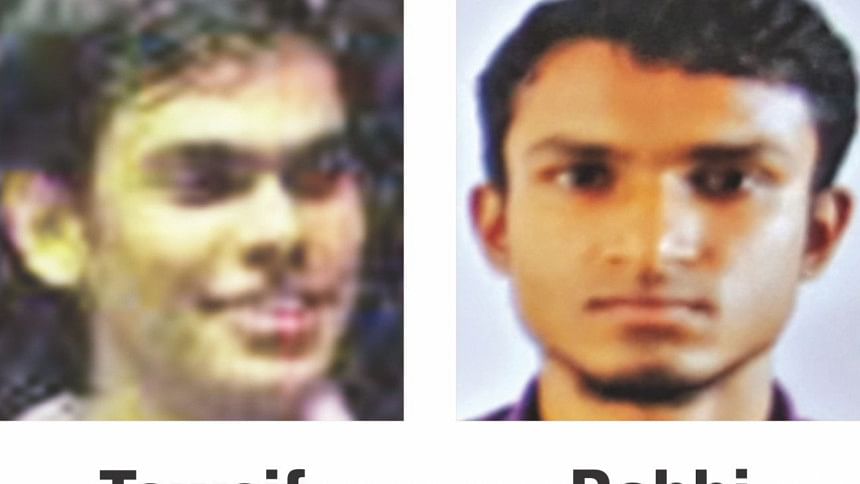 One of the two militants killed along with terror kingpin Tamim Ahmed Chowdhury has been identified as Kazi Fazle Rabbi from Jessore.
Police suspect the other militant is 24-year-old Tawsif Hossain from the capital's Dhanmondi.
Tawsif, a close friend of Nibras Islam -- one of the Gulshan café attackers -- studied at Monash University in Malaysia. Rabbi, 22, was a second-year honours student of Physics at Jessore MM College.
Police officials said they confirmed Rabbi's identity from his National Identity Card found at the scene.
Talking to The Daily Star yesterday, Rabbi's father Kazi Habibullah said he learnt about his son's death on Saturday afternoon.
Bangladeshi-Canadian Tamim, a Neo JMB kingpin and alleged mastermind of the Gulshan attack, who had holed up at a Narayanganj flat, was killed along with his two cohorts in a police operation codenamed "Hit Strong 27" on Saturday morning.
TAWSIF'S BACKGROUND
Tawsif, who was a student of an English medium school in the capital, studied with Nibras at Monash University in Malaysia. Both of them left home on February 3 and had been missing since then, said police.
Another Gulshan attacker, Rohan Imtiaz, also studied at Monash University.
"We suspect that one of the youths killed in Narayanganj is Tawsif Hossain, who lived in Dhanmondi," Monirul Islam, chief of counter terrorism (CT) unit of Dhaka Metropolitan Police, told reporters yesterday.
Around 4:30pm, this correspondent went to the Dhanmondi flat where Tawsif's parents live but found it locked.
Md Shahid, caretaker of the building, said Tawsif's parents left the building on Saturday night, about an hour after some of their relatives arrived at the place.
The July 1 Holey Artisan terror attack brought Tawsif to police's attention as his disappearance was linked with that of Nibras.
After Tawsif went missing, his father Ajmal Hossain filed a general diary with Dhanmondi Police Station, saying his son had left home for having lunch with his friends and didn't return.
Ajmal, a physician by profession, had spent 10 years in Saudi Arabia before returning home a few years ago.
When The Daily Star correspondent last month visited the flat of Tawsif's parents, caretaker Shahid said Tawsif used to come back to Bangladesh occasionally and spend most of the time at home.
Referring to the GD filed by Ajmal, Dhanmondi police had then said Tawsif along with Nibras returned to Bangladesh from Malaysia on November 3 last year.
Nibras was one of the accused in the case filed with Shahbagh Police Station under the Anti-Terrorism Act on February 9 for planning subversive activities. The name of one Tawsif was mentioned in the first information report.
Around noon on February 3, Tawsif, the youngest among three siblings, left home with a bag telling his mother that he was going out to have lunch with his friends, including Nibras.
As he didn't return home at night, his family members called Nibras' grandfather and learnt that he also didn't return home. They then found that his passport was missing, Dhanmondi police said last month.
On February 9, Abul Bashar, sub-inspector of the Detective Branch (South) of the DMP, filed a case against 12 people with Shahbagh Police Station under the Anti-Terrorism Act for conspiring to commit subversive activities.
On that day, police conducted a drive in Shahbagh area on information that some suspected militants were plotting to carry out subversive activities there, according to the case document.
Police arrested three alleged militants from the spot and learnt from them that their nine accomplices managed to escape, it reads.
In the case document, the names of Nibras and Tawsif were mentioned as fugitives but their addresses were not there.
RABBI'S BACKGROUND
Monirul Islam told reporters that they confirmed Rabbi's identity from a NID card found at the militant hideout in Narayanganj.
According to sources, Jessore police published posters with the names and photographs of five militants last month in the district town. And 22-year-old Rabbi was one of them.
Rabbi left home on April 5, telling his family members that he would join "jihad", said police.
He had been missing since then.
Rabbi's father Kazi Habibullah, a retired principal of Jessore Upashahar Degree College, filed a GD with Jessore Kotwali Police Station about his missing son on April 7 and had advertisements published in a couple of national dailies.
Habibullah said Rabbi had collected his educational certificates from his college before leaving home.
He said he learnt about his son's death on Saturday afternoon and later saw his photo in the media. "But I couldn't understand how he got involved in militancy."
He said he would receive his son's body. He urged the government to track down the terror network that turned his son into a militant.
Habibullah said Rabbi wanted to study engineering at a private university but he couldn't afford it, and that his son left home out of anger.
Rabbi got CGPA 5 in SSC and CGPA 4.6 in HSC from the science group.
Rabbi's neighbours said he was a shy person and used to talk very little. He got close to a local imam, who indoctrinated him into extremist views.
According to sources at Rab-6 in Jessore, Rabbi used six mobile SIM cards and changed mobile phones at times.
Anisur Rahman, superintendent of police in Jessore, confirmed the filing of the GD with local police about Rabbi going missing.
He said they had initially learnt that Rabbi left home without informing his family. But later they came to know from the District Special Branch that Rabbi had told his family that he would join militancy.
Anisur said they were trying to hunt down those who radicalised and financed Rabbi, and gave him shelter.
All of them would be brought to book, added the police official.               
[Our Benapole correspondent and a correspondent from Jessore contributed to this report]