Who are they?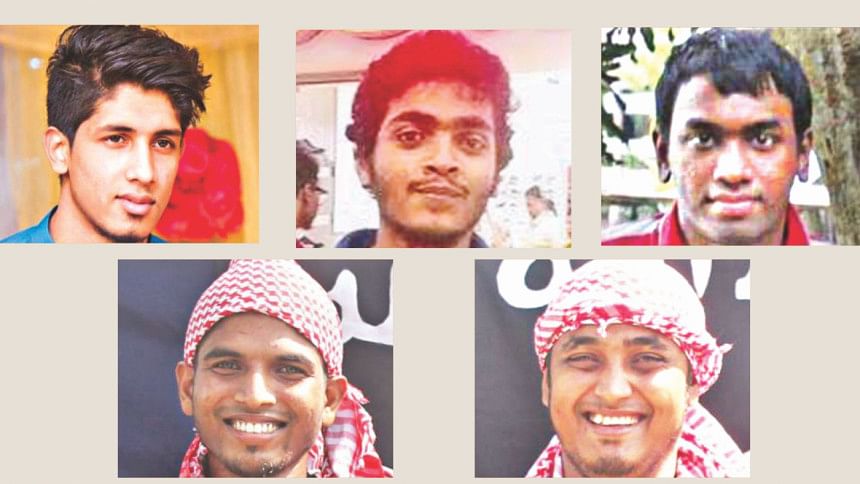 In the aftermath of Gulshan café siege, photos of suspected attackers surfaced in public domain, prompting social media users and journalists to search for their identities and look into family and educational backgrounds. There have been some findings but a lot more is yet to be unearthed. 
Most of the suspected Holey Artisan attackers, whose photos surfaced through different sources, were from well-off families and had English medium backgrounds. 
They used to frequent the popular upscale eatery in Gulshan, said their friends and investigators.
One suspect, however, was a madrasa student in Bogra.
They remained missing for several months. Family members and friends through social media posts pleaded for their return.
One of them is Rohan Imtiaz, son of Imtiaz Khan Babul, a former youth and sports secretary of Dhaka City Awami League.
Imtiaz filed a general diary with Mohammadpur Police Station on January 1 this year after Rohan went missing on December 30, 2015, a police source said.
Rohan's mother is a teacher at Scholastica, one of the leading English medium schools in the capital.
US-based Site Intelligence, which monitors jihadi activities, around 10:00pm on Saturday posted photos of five youths, saying the images were released by global terror body Islamic State (IS).
In the post, the five were mentioned as "Dhaka attackers". All in black Panjabi and scarf, they were posing with guns.
Around an hour later, police headquarters released pictures of five dead bodies, saying they were the café attackers. Four of the dead appears to be the ones seen in the SITE photos.
The releases prompted social media users to crosscheck the pictures and look into educational and family backgrounds of the youths.
Some employees of Holey Artisan Bakery told The Daily Star that one of the bodies seen in the police photos was of their pizza chef Saiful Islam.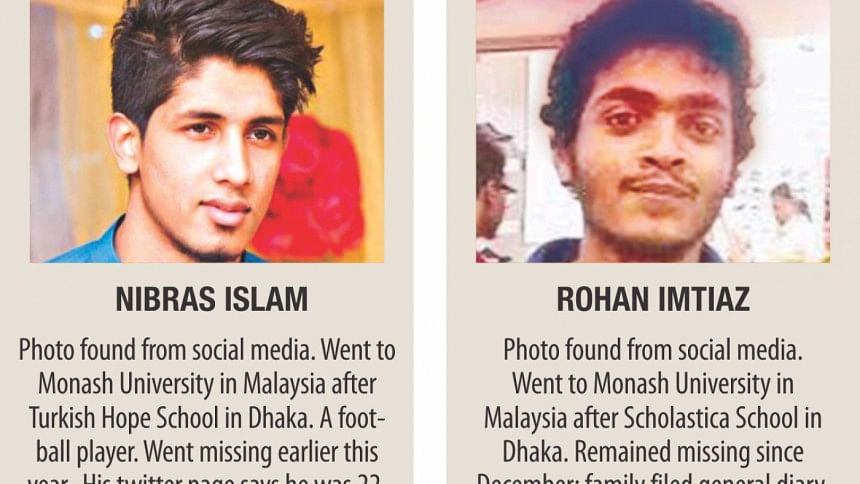 A relative showed on her mobile phone Saiful's photo to journalists at Gulshan on Saturday morning after the Holey standoff ended. She requested for information on Saiful's whereabouts.
Asked about the information that all the five bodies were of attackers, Inspector General of Police AKM Shahidul Hoque during a visit to United Hospital told reporters that it was based on primary investigation.
Investigation is going on and police will find out more, the IGP said as he went to the hospital to see cops injured in assaults by the gunmen.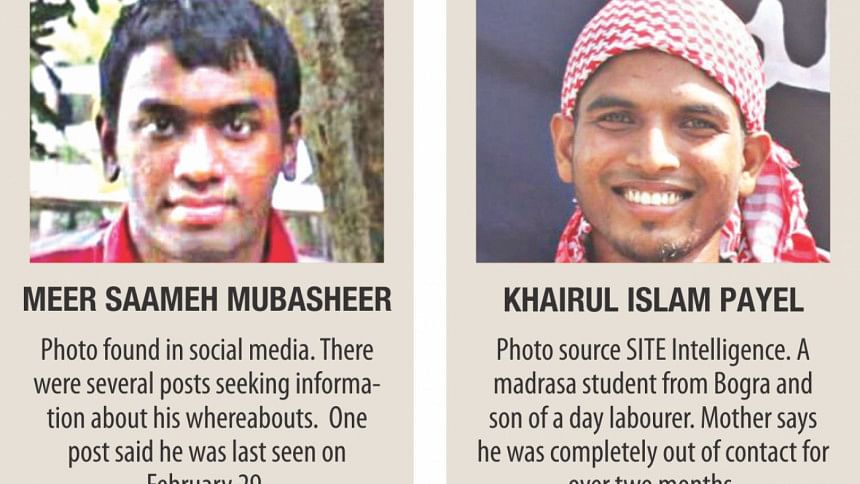 While visiting two injured constables at Dhaka Medical College Hospital, he said, "Our primary guess is that they [the gunmen] are JMB members. We have been looking for them for some days.
"They may have some contact with international terrorist groups."
After the end of the crisis following an army-led commando operation, it was said in an official briefing that six of the attackers were killed during the operation and a suspect was arrested.
Nothing could be found on the sixth attacker.
Meanwhile, friends have identified one of the smiling young men in the SITE photos as Nibras Islam, a quiet person and not very religious. His twitter page mentions his was 22.
A student of Turkish Hope School in Dhaka, he was in the school's football team, according to people who knew him.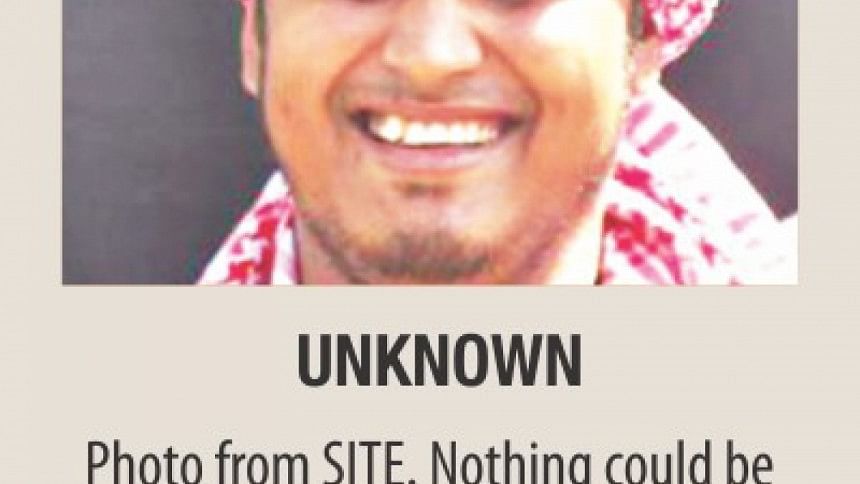 In a video clip posted in Facebook on June 8 last year, Nibras was seen shaking hands with Indian actress Shraddha Kapoor, said a detective.
"Shraddha Kapoor you beauty!! The moment she holds my hand," read the text accompanying the video. 
Nibras snapped contacts with friends in Bangladesh after moving to Malaysia to attend Monash University. Some say he became religious after leaving the country. Some of his acquaintances claimed that he was expelled from the university.
After coming back to the country, he just vanished earlier this year, leaving his friends perplexed. There were numerous posts on his Facebook page about his going missing on February 3.
One of his friends mentioned that he was last seen in a neighbourhood in Uttara. Most of the Facebook posts by friends asked him to come back and disclose his whereabouts.
Police said he was the kingpin of the group of attackers and used to operate as a militant under the pseudonym of Ripon.
He played leadership role during the hostage crisis, a staff of the restaurant told this newspaper. Pointing to the picture of Nibras, the staff said he was talking much and giving commands to others.
Another young man in SITE release is said to be of Rohan Imtiaz.
He too attended Monash University after graduating from Scholastica. His mother is a math teacher at the school.
His Facebook profile was filled with posts that can be perceived as radical in nature, said a number of his friends.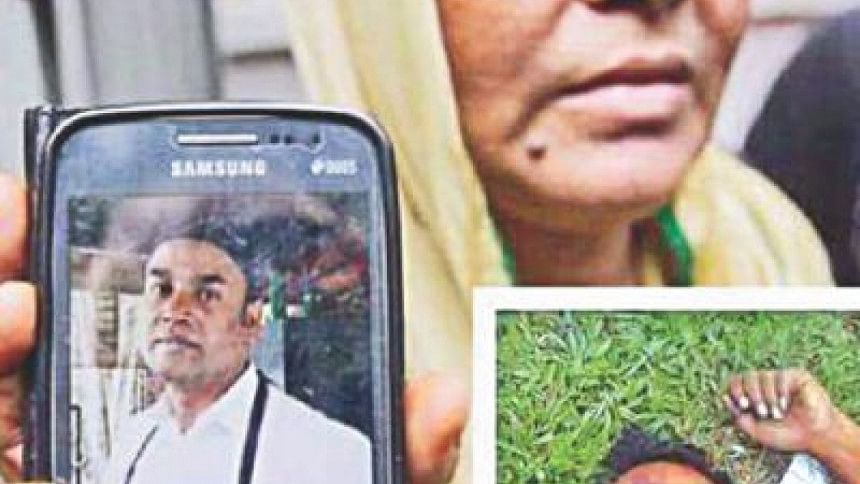 Another suspect, Meer Saameh Mubasheer, was due to take his A-level exams as a private candidate when he went missing from Gulshan in February, according to Facebook comments.
His friends said Mubasheer's family was very "strict, religious, and reclusive", and he was a shy person. There were several posts circulated on Facebook, asking people to come forward with information regarding his whereabouts.
Some posts suggest he was last seen on February 29. He was supposed to attend classes at Eminence, a coaching centre in Gulshan.
On May 25 last year, detectives arrested two suspected members of Islamic State from the capital's Uttara and Mohammadpur.
Police said the duo used to recruit individuals for the militant outfit.
Of the arrestees, Aminul Islam Beg, 38, was a graduate in computer science and engineering from a Malaysian university, and head of the IT department of a multinational company. The other was Sakib bin Kamal, 30, a former teacher at an English medium school in Dhaka.
Contacted, Wasima Parveen, one of the directors and chief operating officer of Scholastica, said Rohan passed A-level from their school two years back and later studied at a private university. She added his mother is a very good teacher.  
She also said Mubasheer was also their student and had left the school after passing O-level.
"We found nothing wrong in their behaviour when they were our students," she said.
She also strongly condemned the café attack, which killed 22 people including 17 foreigners.
Another youth was identified by Bogra police as Khairul Islam Payel, 20, who was known among his militant friends as Badhan.
He was the son of a day labourer of Chupinagar union of Shajahanpur upazila of Bogra and he could be easily identified by two thumbs on his left hand. He had two sisters.
He passed Alim (equivalent to HSC) from Bihigram Fazil Madrasa in 2015.
Police talked to his parents, sisters and other family members to ascertain his identity.
His mother said after passing Alim, he wanted to study in Dhaka and left Bogra for this in December last year.
"He came home a couple of months ago and then went missing," she said. "We could contact him never again."
His elder sister said he used to work in a shop and send home money now and then.
His relatives and even his three-year-old niece could easily identify him seeing a photograph on a cell phone, said a police official wishing anonymity.