Struggling to cope with the surge
Govt, aid agencies strain to ensure food, shelter for so many people; coordination a huge challenge; UN body says $77.1m needed for life-saving services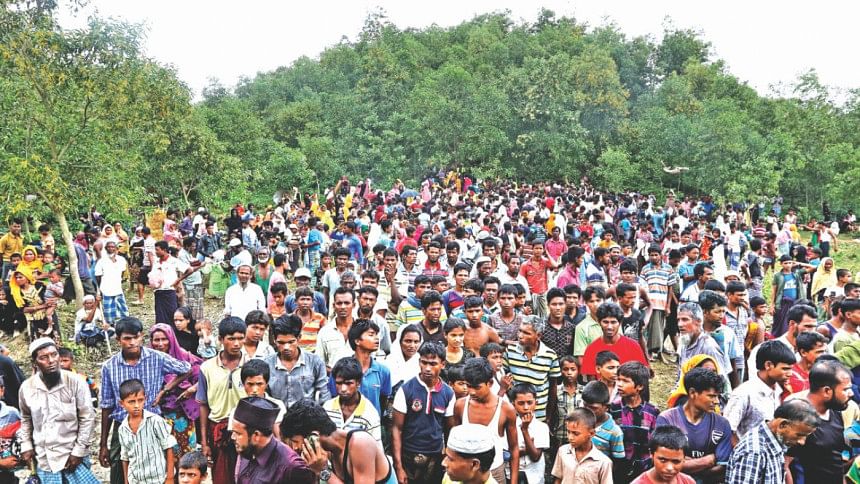 Amid a shortage of resources, the authorities are struggling to provide water, food, medicine, shelter and other basic needs to the huge number of Rohingyas streaming into Bangladesh from Myanmar every day.
The Bangladesh government, UN agencies and NGOs are also facing challenges in coordinating their activities for the newly arriving Rohingyas who are taking refuge anywhere they can -- roadsides, cropland, hills -- in Ukhia, Teknaf and Naikyangchhari.
Many are living right under the open sky.
"This is a complex and chaotic situation. We are trying to provide services on a priority basis. But that is nowhere near enough," a UN official in Cox's Bazar told The Daily Star yesterday.
It is almost impossible to manage food, shelter and medicine for so many people over such a short period, he said.
The official feared that the Rohingya influx would continue.
The International Organization for Migration (IOM) yesterday said around 290,000 Rohingyas came to Bangladesh in 14 days since August 26.
It happened after the Myanmar security forces began a crackdown against the minority group in response to alleged attacks by Rohingya insurgents.
The new arrivals join the already nearly five lakh Rohingyas, who came to Bangladesh between 1978 and 2016.
Every day, thousands of Rohingyas, mostly women and children, are seen sitting by the Cox's Bazar-Teknaf road in Ukhia and Teknaf, irrespective of the sun and rain.
Abdul Mannan, 50, who along with his 12-member family crossed into Bangladesh on September 5 following a five-day journey from Maungdaw in Rakhine, said they had not found any shelter yet and that they were looking for some food.
"We ate some food on Friday afternoon. We are sitting here hoping that somebody would come and give us some food," he told this correspondent around 2:00pm yesterday in Ukhia.
Noyna Khatun, 60, who took shelter at Bagguna hill in Ukhia along with her 18 family members, said they bought a little food with all the money they had managed to bring from their home. However, they already ate that.
"I got two kg rice from a family and cooked it this morning. We had a meal only with salt and chilly," she said yesterday and added that she had no idea how they would survive.
"We are drinking water from a nearby pond," said the woman who knew the water may cause diseases.
The IOM, UN Refugee Agency, World Food Programme, Unicef, Bangladesh Red Crescent Society, Save the Children, Doctors Without Borders and Action Against Hunger are some of the leading agencies working with the government and other NGOs to provide life-saving services to the Rohingyas.
These agencies have a coordination mechanism to provide services in the registered Rohingya camps in Kutupalong and Nayapara and unregistered camps set up in 2012 and 2016. They also began providing the same to the new arrivals, but at a scale much lower than that is required.
Before August 26, Action Against Hunger used to provide lunch and biscuits to around 1,000 people a day, but now it is providing the food to nearly 20,000 people a day in Ukhia and Teknaf, said the organisation's coordinator in Cox's Bazar, Mohammad Mahadi.
"This is not enough at all," he said.
The World Food Programme has been arranging food for the refugees in the registered Rohingya camps, but now it is also arranging food for the new arrivals taking shelter in the registered camps, an official of Kutupalong Registered Rohingya camp said.
The IOM in partnership with other NGOs is supplying some food and other relief materials to the makeshift camps, but that's negligible in comparison to the need, the official said.
The organisation in a statement said many people have set up camps in areas, which are too far from established support centres to receive help. Most families are living in the open, in the rain, with children and the elderly at particularly high risk of getting sick, it added.
Doctors Without Borders (MSF) said its teams are seeing streams of people arriving destitute and extremely traumatised. Many of the arrivals have serious medical needs, such as violence-related injuries, severely infected wounds, and advanced obstetric complications.
"Without a scale-up of humanitarian support, the potential health risks are extremely concerning," said Pavlo Kolovos, MSF head of mission in Bangladesh. 
"We've not had something on this scale here in many years."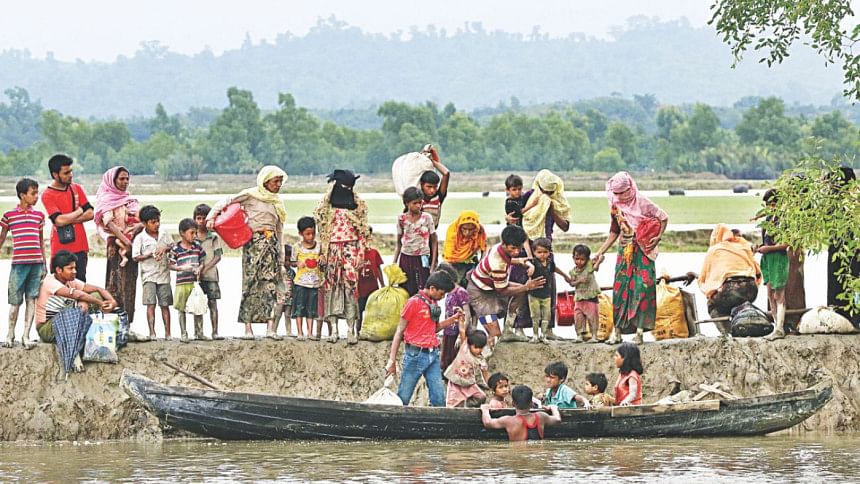 Shah Kamal, secretary of the disaster management and relief ministry, said as the Rohingyas were staying in a scattered manner, it was difficult for the authorities to provide them with relief materials.
"It will create a huge problem if the situation remained unchanged," he told The Daily Star yesterday, adding that the government was working on ways to put all the unregistered Rohingya to a specified area in Kutupalong.
Meanwhile, Disaster Management and Relief Minister Mofazzal Hossain Chowdhury Maya yesterday said Rohingyas coming from Myanmar would be documented under the biometric system, reports BSS.
The minister made the comment while exchanging views with journalists after visiting the Nayapara Refugee Camp.
UN AGENCIES SEEKING FUND
The IOM said $77.1 million were required to provide lifesaving services to the end of 2017 for an influx of up to 300,000 people.
The World Food Programme said it needed $11.3 million to support the new influx of people arriving, in addition to those already living in camps.
Secretary Shah Kamal said the disaster management ministry had already allocated Tk 10 lakh for relief materials for the Rohingyas.
Asked if the government would appeal to the international community for fund, he said the disaster management ministry would soon hold a meeting with different UN agencies and NGOs to discuss the funding issue.
Meanwhile, the Danish government has allocated Tk 256 million to United Nations World Food Programme as relief aid for the newly-arrived Rohingya refugees.
Ulla Tornaes, the Danish Minister for Development Cooperation, expressed grave concern about the situation in Rakhine and condemned the violence against the Rohingyas in Myanmar, said a press release issued yesterday, reports UNB.
UN spokesman Stephane Dujarric on Friday said in New York that UN agencies stepped up efforts to provide aid to refugees in Bangladesh.
Stéphane Dujarric, spokesman for the UN secretary-general, told a briefing in New York that the UN and its partners in Bangladesh had developed a plan to help up to 3,00,000 people by providing them with food, shelter, water, health care and other services until the end of the year.
The UN Resident Coordinator in Bangladesh, Robert Watkins, said, "With the movement of people showing no signs of stopping, it is vital that agencies working in Cox's Bazar have the resources they need to provide emergency assistance to incredibly vulnerable people who have been forced to flee their homes and have arrived in Bangladesh with nothing."
MALAYSIAN RELIEF
A Malaysian aircraft carrying relief materials for Rohingyas landed at Chittagong Shah Amanat International Airport yesterday afternoon.
Deputy Commissioner of Chittagong Zillur Rahman Chowdhury received the relief materials from Malaysian officials.
Contacted, the DC said around 12 tonnes of relief materials, including three tonnes of rice, dates, medicines, towel, soap and shampoos were received.
Earlier, talking to local journalists, Malaysian Prime Minister Najib Tun Razak yesterday announced that his country would do all it can to help alleviate the escalating Rohingya refugee crisis, reports Malaysian The Star online.
CONTROL ROOM
The Cox's Bazar district administration yesterday opened a control room to monitor the relief operations for the Rohingyas.
"The control room will enhance efficiency in collecting and distributing the relief materials," said Mohammad Ali Hossain, deputy commissioner of Cox's Bazar.
The control room was introduced as different organisations and communities were running relief operations for the refugees separately.
Anyone wishing to donate relief materials can contact the control room at +88 01615700900.