Stops suddenly, but with a purpose
Drugs enter Dhaka as incoming trains halt at non-designated spots to let traders get down safely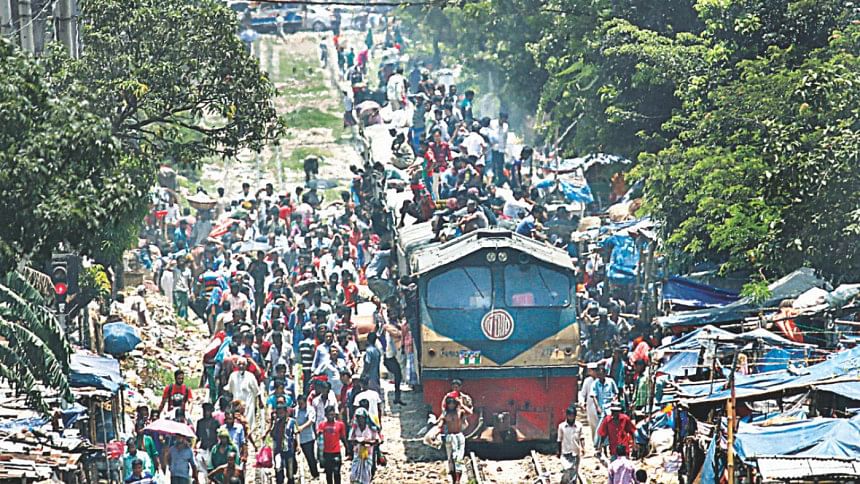 Around 10:45am on Sunday, Egaro Sindhur Provati, the express-train from Kishoreganj, slowed right down around half a kilometre before Tejgaon Railway Station. It eventually stopped for 30 seconds before it got moving again.
But within this half a minute, scores of people got down from the train and many of them had sacks on their heads. They disappeared within moments. 
Egaro Sindhur Provati driver claimed that he stopped the train "as a large number of passengers get down at Tejgaon". "We stopped outside the station as we are not supposed to stop at the Tejgaon station," he added.
However, sources tell The Daily Star that drug traffickers pay railway police and staff for using the 17 trains that travel between Dhaka, Brahmanbaria and Bhairab every day to transport their contraband and the unscheduled stops were for dropping peddlers and contrabands off.
And it is a regular and organised affair.
A drug trafficker told this paper that they pay Tk 150 for each pair of Phensidyl bottles they get transported and Tk 800 to Tk 1,000 for every kilogram of marijuana. 
When traffickers do not travel with their smuggled goods, they ship them on trains and attach special tags on the packages so that railway police and staff know where the packages have to be dropped off and that the bribe has been paid. 
A package could have a tag with the image of a chicken, a fish, a football or a rose.
If a package is loaded on a train in Akhaura and has the fish tag, it is supposed to be dropped off in Bhairab. Rose marked packages have to be dropped off in Brahmanbaria, football marked ones in Narsingdi, and chicken tagged ones in the capital.
If railway police see the tags, they would not check those, said the drug trafficker.
Trains slow down or have unauthorised stops at places so that the packages could be offloaded, sources said.
Abdus Sattar, officer-in-charge of Akhaura Government Railway Police (GRP), outright refuted the allegation.
He told The Daily Star on Sunday that drug peddlers might have used the "package system" before to transport contrabands but now it has stopped due to their vigilance.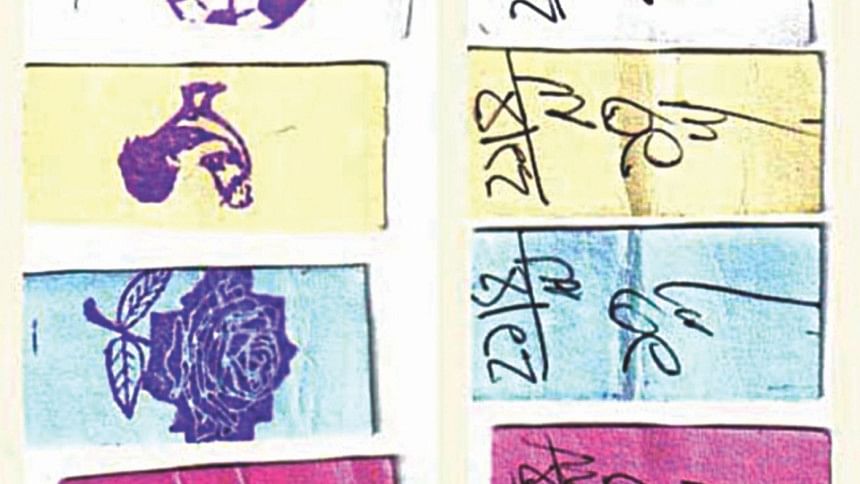 "If anyone is found with smuggled goods, we file cases against them immediately," he added.
This correspondent talked to a 26-year-old at Tejgaon Railway Station. "I have come from Bhairab with some chanachur," he said.
Asked if he had Phensidyl, the youth said he does not bring them every day. When pressed for details, he said, "If railway police want to check, we just pay them Tk 50 to 80 depending on the package size."
No railway police or staff were seen checking passengers at Tejgaon Railway Station.
Yeasin Faroque Mozumder, OC of Kamalapur GRP, said due to manpower shortage, it was not possible to place railway police officials at every station.
He claimed that drugs getting into Dhaka on trains from Brahmanbaria and Bhairab had decreased due to their continuous drives.
Mizanur Rahman, additional commissioner of Dhaka Metropolitan Police, told The Daily Star that drug smuggling via railway reduced due to their drives and mobile court drives.
Besides, the district police also conduct mobile court drives in Bhairab and Brahmanbaria, he added.
Yet, trains keep on making those unscheduled stops.
Our Brahmanbaria correspondent contributed to this report.