SP Babul Akter 'interrogated'
Speculations follow the development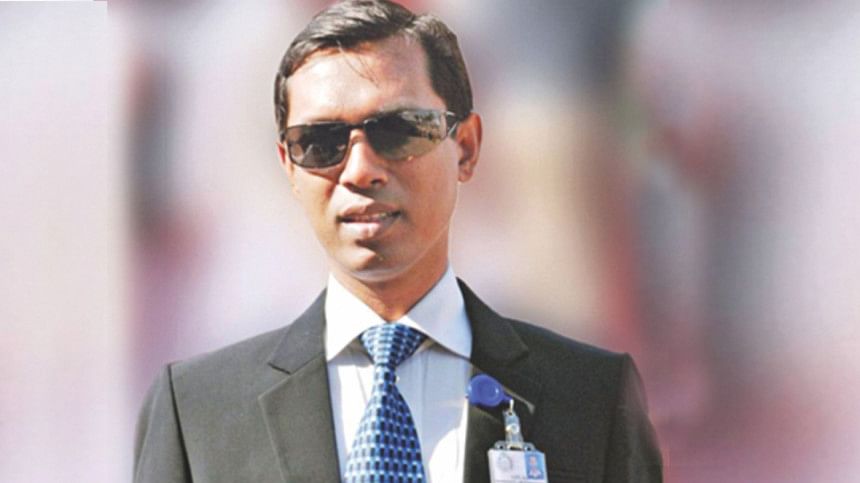 Police superintendent Babul Akter has been quizzed to ascertain whether he had any link with the murder of his wife, who was stabbed and shot to death early this month in Chittagong, police and family sources said yesterday.
Investigators kept Babul in their custody for about 15 hours from early hours of yesterday and interrogated him as the five arrested suspects allegedly divulged Babul's link with the killing, sources in Chittagong Metropolitan Police (CMP) said.
They, however, would not say why Babul would do that.
A four-member CMP team questioned him at the DB office in the capital's Minto Road, where he was repeatedly asked to "confess" his involvement, family sources said. 
They claimed some vested quarters were trying to make him a victim of a conspiracy.
After his release from the police custody around 4:30pm yesterday, Babul told The Daily Star by phone that investigators questioned him about the murder case, as he was the plaintiff of the case.
They wanted to verify some information given by the suspects, he added. 
But it was not clear why a police officer with the rank of SP was taken away at the dead of the night, around 1:00am. There was no official version or statement about the event.  
On the morning of June 5, three assailants killed Mahmuda Khanam Mitu near her Nizam Road house in the port city when she was taking her son to put him on a school bus.
A CMP official told The Daily Star they identified from the CCTV footage all the three who directly took part in the murder and had already detained and interrogated them.
The murder was initially thought to be an act of militants who are suspected to have killed some 50 people over the past three years. Responsibility for some of the attacks was claimed by Islamic State and Ansar Al Islam, which claims to be the Bangladesh branch of al-Qaeda in Indian Subcontinent (AQIS). 
The government denies any IS presence in the country, and blames the BNP-Jamaat and homegrown militants linked with them for the killings meant to create unrest in the country.
Hours after Mitu's murder, Home Minister Asaduzzaman Khan Kamal held militants responsible for it, although no groups claimed credit for the killing. On the contrary, Ansar Al Islam criticised the murder.     
SP Babul, who was posted in Chittagong for several years, is credited with busting several militant dens and arresting some top militants in the port city. 
Last night, the home minister told this newspaper that police took Babul to identify some suspects. But earlier in the day he said the SP was "interrogated" to verify some information given by the detainees.  
"We were astonished when we found the involvement of a miscreant in the murder as he was known as Babul Akter's source," said an official of the investigation team.
"We have just heard from one side and we don't know about the authenticity of it," he said, adding, "We are not sure whether the detainees were telling the truth."
Devdas Bhattacharya, CMP additional commissioner, however, said they did not arrest any source of Babul and that they detained only two suspects -- Abu Nasar Gunnu and Shah Zaman Robin. 
HOW BABUL WAS PICKED UP
Babul and his family members were attending a programme at Ramna on Friday evening. It was an Iftar party of 24th batch BCS cadres at the officers' mess, where senior police officials, including the inspector general of police, were present.
There, Babul told his father-in-law Mosharraf Hossain, a retired police officer, that the IGP wanted to talk to him, Mosharraf told reporters at his Khilgaon Bhuiyanpara house yesterday.
Thinking that the talks may last a while, Babul sent his two kids and Mosharraf to the house of a colleague in Ramna area.
"At about 11:30pm, Babul arrived in front of the building [colleague's house] and phoned me to come down. Officer-in-charge of Khilgaon Police Station, who was with Babul, came up to my house," Mosharraf said.  
They reached their home around 12:45am. Within 10 minutes, Motijheel Division DMP Deputy Commissioner Anwar Hossain arrived at the house.
Around 1:05am, they took Babul with them saying the police boss would speak to him again for 10 to 15 minutes.
As he did not return, family members called Babul on the phone, but it was found switched off within half an hour, said Mosharraf, adding that the Khilgaon OC did not pick up their calls throughout the day yesterday.
Mahbub Alam, deputy commissioner of DB, dropped Babul off in front of the Banasree house in the afternoon, he said, adding that police asked Babul not to speak with the media about the interrogation. 
Earlier in the day, family members had gone to the DB office, looking for Babul. But officials there told them that they did not know where he was, according to Mosharraf, who said his daughter never complained against Babul about anything. 
"We think he [Babul] is being victimised out of professional jealousy," he added.