Suspect held over Mitu murder
Curious message from Ansar Al Islam condemning killing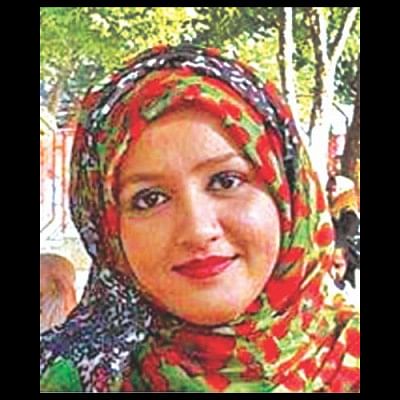 Police yesterday arrested a person in connection with the murder of SP Babul Akter's wife Mahmuda Khanam Mitu.
Shazaman Robin, 28, was arrested in Bayezid area of the port city in the morning, CMP Commissioner Iqbal Bahar told a press briefing at CMP headquarters yesterday.
"We suspect that Robin is the person seen in the CCTV footage," he said, adding that they were verifying if he was indeed in the footage.
Investigators suspect that Robin was one of those who took part in the gruesome killing of Mitu, 32, on June 5.
In the CCTV footage collected from a roadside camera, a person in a chequered shirt and blue denims with a mobile phone in his hand is seen across the street from where Mitu was murdered.
Police suspected the person took part in the killing and later fled the scene with two others on a motorbike.
He will be produced before a Chittagong court today with remand prayers, said police sources.
Meanwhile, a microbus driver, who was detained from Sitakunda on Thursday, was released as police did not find any strong evidence of his involvement in the killing, said the CMP commissioner.
Law enforcers seized the vehicle from Bhatiari of Sitakunda upazila on Wednesday and detained Jan-e Alam for interrogation.
On June 5, three assailants stabbed and shot Mitu dead when she was taking her son to his school bus stop at GEC intersection in the port city.
In a curious development, banned militant outfit Ansar al-Islam or the Bangladesh chapter of al-Qaeda in the Indian Subcontinent (AQIS) reportedly condemned the killing of Mitu.
"Ansar al-Islam, the Bangladesh division of al-Qaeda in the Indian Subcontinent (AQIS), released a statement condemning the June 5, 2016 killing of Mahmuda Aktar, the wife of Bangladeshi anti-terror investigator Supt Babul Aktar, as impermissible under Islam," a post of SITE Intelligence Group on Friday read.
The condemnation came hard on the heels of the beginning of a crack down on militants by law enforcers. In previous instances, SITE reported so-called statements by militant groups, like IS and AQIS, claiming credits for such killings.
Asked about the post, Bahar said the militant outfit might have issued the statement to avert criticism for the killing. It is also possible that the group was not involved in the killing and so it doesn't want to take the blame, he said.