Noise pollution from election campaign: Nuisance unbearable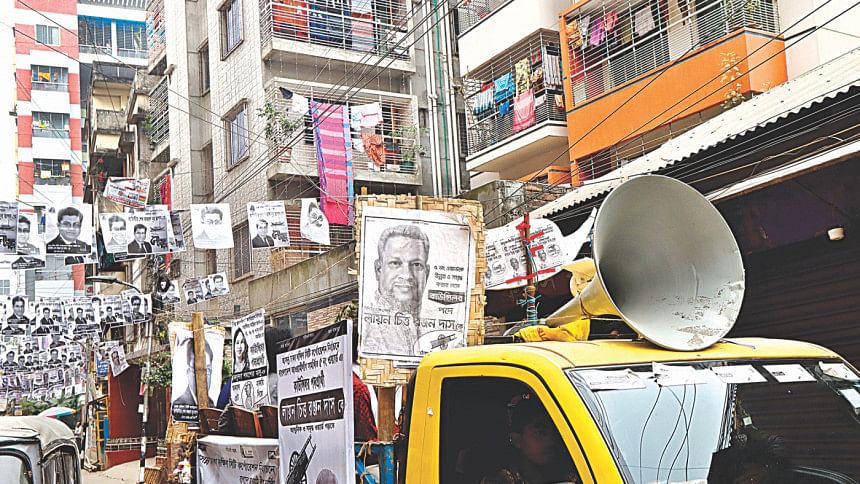 As the capital is abuzz with campaigns for the city corporation polls, candidates are found using loudspeakers during the hours when it is not permitted by electoral rules.
They quite often violate section 21 of the City Corporation (Electoral Code of Conduct) Rules 2016, which allows the use of loudspeakers between 2:00pm and 8:00pm.
The rules further say no candidate, or anyone on his/her behalf, can use more than one microphone or sound amplifier during a campaign or street rally in a city corporation ward.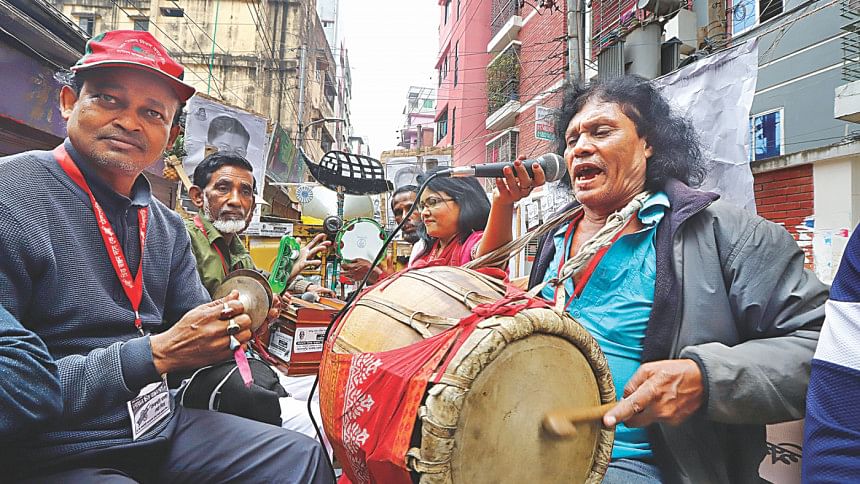 The reality is starkly different. City dwellers have been enduring songs and slogans played on loudspeakers, fitted on moving vehicles, beyond the permitted hours since the campaign began on January 10.
With the SSC exams a little over a week away, students are affected by this noise pollution caused by the daylong electioneering. It also poses health risks to elders and children who are not accustomed to such frequent loud sounds.
DHAKA SOUTH
During a visit to Ward-40 under Dhaka South City Corporation, The Daily Star saw a man on a rickshaw campaigning with a mike. It was around noon on Thursday.
Two to three minutes' walk from there, a stage was set up for a view-exchange meeting at Sayedabad Bus Terminal where campaign songs of a mayoral candidate were being played on a loudspeaker.
Supporters of two councillor candidates were campaigning with loudspeakers at DIT Plot Pukurpar in Gandaria. The two camps are within around 100 feet.
A resident of Satish Sarkar Road of Gandaria without mentioning his name said his daughter is an SSC examinee. But this loud noise is causing a serious disruption in her study but there is nothing they can do about it.
Shahida Quader, a resident of Khilgaon, said her daughter, who too is an SSC examinee, can hardly concentrate as campaigns using loudspeakers begin in the morning every day.
"My daughter gets very upset as she has a very short time left to complete her exam preparations. We can do nothing but tolerate the nuisance," said Shahi.
This year's SSC exams will begin on February 3.
It was 10:00pm when one of these correspondents found loudspeakers were being used at three spots.
Contacted, a woman candidate from the area said she was not aware of it and will instruct her supporters to abide by electoral rules.  
DHAKA NORTH
The Daily Star got similar allegations and found candidates' campaigns violating electoral rules while visiting various wards under Dhaka North City Corporation.
"I have no complaints about their campaign, but the loudspeakers are annoying. Particularly when you are studying for your exams and you are constantly disturbed by such loud sounds," said Tinmoni Ritchil, an SSC examinee of a local school in Nodda under Ward-18.
"The SSC exams are a crucial part of my life and I just want to concentrate on studying," she said.
A guardian in the Khilgaon area under ward-22 also expressed annoyance over the matter. Two candidates from the Awami League and the BNP are contesting from the area.
"My sister is undertaking exam preparations, but the loudspeaker campaign is surely hampering her studies just like others'," said Russel Zaman, a resident of Khilgaon. He suggests that the candidates should instead seek votes online.
Sixty-year-old businessman Rafique Mia of Satarkul under Ward-38 also complained about loudspeakers. A total of five candidates are contesting for the general ward as councillors in the upcoming polls.
"There are so many candidates in the area and since 10 in the morning, they keep using loudspeakers. Rickshaws of each candidate come in rotation and at one point it becomes unbearable, but what can you do? It's election time," he said.
This correspondent saw loudspeaker-carrying rickshaws for campaigns of different candidates in Ward-38 during the time of the day when it is not permissible.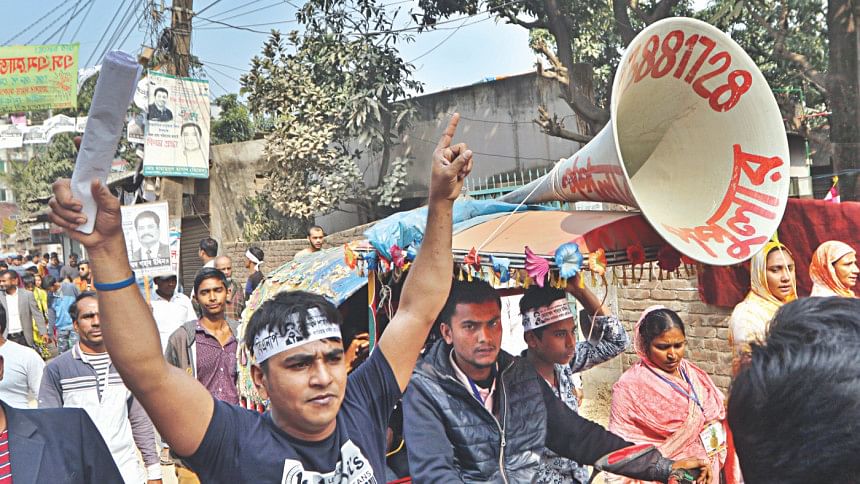 A councillor whose loudspeaker campaign was violating the rules, said, "Rickshaw pullers don't know the time. Therefore, he campaigns in the wrong hours sometimes. But I will be careful from now on."
Besides, he alleged that other candidates also do the same.
A total of 753 candidates would fight in the city polls on February 1. Of them, 13 are for mayor and 740 for councillor.
DNCC is comprised of 54 wards while DSCC has 75.
PERMISSIBLE LEVEL OF SOUND
As per the Noise Pollution (Control) Rules 2006, permissible level of sound in residential areas is 50 decibels in daytime and 40 decibels at night.
In industrial areas, it is 75 decibels and 70 decibels during the daytime and night respectively whereas, in the mixed areas, it is 60 decibels and 50 decibels.
The rules prohibit use of loudspeakers and even honking of vehicles within 100 metres of any hospital, educational institution or office.
Construction work within 500 metres of residential areas are also prohibited.
For using loudspeakers on any occasion, a prior permission has been made mandatory.
ALREADY UNBEARABLE
Abu Naser Khan, chairman of Paribesh Bachao Andolon, said if the candidates themselves violate the rules and fail to protect citizens' rights, others would also be encouraged to do so.
"So, we expect the candidates to follow the Environment Act properly and hope that they would not do anything that would cause sound pollution or affect environment in a bad way," he said.
The intensity of sound pollution in the capital is already unbearable and the recent election campaigns through loud speakers are adding to this, he said, adding that the Election Commission should intervene to prevent this.
Contacted, Abul Kashem, returning officer of DNCC, said they were trying their best to prevent the use of loudspeakers during the campaigns.
"We have confiscated several loudspeakers from the candidates and even fined them Tk 5,000 each. Unfortunately, the candidates are barely paying any heed to it."
The Daily Star, however, could not reach DSCC Returning Officer Abdul Baten over phone for his comment.