Criticism over Mass Arrests
Police now say focus to be on militants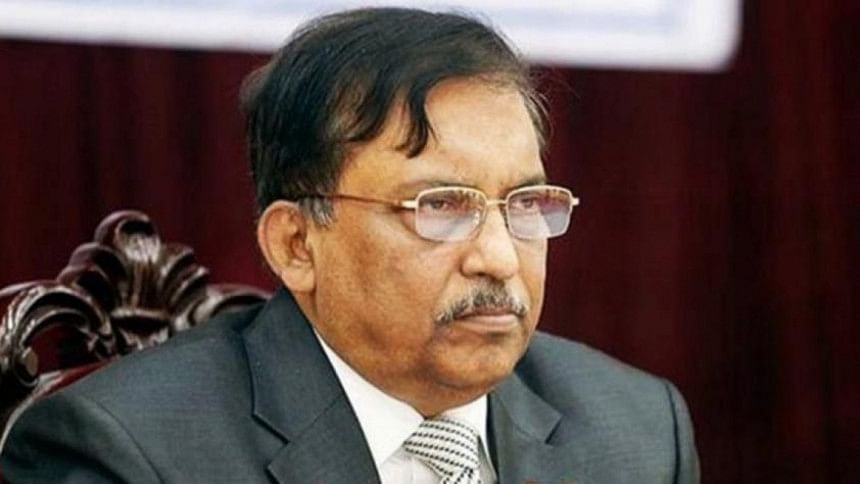 In the face of heavy criticism over the mass arrests across the country, police now say their weeklong special crackdown will focus on militants only.
Apparently defending the arrests of over 11,000 people since Friday, the police authorities said they were nabbed as part of another special drive which "coincided with the drive against militants" and that the special drive ended on June 13.
Although the Police Headquarters never informed the media about this "special drive" before, it said in a press release yesterday that the June 6-13 drive was meant to arrest wanted accused and seize narcotics and firearms.
Since Friday, some 166 suspected militants have been arrested, 21 of them in the past 24 hours. The number of total arrests between Saturday and Wednesday stands at 11,684, according to the police HQ. 
On a normal day, some 1,000-1,100 people are arrested every day across the country, police sources say.
However, the drive drew huge flak with increasing number of allegations that police are harassing many innocent people and opposition party men, and extorting money from them. Some of those arrested are Awami League men. This has naturally angered the ruling party leaders and high-ups.
Over the last two days, this newspaper ran reports of such harassments and the "arrest trade".
According to media reports, in June 2008, around 12,000 people had been detained and sent to prison in the first eight days of a special drive against known and listed criminals. Ahead of the then opposition Awami League's April 30, 2004, deadline to topple the then BNP government, more than 15,000 were picked up in an eight-day dragnet.
Law enforcers arrested around 8,000 people on February 1-5 in 2006 across the country centring on a long march of the then opposition AL, according to rights body Ain o Salish Kendra (ASK).
Asked, Home Minister Asaduzzaman Khan Kamal said the prime minister instructed them so that no innocent people suffered at the hands of law enforcers in the name of anti-terror drive. "We are more careful after getting prime minister's instructions."
But he claimed no one was arrested with political motives.
The drive against militants came in the wake of the murder of a top police official's wife by suspected militants in Chittagong on June 5.
Over the last three years, suspected militants have attacked and killed university professors, writers, publishers, secular bloggers, gay rights activists, foreigners, policemen and members of religious minorities, including Shia and Sufi Muslims, Christians and Hindus.
Reportedly, Islamic State claimed responsibilities for many of the attacks. But the government maintains the group has no presence in the country, and blames the opposition parties for those.
 'COPS EARNED TK 5 CRORE'
Jessore district AL General Secretary Shahin Chaklader accused the police of making quick bucks through mass arrests. According to him, the ongoing drive is not about nabbing militants, but about money.
"Police in Jessore are detaining common people, workers and businessmen. They release them after taking money ... The district police earned Tk 5 crore through this business in the current week," he told The Daily Star.
Chaklader said the drive should stop immediately, as the government lost its popularity because of the mass arrests.
Sunamganj district AL President Motiur Rahman said in some cases police detained party men on the basis of wrong information. "But police released them after we conveyed the message."
But Nurul Islam, of Barahatia union in Lohagara upazila in Chittagong, was not so lucky. He had to pay for his freedom. 
The 48-year-old was picked up on Monday afternoon from his tea stall near his house at Ghonar Mor and hauled to Lohagara Police Station. When his elder brother Ahmed Hossain went to the police station, police told him that Nurul was part of an anti-state and anti-government discussion at the shop. 
Family members say Nurul is not in politics nor has he faced any case.
However, when his family members went to the police station again on Tuesday for his release, some middlemen demanded Tk 1 lakh.
The family could arrange Tk 34,500 with which they managed to free Nurul around 7:00pm, said a relative of the victim. He spoke on condition of anonymity fearing retribution.
Md Shahjahan, OC of the station, admitted to have detained Nurul but that they released him with a warning. He claimed he had no knowledge of the money.
(Senior reporter Partha Pratim Bhattacharjee, Pranabesh Chakraborty and Minhaj Uddin in Chittagong, Kongkon Karmaker in Dinajpur and Mamun-ur-Rashid in Bogra contributed to the report.)